Disclosure: This post may contain affiliate links, meaning we get a commission if you decide to make a purchase through our links, at no cost to you. Please read our Disclosure for more info.
Just because you're working out doesn't mean you don't still want to wear cute shoes, but the right shoes for the gym or your favorite outdoor activity require more than just a high score on the cute-o-meter. Active shoes need to offer support, keep your body mechanics safe, fit correctly and be comfortable and durable enough to wear for hours at a time. No matter how well made a shoe is, wearing the right shoe for the right activity is the key to comfort and support.
Chaco Shoes
The Chaco shoe brand may be best known for its trademark walking sandal with colorful, adjustable straps. The soles of these sandals come in two styles: Unaweep for full performance and Yampa, a light-weight sole with less tread. Chaco sandals are recommended for hiking and walking and come in waterproof and vegan options.
[amazon_link asins='B011AK4IJM,B011AKJCRA' template='CopyOf-ProductGrid' store='shoeaholicswp-20′ marketplace='US' link_id='e883fc9f-decb-11e6-8941-43c5928c8758′]
But sandals aren't the only shoe style available from Chaco. The company also manufactures hiking boots, trail shoes and casual shoes for both men and women in a variety of styles. One of the most appealing options offered by Chaco is the chance to design your own pair of sandals. Using the "My Chacos" application, customers can choose the style, color, type and size for a custom fit and look.
Vibram FiveFinger Shoes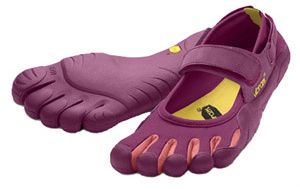 Alright, cute might be in the eye of the beholder when it comes to these unusual looking five-toed shoes, but Vibram FiveFingers have got some serious biomechanical studies behind their design. According to the company, FiveFingers help improve range of motion in the feet, ankles and toes; they strengthen the muscles in the legs and feet, stimulate neural function and allow the feet and body to return to a more natural style of movement.
[amazon_link asins='B00DYXOJZW,B009POSI1A' template='CopyOf-ProductGrid' store='shoeaholicswp-20′ marketplace='US' link_id='bf6c93a3-decb-11e6-9936-4719aa018da5′]
One thing that's for sure is that Vibrum makes it easy to find the type of FiveFinger shoe that's best for your activity. They carry specific styles for running, walking, yoga, water sports and just hanging out. Vibrum also offers education and tips for adjusting to their innovative design.
Reebok Zigtech Shoes
You've noticed them at the gym, on the running trail and even at the mall, those super bright and colorful athletic shoes with the wide zig-zagged sole. Reebok Zigtechs are perfect for running and cross-training because the innovative sole provides a thick layer of cushioning and flexibility. There are several styles of Zigtechs and they're all made for high-impact exercise, but some models are specifically for running. For example, the Ziglite Run was designed with plenty of ventilation and a heel plate that provides extra stability.
[amazon_link asins='B00RBW45CE,B00FJ2DCX6′ template='CopyOf-ProductGrid' store='shoeaholicswp-20′ marketplace='US' link_id='c9600807-decb-11e6-b7a7-b3bf469e814d']
Reebok Zigtechs come in dozens of fun color combinations for men and women. Just looking at these cheery shoes might make you feel more like going for that morning run.
High-quality athletic shoes are an investment, but you can offset the price by watching for manufacturer or store coupons. Buying shoes at the end of a season is another great way to save some cash. You still get the same superior shoe, but in a color or design that's being retired. Anyway you get them, the right pair of workout shoes will help you stay fit and injury free while staying stylish. What could be cuter than that?