Disclosure: This post may contain affiliate links, meaning we get a commission if you decide to make a purchase through our links, at no cost to you. Please read our Disclosure for more info.
Learn how to check to make sure that your UGGs are real and not fake Ugg boots by checking the labels, soles, packaging and features.
Differentiating Between Real and Fake UGG Boots
How to make sure you're purchasing authentic Uggs, and not being fake fabulous
Ugg boots have long been a staple in fall and winter wardrobes around the world, and it's no question that fashion phonies have tried to imitate and cheapen the design. Luckily, Ugg has quite a few distinguishable features that make it stand out from its copycats. For example, its materials are never at the level of quality that its Australian sheepskin can provide.
Keeping an eye out for the right discrepancies can help you guarantee you're getting the real deal.
All About the Labels
An often overlooked, but defining characteristic of an authentic pair of Uggs are the label. Real Uggs state that they're made in Australia. Any label that denotes a different manufacturing location is just outright fake. Ugg is a classic and timeless brand of footwear, and a division of the Decker's brand.
Call Security!
Another important trait of the Ugg boot design is the security feature specifically made by Ugg Australia to protect their image. For one, it's distinct holographic logo that switches from black to white when rotated to a 90 degree angle is essential to spot. You can also find a security sticker on the left shoe's sole that should have a matching sticker on the shoebox.
Additionally, you can look for a strip of foil behind the sewn-in size/material label. A QR code can also be a sign of authenticity if found on the sewn-in left shoe security label.
Pretty in Packaging
Real Ugg boots are packaged in sturdy cardboard boxes, while the boots themselves are wrapped in plastic, clearly printed with the Ugg Australia logo all over it. Fake Uggs tend to be missing this logo.
We also pride ourselves in providing you a product that's meant to last; therefor we provide clear maintenance instructions to assist you in doing just that. Imitation Ugg boots tend to have blurry instructions that indicate they might've been scanned.
Shoe inserts to preserve the shape of the shoe are also customary of authentic Ugg packaging. If these are missing, chances are you've got a fake on your hands.
We've Got Sole
Finally, real Uggs have nice flexible sole meant to conform the natural curvature of your feet when worn. They're designed for optimal comfort, of course. Fake Uggs have thin rigid soles that will more than likely wear down quickly, and be more of a burden than pleasure to wear. Try lightly bending them around. It should happen quite easily with an original Ugg.
Not Very Flattering
They say imitation is the sincerest form of flattery, but we beg to differ. Here are some badges of dishonor you can find on the fakes.
Flimsy brown dust bags instead of official boxes
They could have an Australian flag printed on them
Synthetic double or triple lining stitched to cow or pig suede
Sloppy stitching
Lining is not visible from the top or side opening of the boot
The most sure-fire way to make sure that you're getting authentic Uggs is to look up a list of our reputable retailers. The beauty of the Internet is that you can quickly identify whether or not you're shopping from a reliable seller.
If you're shopping in person, these tips listed above are super important to look out for to make sure you're not being swindled with fake product for your money, instead of making an investment in shoes you'll use for good times to come.
Shop REAL Ugg boots here:
Can't afford real Ugg boots? Buy Uggs now, pay later!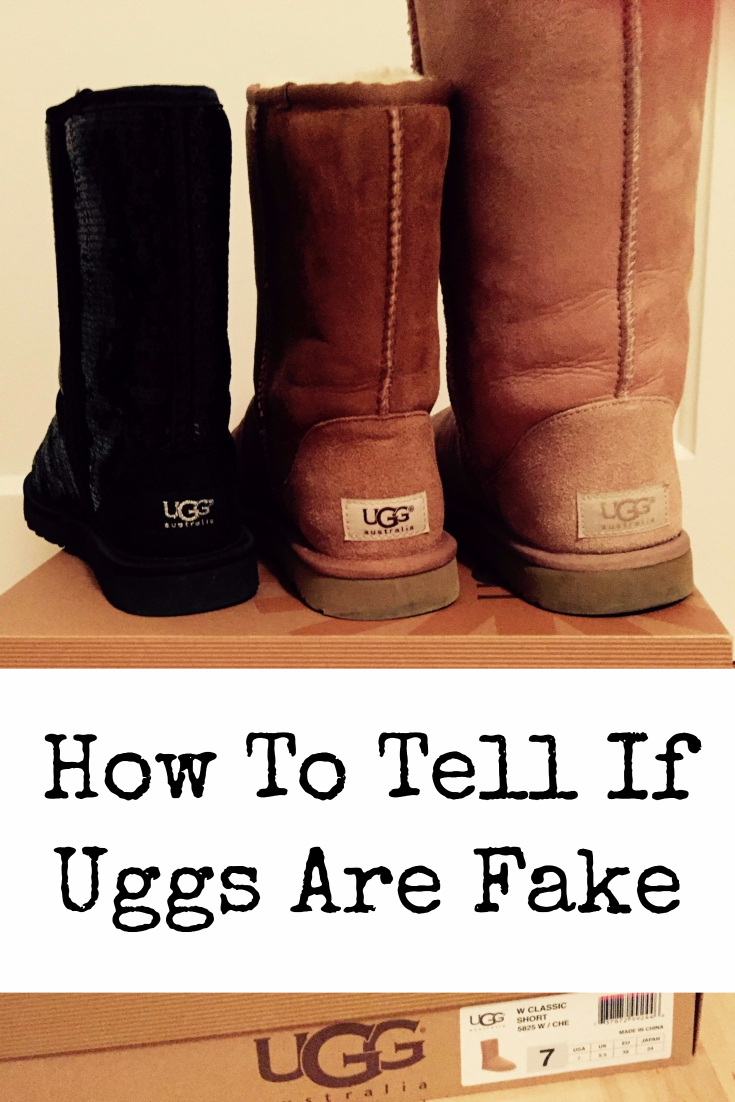 Image Source: Wikimedia