Disclosure: This post may contain affiliate links, meaning we get a commission if you decide to make a purchase through our links, at no cost to you. Please read our Disclosure for more info.
When the weather turns frosty, there's nothing so cozy as slipping your feet into a pair of warm and fuzzy UGG boots. It's no wonder that UGGs have long been a fall and winter fashion staple — and as a result of that fame, UGGs have become fodder for copycats around the world that claim to be just as cute and cozy for less. 
Luckily, UGG boots have quite a few distinguishable features that make them stand out from their imitators. If you want to avoid the knock offs and ensconce your feet in genuine Australian sheepskin, you'll need to learn how to tell a pair of fake UGGs from real UGGs. Read on to learn how to spot a fake, what UGGs are made of, and everything else you need to know to help you guarantee you're getting the real deal.
Real UGGs vs. Fake Uggs: How to Tell the Difference
When purchasing a pair of UGG boots, always check the label to see where they were made.
UGGs are an Australian brand made from Australian sheepskin, so you might think that the real deal is made in Australia — but if so, you'd be playing into copycats' hands.
Real UGGs are a division of Deckers Outdoor Corporation. Since Deckers has factories in China, Vietnam, Cambodia, the Philippines, the Dominican Republic, and the U.S., the label should read Made in China, or one of these other countries, including some UGGS will say they are made in Vietnam. If it says Australia or New Zealand, then you know you've spotted a fake.
How to Spot Real UGGs Packaging
For an Ugg authenticity check, never judge a book by its cover — but when it comes to UGG, the "cover" can give you a big clue as to whether or not you've landed your hands on a pair of the genuine article. Real UGGs are packaged in sturdy cardboard boxes. The boots themselves should be wrapped in plastic bearing the UGG Australia logo — a detail fake UGGs tend to miss. Real UGGs will also come with shoe inserts meant to preserve the shape of the boots. If those are missing, chances are you've got a fake on your hands.
Another way to tell if your UGGs are real or fake is to look for maintenance instructions. These should be clearly printed and tell you how to care for your UGGs so that they'll last. Imitation UGGs tend to have blurry instructions, which indicates they have been scanned and copied.
How to Check the Bottom of Real UGGs
A telltale sign that you've got the genuine article is that your UGG boots original style are extremely comfortable. That's partly due to the fact that they're made from Australian sheepskin, but it's not the only reason. Original Ugg boots have a nice, flexible sole that's meant to conform to the natural curvature of your feet when you wear them.
Fake UGGs, however, often have thin, rigid soles that are likely to wear down quickly and be more of a burden than a pleasure to wear.
Another way to test if you've got the real thing? Try lightly bending the soles around. If they're genuine ugg boots, doing so should be easy. If it's difficult, or if the soles feel stiff or brittle, you may have a fake on your hands.
Check the Special Security Label
There's another easy way to spot a fake from the genuine article: the UGG security label. This special security feature is made specifically by UGG Australia to protect its image, and as result it's designed to be difficult to copy.
First, you have to know where to find the security label. There should be matching security labels on the left shoe and the shoebox. The label on the shoebox will be a sticker; on the left shoe, look for either a sticker on the sole or a sewn-in strip of foil placed behind the size and materials labels.
Next, examine the security labels to see if they're authentic ugg boots. They should feature a distinctive holographic sun logo that switches from black to white when you rotate it 90 degrees. Sewn-in security labels will also feature a QR code that takes you to UGG's website so you can verify that your boots are the real deal. Turn the label over and you'll see a metallic band with a 3D effect designed to make it look like it sits in front of a background with a pattern made using the UGG logo.
Real UGG fur vs. Fake UGG fur
One of the biggest draws of owning a pair of UGGs is the hygge-like pleasure that comes from walking around with your feet wrapped in genuine Australian sheepskin.
If you're wearing the real deal, the fur inside should be the color of cream. To further test it, rub it between your fingers. It should stay put because it's real sheepskin and not lining. If bits come off, it might be a synthetic fur lining.
Other telltale signs of fake fur are if the color is white or gray instead of cream, if it doesn't feel lush and cozy, or if you can pull apart the fur interior from the suede exterior.
More Signs of Fake UGG Boots
There are other ways to check and see if you've got a real pair of UGGs or a cheap imitation.
Maybe your UGGs were delivered in flimsy brown dust bags instead of official boxes — or maybe they have an Australian flag printed on them.
Another badge-of-dishonor could be that the boots are made with double- or triple-synthetic lining stitched to cow or pig suede instead of Australian sheepskin. It's also critical to give your boots a careful once over, looking for signs of quality. If the stitching is sloppy or the fur is not visible from the top or side opening of the boot, chances are you've got a pair of fakes.
Another way to tell if you've got a pair of fake UGGs instead of real ones is to check the height. Fake boots are often taller than real UGGs and have a narrower opening — so they don't roll down easily the way real UGGs do.
If you're shopping in person, the tips listed above can help you make sure you're not being swindled with fake products for your money instead of making an investment in shoes you'll love wearing for years to come.
The most sure-fire way to make sure that you're getting authentic UGGs is to purchase them from a reputable retailer, like the ones listed below. The beauty of the Internet is that you can quickly identify whether or not you're shopping from a reliable seller like the ones below, many who now offer Buy Now Pay Later financing options.
Shoe Stores 
You can't go wrong buying your UGG boots straight from the source. Plus, UGG accepts QuadPay and PayPal Credit, so you can choose to either split up the cost of your purchase into four equal installments or defer payment.
Since Zappos accepts Visa, you can use QuadPay to pay for your boots over the course of six weeks instead of putting down the whole cost upfront.
At Journeys, you can pay for your UGGs using buy now, pay later service Klarna. Like Zip, Klarna breaks up the cost of your purchase into four equal installments, due first at checkout then every two weeks until you've made all four.
Foot Locker also accepts Klara, so you have the option to pay for your UGGs over time. Installments with Klarna are interest-free, and won't affect your credit score.
Department Stores 
Another place to look for UGGs is at a department store. This is a great idea if you have a membership or are looking to make more than one kind of purchase.
You can use Zip or Afterpay to purchase your UGGs from Belk. With Afterpay, you make the first payment at checkout, and the remaining three every two weeks.
Macys is always a great place to score a deal, and now you can use Klarna at the department store to make your purchase even more budget-friendly.
Nordstroms accepts a number of buy now, pay later services, including Klarna, Afterpay, and Zip, giving you plenty of options when shopping for your UGGs.
Fashion & Specialty Stores 
If you're looking for a deal, consider these fashion and specialty stores, where you can often buy UGGs at a bargain if you're patient and open to a pair that's been consigned.
Did you know that you can find UGGs at Victoria's Secret? The women's retailer has a wide selection of slippers and boots, including styles in their signature pink which you can pay for using Afterpay or Zip.
You can find tons of lightly or never worn UGG boots for sale for less at secondhand online retailer Tradesy, then use Affirm to buy now, pay later.
UGG's Koolaburra brand has shoes available on QVC that you can purchase with Easy Pay, which lets you spread out the cost over multiple payments.
You'll find tons of UGG options available on Amazon, and if you're a member, you might not have to pay for shipping. To save more, apply for the Amazon Rewards Visa Card and you'll get a free $50 gift card you can put towards your purchase.
Another great place to find gently worn UGGs — or even score a pair with the tags still on — is eBay. You can opt for PayPal Credit at checkout to pay for your boots over time instead of all at once.
Now you know how to spot fake Ugg boots, it's not hard once you know the places to look!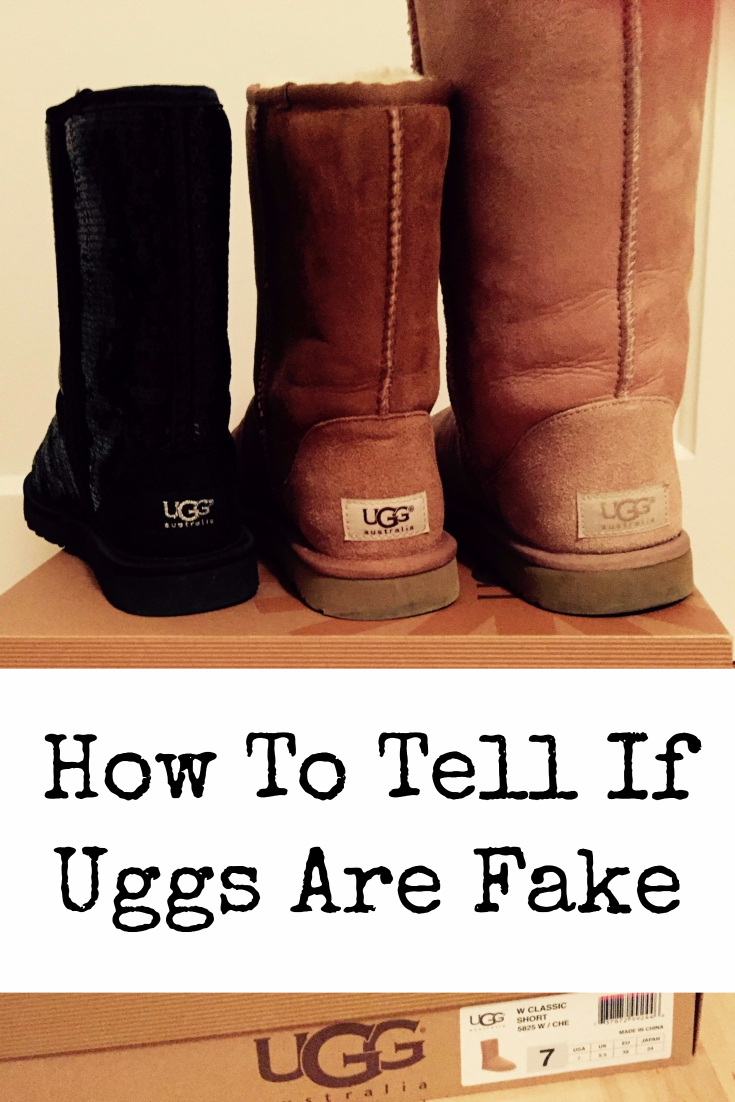 Image Source: Wikimedia