Disclosure: This post may contain affiliate links, meaning we get a commission if you decide to make a purchase through our links, at no cost to you. Please read our Disclosure for more info.
The average family spends around $388 on shoes per year.
Keep that in mind, when looking at these extravagant pairs of shoes ranging from $400,000 to a staggering $15 million. If you're looking for the most expensive shoes in the world, you've come to the right place.
Here are the top 10 most expensive shoes in the world.
1. Debbie Wingham High Heels – $15.1 Million
Once crowned the most expensive high heels in the world, Debbie Wingham created these shoes as a commissioned birthday present.
The owners are an unnamed family in Dubai, UAE, and wanted these shoes to resemble a cake. These heels are covered in precious gemstones, including three-carat pink diamonds and one-carat blue diamonds, costing around $128,000.
Further, the heels have gold soles, zippers, and 24-karat gold paint on the leather. Even the stitching is 18- karat gold!
2. Nike Air Max 2016 – $26,000
Calling all Back to the Future II fans!
These expensive shoes were lifted straight from the 80's sci-fi movie, and only 100 were manufactured. In the movie, the auto-lacing feature and lights were a dream, but now you can experience them in real life.
The shoes were released in partnership with the Michael J. Fox Foundation to help find a cure for Parkinson's. Nike Air Mag's are battery-powered and feature a motor, the perfect gift for sneakerheads.
It's unknown who owns the pair as you could only win a pair through a draw, or buy some other cool Nike kicks at Stadium Goods! 
How about these limited edition Nike Wedge Heels! 
3. Nizam Sikandar Jah's Shoes – $160,000
These costly shoes live in a museum as they were custom-made for the 18th-century Indian ruler, Nizam Sikandar Jah.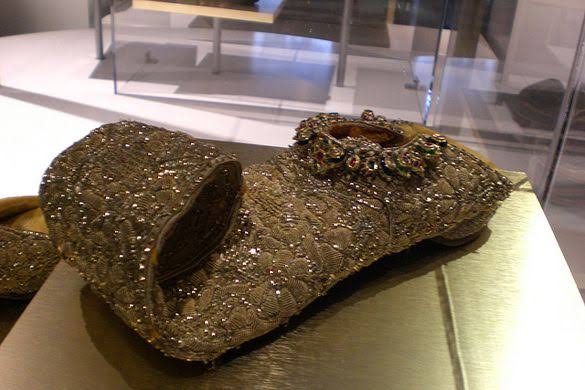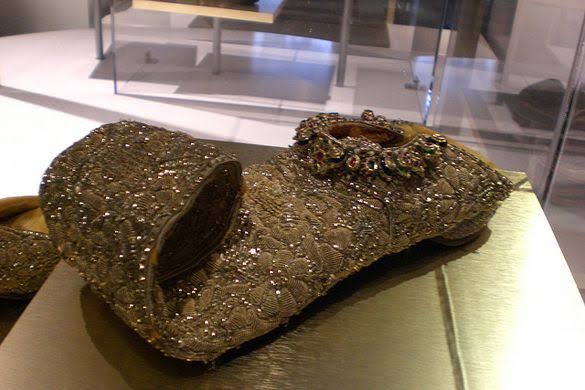 They're like Arabian slippers and feature elaborate gold embroidery, rubies, diamonds, emeralds, and other gemstones. Because of this, the emperor's shoes are so iconic they have become a symbol of the Indian royal family.
4. Jada Dubai and Passion Jewellers Passion Diamond Shoes – $17 Million
The luxurious Passion Diamond Shoes are officially the most expensive shoes in the world.
Jada Dubai, a UAE-based brand, collaborated with Passion Jewellers who create art through jewel adorned footwear. These expensive heels are covered in 236 diamonds alongside a stunning 15-carat diamond near the toe.
It has taken the expert shoemakers nine months to produce these unique stilettos from pure gold, and it's unknown whether they have been sold.
5. Harry Winston Ruby Slippers – $3 Million
To commemorate the 50th anniversary of The Wizard of Oz, the House of Harry Winston revealed their replica of the famous Ruby Slippers.
The originals were made from red sequins, but these stunning shoes feature 4,600 sparkling rubies, a total of 1350 karats. To top it off, they have different types of diamonds that are 50 karats.
Harry Winston's Ruby Slippers took two months to make, and it's unknown whether anyone has purchased them.
6. Solid Gold OVO x Air Jordan – $2 Million
Practicality goes out the door when you're wearing 24-karat solid gold sneakers. Drake owns these bad boys, and although Nike never publicized an official amount, a study calculated they're worth around $2 million.
7. Tom Ford Custom By Jason Arasheben – $2 Million
In 2015, Tom Ford's custom shoes broke the Guinness World Record for "The Most Expensive Shoes in the World."
Jason Arasheben created these custom-made shoes for Nick Cannon for the Season Nine finale of America's Got Talent. The shoes feature 14,000 white diamonds that cover a white gold base.
The total karat weight is 340 karats, and it took Jason Arasheben over 2,000 hours, almost a year to complete, to bring these shoes to life.
8. Stuart Weitzman "Marilyn Monroe" Shoes – $1 Million
Stuart Weitzman, the renowned shoe designer, crafted these stilettos to pay homage to Marilyn Monroe.
They have a feminine wraparound ankle strap that crosses at the top. What makes the stilettos stand out is the Swarovski crystals nestled in a delicate satin rose.
Marilyn Monroe once wore the Swarovski crystals as earrings, bringing a whole new meaning to the shoes. Actress Regina King donned the elegant stilettos in the 2005 Academy Awards before Stuart Weitzman swapped out Monroe's diamonds with replicas and sold them at the Celebrity Rags 4 Charity Riches auction.
The shoes sold for $1 million but the celebrity owner wasn't revealed.
9. Nike Moon Shoe – $437,500
Bill Bowerman, Nike's co-founder, designed these shoes for the 1972 Olympics qualifiers. They're the only preserved pair and feature a distinctive sole because they were made in a waffle maker.
The sneakers were sold to Miles Nadal, an avid shoe collector, in 2019 and were considered the most expensive shoes in the world at the time.
Nadal planned to display the sneakers at his private museum in Toronto, the Dare to Dream Automobile Museum. He also broke the auction record for sneakers when buying the Nike Moon Shoes.
The previous world auction record was set in 2017 when a bidder paid $190,373 for a pair of Converse that Michael Jordan wore in the 1984 Olympic basketball final.
10. Kathryn Wilson's Pump – $400,000
New Zealand-based designer Kathryn Wilson created these pumps for the Ronald McDonald House Charity auction.
Wilson drew a pattern on the white pumps before using tweezers and special glue to stick diamonds of various sizes on the shoes. The pair of shoes took almost 50 hours to create and feature a million pounds' worth of diamonds.
In the end, they sold at the charity auction for $400,000 to help families with hospitalized children, although the owner remains anonymous.
These Are the Most Expensive Shoes In The World
Now you know the most expensive shoes in the world.
Whether it's diamond-encrusted stilettos to auto-lacing sneakers, every pair listed push boundaries in shoe design, resulting in unforgettable shoes.
Did you find this article helpful? If so, check out our articles on everything from Entertainment to Fashion.