Disclosure: This post may contain affiliate links, meaning we get a commission if you decide to make a purchase through our links, at no cost to you. Please read our Disclosure for more info.
Although trends come and go, a great pair of sandals is always in style. Check any list of most popular shoe trends and you won't have to look too hard to find some sandals included.
Finding the right pair of sandals isn't about just looks and what's currently trending. You also have to make sure they fit correctly, especially if you're wearing them to an event where you'll be on your feet all night.
If you've been asking yourself "how should sandals fit?" keep on reading. Explained below are some tips that will help you choose the right size (and the right pair) to keep your feet happy during the warmest months of the year.
What Are the Most Popular Types of Sandals?
Some people think of sandals and picture the cheap rubber pair they wear to the beach. There are way more options than this, though. The following are some of the most popular types of sandals that you might want to consider purchasing:
These sandals have lots of straps and a T-bar that runs down the front. Gladiator Sandals often feature buckles to help you get a perfect fit.
Flip Flops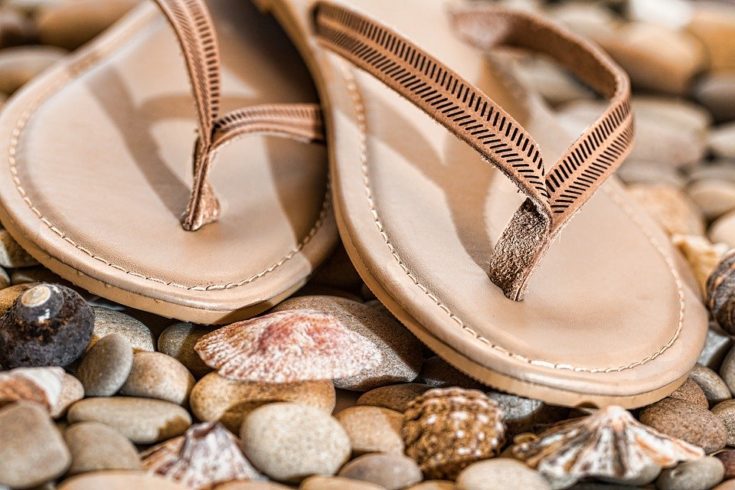 These popular sandals feature a thong in the middle that sits between your big and second toes. Flip flops come in a variety of options and a variety of price points, from the popular Havaianas to your local dollar store and everything in between.
Slingbacks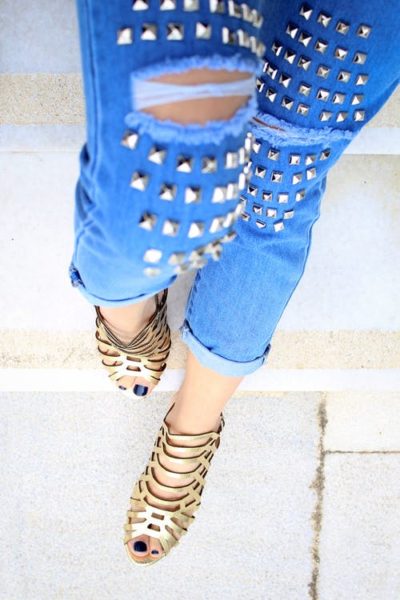 Slingbacks have an adjustable strap that buckles at the back of the heel. They often have a heel, although the height of the heel varies.
Slides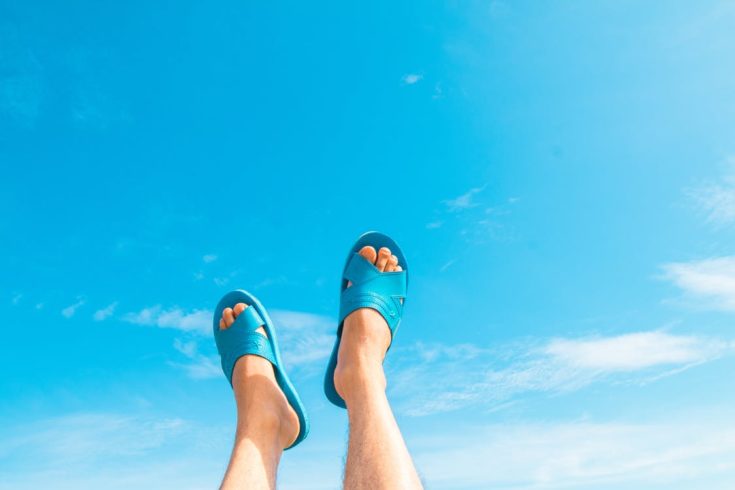 These are flat sandals that are similar to flip flops. Instead of a thong in the middle, slides have a flat band that rests over the top of the toes.
Wedges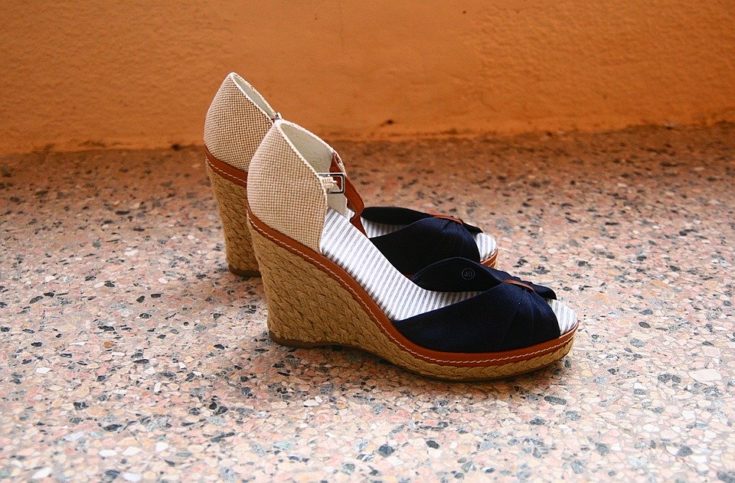 These sandals feature a wedge heel that provides you with extra height and additional support. Wedges are more comfortable than a lot of traditional high-heeled sandals.
Embellished Flats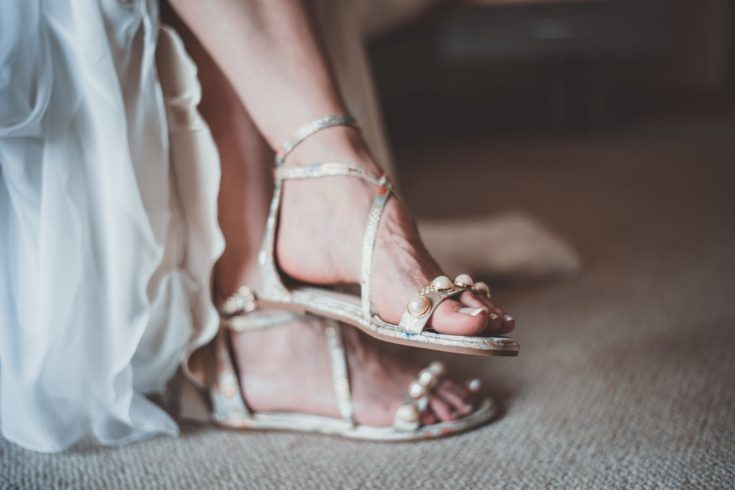 Embellished flat sandals have a flat sole similar to a flip flop or slide. They feature more decorative embellishments and are better for dressy occasions.
Athletic Sandals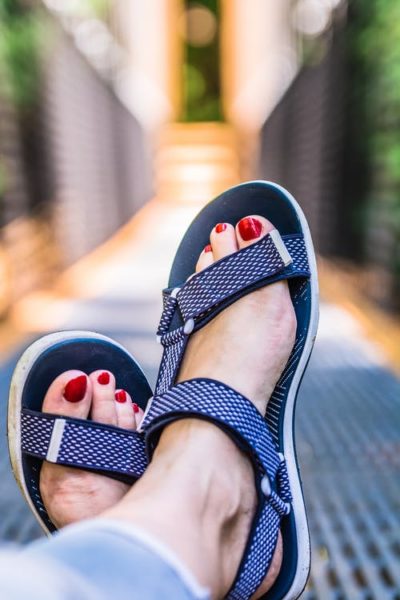 Athletic sandals feature more arch support and have adjustable straps that allow for a comfortable fit. They're perfect for hiking, camping, and other outdoor activities.
How Should Sandals Fit?
No matter what kind of sandals you're buying, you need to make sure they fit you well. Here are some tips to help you ensure you're getting a perfect fit every time you purchase a pair of sandals:
Start with the Sole
The first place to start when you're considering a pair of sandals is the sole (the bottom of the shoe). The sole ought to be as wide as your foot. Otherwise, you're going to be in for a cramped, uncomfortable wearing experience.
Look at the Length
Next, move on to the length.
It might seem obvious that the length of the sole should match (or ever-so-slightly exceed) the length of your foot. A lot of people seem to miss this memo, though.
If the heel of your foot hangs off the back of the sandal at all, it's too small and you ought to go up a size.
Assess the Arch
This doesn't necessarily have to do with the fit of the shoe, but it will impact your comfort level while wearing it. The more of a raised arch a sandal has, the more comfortable it's likely to be.
Suss Out the Straps
Depending on the type of sandal you're buying, it may have adjustable straps.
Before you decide that a sandal doesn't fit, be sure to take some time to adjust the straps and see if you can secure a better fit. Sometimes, it takes a little tweaking to get them to fit correctly, but it's worth it in the end.
Bonus Try-On Tips
Always put your hand inside the sandal and flex the fabric a bit before you try it on. This helps to loosen it up and allows for a more comfortable try-on experience.
Once you've flexed the fabric, place your foot inside and adjust all of the straps and buckles. Walk around in the sandals and see how they feel. If you notice any flopping, sliding, or rolling while you walk, they're not a good fit for you.
Keep in mind, too, that it's best to try on shoes later in the day when you've been walking around for a while. Your feet swell a bit as the day goes on, and you want to make sure your sandals fit your feet even after they've swollen a bit.
Trying your sandals on when your feet have swelled a little will help you ensure you're comfortable all day long.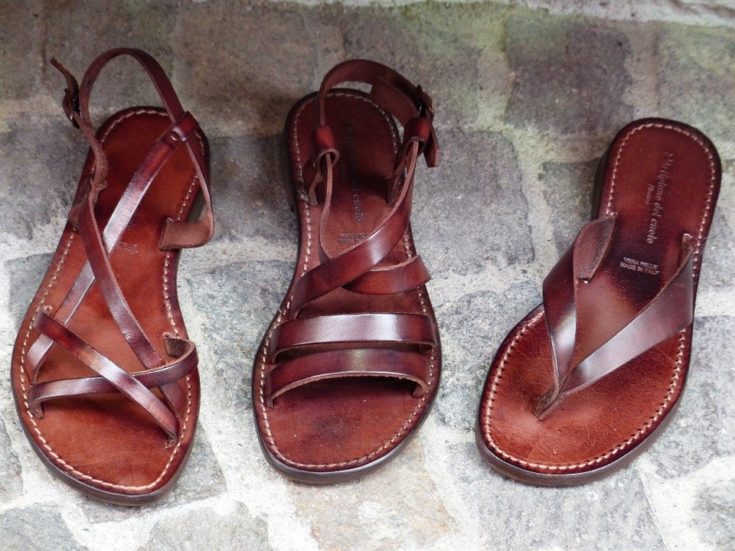 What Else to Look for When Buying Sandals
In addition to fit and style, there are some other things you ought to keep in mind when you're buying a pair of sandals. Keep these additional factors in mind to help you sort through all the different options out there:
Material
Look for high-quality material like leather. This will ensure your sandals last a long time.
Color
If you want a pair of sandals for everyday wear, try to find some in a neutral color like brown, black, white, or grey.
Climate
Consider the climate in which you'll be wearing your sandals. Make sure you don't buy a pair that are unsuitable for the weather. For example, canvas sandals aren't great for wet climates.
Budget
Finally, don't forget about your budget. Always consider the prices a footwear company charges for their sandals before getting your heart set on a particular pair.
Find Your Perfect Sandals Today
Now that you have answers to all of your most pressing sandal questions — from "how should sandals fit?" to "what kind of sandals should I choose?" — it's time to go out and start shopping for the right new pair.
If you keep this information in mind, you'll have no trouble finding the perfect pair.
Do you need more tips on finding the right pair of shoes? If so, be sure to check out some of our other blog posts. We've got lots of helpful information on choosing everything from sneakers to slippers.