Disclosure: This post may contain affiliate links, meaning we get a commission if you decide to make a purchase through our links, at no cost to you. Please read our Disclosure for more info.
These 14 shoe brands that give back are making a big impact – on your wardrobe, on the environment, and on society. They prove that you can 100% love your shoes and the planet at the same time.
Our shoes deserve a lot of love. They get us from point A to point B while sprucing up all of our outfits. But, have you ever thought about the companies that you're buying your shoes from? What's their mission? How are they giving back and making the world a better place?
The truth is, a lot of shoe companies use labor in developing countries without providing good working conditions or a fair wage. They focus "solely" on profit and prioritize efficiency over people and the environment.
Luckily, these 14 companies are making major changes. They're redefining what it means to be a shoe artisan, using ethical labor, leaning into their values, giving back to their communities and doing what they can to make the world a better place. So do your part and slip your feet into one of these do-good pairs.
Artisan | Peru | Fair-Trade Practices
There's something about artisan-designed shoes that make you feel incredible. With classic oxfords, snazzy heeled booties, and easy slip-ons, Nisolo has something for everyone. Their wages are 33% higher than the average fair trade wage, and 10% of their profit is invested in education. Trujillo also happens to be Peru's shoe-making capital, so it's not about churning out run-of-the-mill shoes. It's about preserving the art form when you purchase a pair of Nisolo shoes. Discover our favorite Nisolo shoes and boots for every season here.
Sneakers | Certified B Corp | Carbon Footprint Reduction
This hip New Zealand-born sneaker brand was the first to bring merino wool to the forefront of shoe production. Using a multi-pronged approach to reducing the amount of C02 in their supply chain, they're committed to offsetting each pair of shoes' environmental price. Their cult-like following not only loves them for their sustainability but for the fact that they're the comfiest sneakers in the world.
Flats | Recycled Water Bottles | Washable
Hello, comfort! Gone are the days of uncomfortable and rigid flats. A pair of Rothys is made with soft merino wool and can go right into the washing machine after a week of heavy wear. By using plastic water bottles to produce their shoes, they've used over 75,000,000 plastic water bottles that would have hurt marine and coastal life. Treat yourself to a pair of these easy-to-wear flats.
Canvas Shoes | Art | Charitable Causes
Unleash your inner artist with a pair of BucketFeet canvas shoes. With designs that prioritize unbridled creativity and free expression, you're bound to make a statement when you walk into the room. Founders Raaja Nemani and Aaron Firestein started the line to support artists, so you can rest assured that your dollars are directly benefitting their global network of over 40,000 artists.
Rainboots | Romanian Children | Education
Samuel Bistrian founded Roma Boots in 2010 to help poor children in his home country, Romania. He famously says, "Give poverty the boot," and pledges to donate one pair of rain boots for every pair sold. Beyond giving children boots, his philanthropy expands into education, where he encourages Romanian children to discover their unique gifts and talents. You can find a variety of fun patterns on the site, so you're guaranteed to make rainy days your most fashionable moments.
Sneakers | Vegan | Small Producers
Sometimes you just want a minimal sneaker to complete your outfit. And when that sneaker has a story, you can tell it to everyone who "oo's" and "ah's" at your new kicks. Unlike most big sneaker brands seeking to "kick" out the little guys, Veja encourages small shoe producers to sit at the table. They source organic cotton and rubber for their sneakers and won the Guardian Sustainable Business Award and the Observer Ethical Award in 2012. Check out their vegan line for an extra dose of Earth love.
Activism | Sustainable Materials | Community
Eco-friendly styles for the entire family is what makes Native Shoes stand out. With light, cheerful colors and a commitment to creating a community impact, Native Shoes strives to continue to do better for both the Earth and the people on it. Every pair of shoes from this shoe brand that gives back is recycled into various projects in different communities, so the life cycle keeps going. With comfy casual styles, you can move around with ease, knowing that your shoes are doing good for the world.
Sandals | (UNGC) United Nations Global Compact | Sustainable Materials
When thinking about Sanuk Sandals and sustainability, the question is, "what don't they do?" They approach sustainability from all angles, including prioritizing water reduction, using renewable energy, focusing on alternate materials such as hemp, and expanding charitable contributions. With steep goals for the next couple of years, Sanuk is committed to continually improving its impact on this planet. Plus, every pair of sandals makes you feel like your feet are diving into a spongy yoga mat.
Slip-Ons | Give One, Get One | Certified B Corp
In 2006, TOMS led the ethical shoe movement by giving a pair of shoes to a kid in need for every purchased pair. They're known for their simple, fashion-forward slip-on shoes but have since expanded into boots, sneakers, and heels. Beyond the give one, get one program, they give away ⅓ of profits to make the world a better place. They've assisted with charitable programs that focus on eye health, clean water, and safe birthing conditions in developing countries. Read our Tom's shoe review here.
Sneakers | Recycling | Sustainable Materials
If you're not a fan of landfills, this is the company for you. Thousand Fell focuses on refurbishing worn shoes to donate or reusing raw materials for another pair. With sustainable design elements, a defined life cycle, and a commitment to 0 leather, Thousand Fell is going above beyond to clean up our Earth. Their sustainable sneakers go with every outfit so you can show off your commitment to a cleaner planet daily.
Slip-Ons | Minnesota | Native American Communities
From the get-go, this extra-cozy shoe brand prioritized giving back to the community. They often do philanthropic work in their home state of Minnesota, in Native American communities, and the world. By putting on a pair of moccasins, you're committing to a very comfy foot day while supporting a company that believes giving back has to be a part of its core mission.
Boots | Vegan | Free of Virgin Plastic
Invest in pair of boots that invests in both the Earth and local communities. Alice & Whittels does it all, paying attention to the entire supply chain. They source sustainable materials while also lifting up artisans and producers with fair pay, great working conditions, the elevation of disadvantaged groups, and advancement opportunities. And with extreme attention to detail, the craftsmanship of these stylish boots will speak for itself.
Handmade | Fair Wage | Guatemala
The Root Collective focuses on putting a face behind the maker of your shoes. By paying every artisan anywhere from a 50-400% higher wage than the fair trade standard minimum, every pair of shoes comes from people who are being recognized for their work and craftsmanship. Find your favorites or even get a custom pair for that perfect fit.
Boots | Fair Trade Certified™ | Certified B Corp
In 2013, Oliberte became the first Fair Trade Certified™ footwear manufacturing factory in the world. And they don't stop there. With attention to craftsmanship, they offer a lifetime warranty for every pair of boots. On the social side, they do an incredible job of empowering Ethiopian workers to be proud of their work. As a certified B-Corp and Certified Fair Trade USA partner, Oliberte continues to make an impact by donating a part of its profits to environmental non-profits.
It's your turn. Make the Earth a better place by making conscious decisions about what you're putting on your feet. You can 100% love your shoes and the planet at the same time. And the above shoe brands that give back make doing both easier than ever.
Let's work together to "kick out" shoes that aren't helping our planet thrive.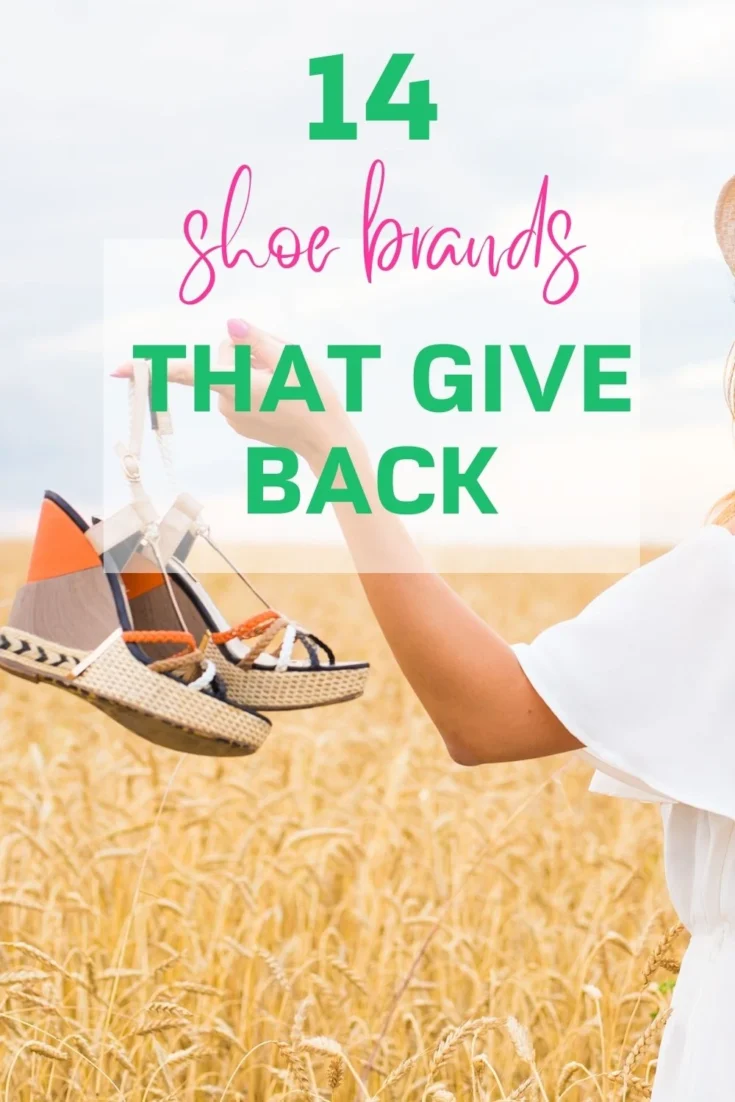 Check out these other articles we recommend: