Disclosure: This post may contain affiliate links, meaning we get a commission if you decide to make a purchase through our links, at no cost to you. Please read our Disclosure for more info.
Nike has taken their classic Dunks sneakers and made specific high heel and wedges styles for women! The come in the same fun range of bright colors and laces but are married with the style of heels and wedge shoes. 
The wedge style features a hidden wedge to make you look and feel taller but still have the comfort and style of sneakers.
Check out these Nike SB Dunks Women High Heels "Do the Dew" in Green. 
While the shoes are likely just prototypes or works of art (not available for purchase) they are extra cool. The combination of bright colors, patent leather and vinyl make these shoes funky fresh…
Where to Buy Nike Dunks Heels
These shoes are no longer in production and aren't for sale on Nike or any standard shoe retailers. To find a pair you will have to check resale sites like Ebay, Mercari and Poshmark.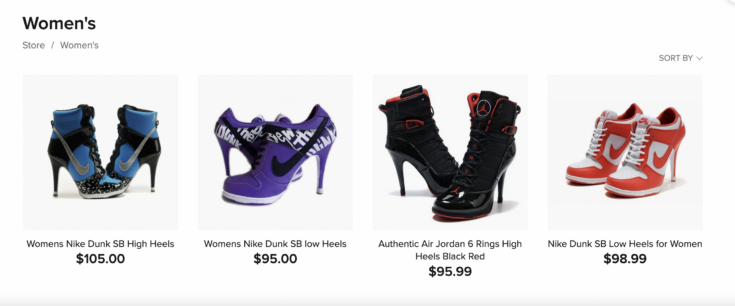 Where to Buy Nike Dunks Hidden Wedges
Nike dunks wedges are a great choice for women who want both style and comfort. The shoes feature a wedge heel that gives you a little extra height, while the padded collar and tongue provide support and cushioning. The durable rubber outsole ensures traction and durability, while the perforated upper allows your feet to breathe. Whether you're hitting the gym or running errands, Nike dunks wedges are a great choice.
Coming Soon to Nike – The Women's Sneaker Boot for Winter!
There's never a wrong time to stand tall. The latest Dunk Sky Hi 2.0 SneakerBoot keeps you above the competition at all times, with an elevated design outfitted to combat the elements all season long. A water-repellant finish tops the entire upper, which is combined with Northern Lights-inspired reflective detailing and a rugged outsole suited for every terrain.
Not an easy find, but once in a while we've found one appear on Amazon, like these bright red ones! 
Nike Dunk Sky HI Womens Wedge Basketball Shoes in Action Red 8.5 M US
Find pre-owned Nike Dunk Sky High Hidden Wedge shoes in all sizes and styles on Ebay. 
Find Pre-owned Nike's for Women and Kids on Poshmark, including many colors and sizes of Wedge Shoes. 
Goat carries a range of Women's Dunk Sky High Essential line hidden wedge sneakers in a variety of colors from Camo to Red, Black, Brown and more. 
About Nike Dunks
Nike Dunks  were first released in 1985, and they quickly became a basketball shoe staple. The key feature of the Nike Dunk is the thick padding around the ankle, which provides support and protection for players. The shoes are also designed with a reinforced toe box to prevent wear and tear. In recent years, Nike Dunks have been released in a wide range of colors and styles, including low-top and high-top versions.
However, it is the high-top Nike Dunks that remain the most popular choice among basketball players. Thanks to their comfortable fit and stylish design, Nike Dunks continue to be one of the most popular basketball shoes on the market.
The Nike SB Dunks are available in a rainbow array of colors ranging from Black Cat, Bumblebee (yellow and black), Black Rose (orange with tiger stripes), Blue Rose, China Town (orange, yellow and black), Gold Pot (metallic gold upper with red swoosh), Gold Star (red & blue with gold patriotic stars), Popeye (red with the cartoon characters), Red Tiger (self explanatory), Silver Bullet (the dressiest of the bunch),   Valentine's Day Be Mine (lavender and red), and the   "Do the Dew" in Pink, Red, Yellow and/or Purple.
The Nike SB Dunk high heel shoes are more than shoes. They reveal a woman inner beauty. These high heels are 3″ high.
And just in case none of those colors/styles suit your fancy, they have a ton of Nike Air Jordan Retro Women's Boots as well.   I'm skeptical that they aren't authentic Nike shoes as I can't find them for sale on any other "real" websites, like JKL Sports but such is life.