Oh my goodness, I found the perfect accessory that I need for my office…
Scotch Red Shoe Dispenser with Magic Tape, available from Amazon.com, $11.99 – is that not the cutest tape dispenser ever?!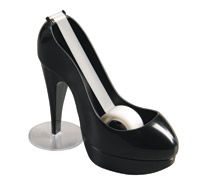 I also like this Scotch Black Stiletto Shoe Tape Dispenser (available from Office Max), which is "sexier", but probably not as functional to really use every day. Which shoe tape dispenser is your favorite?
For the shoe-aholic in all of us. A stylish product to personalize your desktop. Refillable, fun Stiletto Shoe design.
[compare q="scotch shoe" gtm="on" l="6″ ct="US" v="grid" ft="fetchProducts" w="auto"][/compare]