Disclosure: This post may contain affiliate links, meaning we get a commission if you decide to make a purchase through our links, at no cost to you. Please read our Disclosure for more info.
If you like custom sneakers, you are not alone. 50 Cent, Drake, and Chris Brown are among the celebrities looking for something different when it comes to shoes. They want unique, one-off sneakers that are innovative and stylish.
If you love sneakers you know one of the best things about them is the ability to make them your own. Here are 6 easy ways to get the custom sneaker look.
Custom Sneaker Popularity
Why is sneaker customization so popular? It's not just that influential celebrities have custom sneakers.
In these times of mass-produced clothing, having something unique is attractive. It's a way of expressing making a statement about who you are. You are not just like all the millions of people who wear regular sneakers.
The creative process itself is very satisfying. Conceiving the design and executing it successfully takes talent. There might be sewing, painting, gluing or cutting involved and that takes care and skill.
As a result of a few hours of work, you have a pair of amazing, exclusive sneakers.
Patch Them
Many sneakers are suitable to apply a patch to them. The range of patches is huge but there's an even better way of creating your own unique look. Have your own design made into a patch.
When you design custom patches just decide the size, how much embroidery you want and what kind of backing you want. Chose an iron-on backing for easy fixing to a fabric sneaker. Upload your own designs and wait for the sumptuously embroidered patches to arrive.
Paint Them
Painting shoes is a great customization hack for some old, tired, black or white sneakers. It will give them a whole new look and a new life.
Use acetone to remove the protective coating on your leather sneakers. If you don't do this the paint you apply will not stick to the sneakers properly. It will flake and rub off pretty quickly.
Take care using acetone as it is damaging to skin and eyes; wear personal protective gloves and eyewear. Take a small amount of acetone on a cotton ball and rub the leather surfaces of your sneakers until all the coating is removed.
Select some white acrylic leather paint. This a specialist paint. You won't get great results from standard gloss paint or artists oil paints.
A leather paint moves and stretches with the movement of the shoe. This will give it durability and a reasonable lifespan.
Using an artist's paint brush paint on some words, letters, or other symbols. It's entirely up to your own creativity what you do.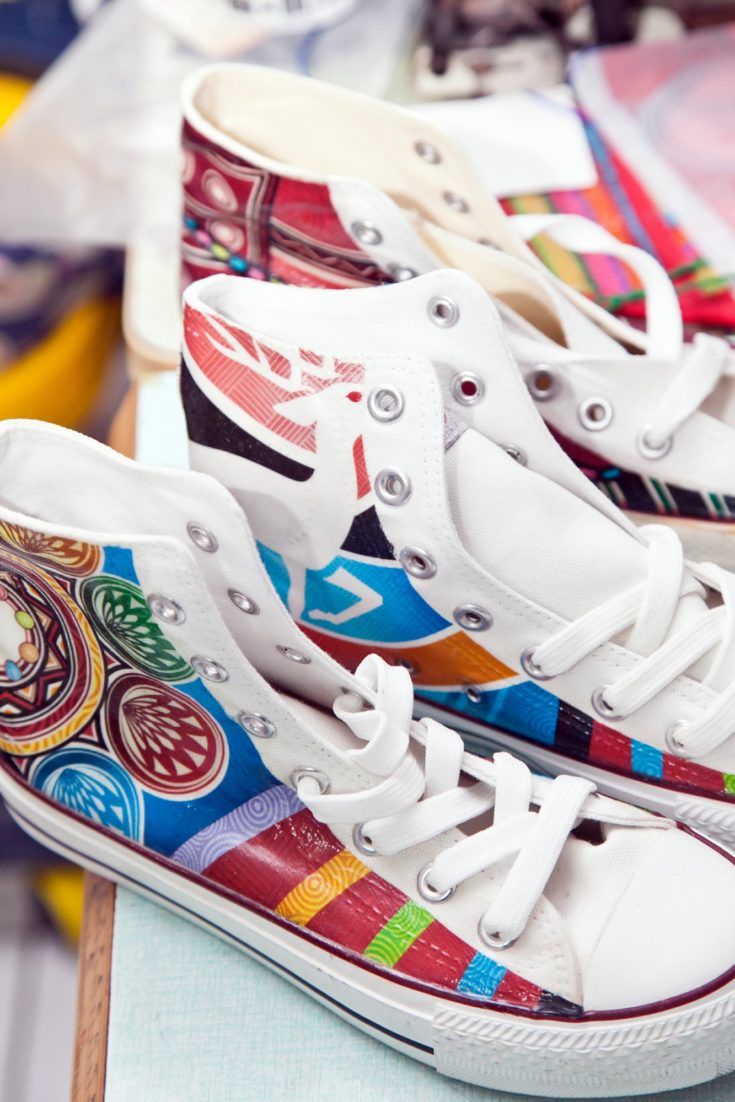 Try some song lyrics, a meaningful number, or a Chinese symbol. You can even use a favorite piece of graffiti as your inspiration!
Color Them
This custom sneaker art project is best done with some white leather sneakers. They give you a great base for some colorful creativity. Use the same technique for preparing your sneakers as for painting on them.
Notice how the sneakers are made up of various panels of leather, stitched together. Decide on a color scheme for your customized sneakers. Select two or three colors from the range of acrylic leather paint available.
Paint the panels of your sneakers with your chosen paints. Leaving some panels white will increase the dramatic effect of the colored panels.
Stud Them
If you wear clothes or a belt with metal studs, why not have sneakers with studs too? You can buy studs online or from a craft store.
Take a pair of Converse sneakers with high sides that you can fold down. Fit the studs around the folded-down sides.
A few on the tongue of the sneakers fitted together in a block works well. Add a few in a row around the heel.
Lace Them
The simplest customization technique for sneakers is to change the laces. The range of laces available is so wide you have lots of options. Go for multi-colored laces for wild and crazy sneaker customization with virtually no effort.
Embroider Them
Sneakers made with canvas uppers can be embroidered. Use an embroidery needle and embroidery thread to create a unique design.
Draft out some ideas on paper first. Make some decisions at this stage about the size and complexity of the pattern you want to create. Be realistic about this because it's not easy to change the design once you've started.
Geometric patterns, spots, and cross stitches are easiest. If you haven't embroidered before practice on a piece of spare material first. Once you have mastered the technique move on to the sneakers.
Bead Them
Small beads are available online or from a craft store. Chose small brightly colored beads. You will also need a tough needle and good quality, color coordinated thread.
Using sneakers with a canvas upper, sew the beads on in rows or in groups. Your design can be simple, using one color of bead for subtle impact. Or use a mass of different colored beads for fun, colorful chaos.
Sequins can be used in the same way as beads. Sew them on to your sneakers and create a shimmery ballroom dancing look. It's not for everyone but if it's you, wear them with pride.
Reflect Them
Many sneakers, especially those with a running heritage, have reflective strips on them. It's common for them to have a small area on the heel that shines at night when caught in headlights.
If you like the effect of these flaring sneakers, try adding a little more shine. Some self-adhesive 3M tape can be cut and added to other parts of your sneakers. The result is sneakers that light up like, July 4 every time light hits them.
And Finally, Love Them
A padlock can be a symbol of love. The Pont des Art in Paris is covered with padlocks. They are put there by couples who have declared their love and locked the padlock before throwing the key into the River Seine.
You can do the sneaker version of this but instead of fastening the padlock to a bridge, attach them to your best-loved custom sneaker.
Find more great sneaker fashion ideas here.