Disclosure: This post may contain affiliate links, meaning we get a commission if you decide to make a purchase through our links, at no cost to you. Please read our Disclosure for more info.
Life is full of surprises which constantly pop up in daily life, some of which require a diverse shoe wardrobe and a high heel arsenal suitable for anything that a busy social schedule can throw at you. Whether its drinks after work a casual first date or the daily commute to work.
Having a capsule shoe closest means you are equipped to handle anything that can pop up and you will be sure you can dress for any occasion!
Having these essential shoes in your closet can make a real difference in tricky situations. Here are 10 essentials shoes every woman must keep in her wardrobe to pull off a desired look quickly for different situations.
1. Classic Pointed or Round Toe Black Pumps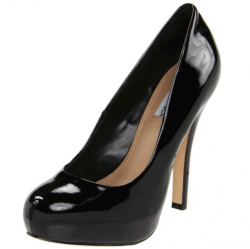 Black pumps are perfect for work and go well with trouser suits and wrap and sheath dresses. Classic pointed and round toe pumps are classy designs that tend to elongate your legs and give you an attractive, sophisticated feminine look. Choose either pointed or round toe black pump depending on your outfit and look you desire.
2. Black and Brown/Tan Stiletto Boots
Stiletto boots are a must have in every woman's wardrobe for winter and fall because we all want to stay warm during the cold months without having to compromise on style. Black and brown/tan stiletto boots are stylish and versatile and go especially well with a dress or skirt, pair of boot cut jeans and pair of skinny jeans. Wear your stiletto when wearing heels just doesn't suit the occasion or your mood.
3. Kitten Heels
Kitten heels have an ageless appeal. Initially introduced in the 1950s as fashion wear for teenage girls, fashion aesthetic has made a complete turn around and the shoes now have a cross-generational appeal. Kitten heels give two inches maximum heel height that is perfect for when you want to wear a feminine look but your feet are tired or you just don't want to wear sky-high heels.
4. Ankle Boots or Booties
Ankle boots or booties are an indispensable item in your wardrobe for the winter and fall when you want to cover more of your foot and still enjoy the fabulous look and feel of a heel. They end at or just above the ankle and look really good on tall women worn with bare legs and a mini dress. You can also wear them with tights, cropped pants and leggings.
5. Ballet Flats  
Ballet flats are not only versatile lifestyle shoes for work, play, weekends, errands and casual wear, but are also good value for money. Black, nude with bright color and print ballet flats are quite pretty and a favorite choice of many women.
6. Nude Heels
Nude heels are a treasure in every woman's shoe closet. They come in a fabulous range of styles, including Court shoes, Peep Toes, Platforms and Slingbacks. They can be worn with a dress of any colour, a pair of jeans and just about any other outfit.
7. Black Flats
Black flats are a wardrobe staple that are just as versatile, practical and stylish as classic pointed or round toe black pumps. They are perfect for days when you want to wear a comfortable, professional look and feel throughout the day.
8. Flat Sandals  
Flat sandals are easy-to-wear, formal and casual summer shoes designed for when you want to show off more of your feet. The sandals are comfortable and go really well with certain clothing items like maxi bohemian skirts. They are also a great choice to complement sundresses, bikinis and jeans when taking a trip to the beach.
9. Rain Boots
Rain boots are a must have for all women. Designer rain boots like mid cut rain boots and Wellington boots not only look stylish, but also protect your pants from getting wet and your nice shoes from getting damaged in the rain.
10. Flip Flops
Finally, don't forget to include flip flops in your wardrobe. Flip flops are essential, every-day-use casual shoes that you'll use a lot for different purposes, including going to the grocery, heading out to the beach or simply hanging out with friends in the neighborhood. Classic and iconic  Havaianas  are our pick!
So there you have it ten must have shoe styles for your wardrobe if you have all of them then you get yourself a full house in shoe closest bingo!