Disclosure: This post may contain affiliate links, meaning we get a commission if you decide to make a purchase through our links, at no cost to you. Please read our Disclosure for more info.
The term "ethical" will mean different things for different people. As a catch-all phrase, it typically refers to products that are made within fair trade guidelines, do not harm animals, and/or require minimal environmental impact for their production. The products can also support social causes or charities. There are many shoe companies that produce products that fall under these guidelines. Here are five companies that produce both stylish and ethical footwear:
When you buy a pair of shoes from TOMS, another pair is donated to needy children in different parts of the world.
The lack of shoes can contribute to the spread of disease and the prevention of educational opportunities, and the company aims to reduce those problems with its mission. You can find comfortable slip-ons or even lace-up boots. The classic style is a functional, slip-on canvas loafer. Shop TOMS Shoes on Amazon!
Less than five years old, OlsenHaus company strives to be "a voice for animals, the environment, transparent business practices and unwavering values in ethical and social responsibilities."
These upscale stylish shoes for women are 100 percent vegan. Shop OlsenHaus Shoes on Amazon!
The Blackspot Anticorporation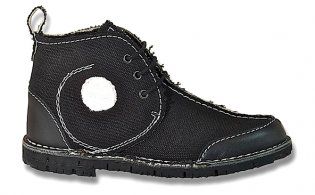 The folks from Adbusters created a shoe line to be an alternative to major corporations like Nike and Adidas. Shoes are made from organic hemp, recycled tires, and other vegan materials. The company employs fair labor standards.
The company passes guidelines for its own production, suppliers, and selling agents that include use of natural and biodegradable materials where possible, environmentally friendly practices, fair wages, and transparent operations. It also works to give back to local charities.
What is your definition of an "ethical" shoe line? Do you have a favorite brand of ethical shoe wear? Tell us your thoughts in the comments!
You can find Vegan, Eco-Friendly Shoes for the best price on Amazon.
Can't afford vegan, fair trade and/or eco-friendly shoes? Many shoe companies offer payment plans on shoes!