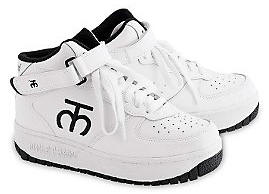 Last week I bought some ankle weights (on clearance at Target), with good intentions to wear them with my new Everlast shoes when the ice and snow  are gone to start getting in shape.
Hopefully I'll get the same results as if I were  wearing these Weighted Walking Shoes, which I didn't even know existed until today (good to learn something new everyday).
No time for your daily work out?    Wear Muscle Trainer Sneakers, and walk & burn up to 300 Kcal in 30 minutes. You can increase your heart rate and oxygen intake by 25% and decrease your body fat. They look like regular sneakers but they 3 to 4 times heavier than regular fitness shoes: up to 3 lbs each. Small metal balls in the sole provide weight and enough flexibility to allow balanced natural foot movement. A thick cushioned sole provides extra support. You can use them on treadmill for a more intense work out.
Weighted Walking Shoes on sale at Gaiam.com
[phpbay]fitness shoes, 2[/phpbay]