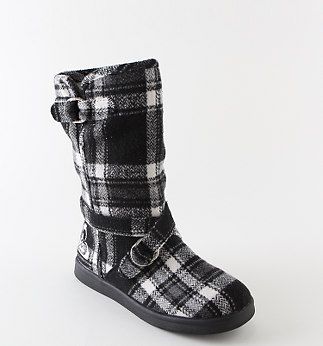 I ended up ordering and giving my daughter Macy these Roxy Maple boots that she wanted from Buckle.com in black/white plaid (now all sold out everywhere) since I didn't receive the Airwalk Flurry Mocs she initially wanted in time. And she loves them!
Roxy Maple Boots are still available in Chocolate Plaid Brown and Charcoal Plaid, but are selling out fast…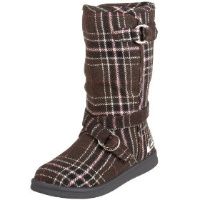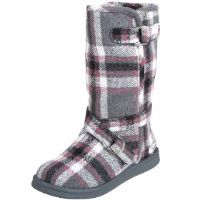 Shop Roxy Boots now! Shop Plaid Boots now!
Roxy Maple Boots, $59.62 – $68.95 from Endless.com (way less expensive than what I paid at The Buckle).   Trivia for the Day: When I was in high school, it was called The Brass Buckle, and I went to college in Kearney, Nebraska, where their headquarters are still located.
Roxy's Maple boot will certainly perk up your casual look. The boot has a comfortable flat profile, an eye-catching plaid upper with bold color accents, and soft faux fur linings for keeping you warm and toasty.
Bogs

Bogs Classic Winter Plaid Boot - Girl Infant/Toddler/Youth Sizes 7 - 6 - Online Only

Bogs

Bogs North Hampton Plaid Boot

DUBLIN

Super Stylish and Waterproof River Boots The Dublin River Plaid Boots are designed with a full grain waterproof leather and plaid canvas upper with the HBR waterproof, breathable membrane. Further included is a comfortableRCS footbed for all-day comfort and moisture control, as well as a breathable nylon lining and a durable, lightweight Tough Tech rubber outsole that is designed to fit into a stirrup for riding. TheDublin River Plaid Boots offer: River plaid boots Full grain waterproof leather and plaid canvas upper with HBR RCS footbed for all-day comfort and moisture control Breathable nylon lining Durable, lightweight Tough Tech rubber outsole Designed to fit intostirrup for riding

Bogs

With rain boots as cute as the Bogs Little Girls' Winter Plaid Boots, you'll probably have a hard time convincing your not to wear her boots on sunny days. Water isn't getting into these boots, thanks so their hand-lasted, waterproof rubber upper. And the moisture-wicking lining will keep her feet dry from sweat even after multiple rainy-day puddle-jumping sessions. Rated to keep her feet comfortable down to -30F, she can wear them on the coldest winter days and maintain cozy toes. The non-marking, self-cleaning sole will be your best friend when she storms inside ready for a warm cookie break.

CENTAUR

600 Denier waterproof-breathable tall boot bag with fleece lining and outside pocket. 25'' tall

BOGS

Whether youre strolling through the rainy streets or stomping through the puddles on a muddy, wet trail, the Sidney Lace Plaid Boots are built to keep you warm, dry and protected from the elements while providing superior, lasting comfort. Waterproof hand-lasted rubber upper. Max-Wick lining wicks moisture from feet. 4mm waterproof Neo-Tech Lite insulation traps body heat. DuraFresh biotechnology controls odors. Rebound rubber outsole for all-day comfort. 2.4 lb. total weight.