Disclosure: This post may contain affiliate links, meaning we get a commission if you decide to make a purchase through our links, at no cost to you. Please read our Disclosure for more info.
Wondering if Bearpaw Boots are better than Uggs? We say YES! Find out why in this article.
My kids know I (which in turn is they) have a budget when it comes to Christmas presents. This year, Tatym asked for Chestnut Bearpaw boots, because according to her, "They feel exactly like Uggs, without being the same price. These are my go-to shoes during the winter months."
Ugg Boots run $100 – $150, while you can get Bearpaw for as low as $25 on sale, up to $79.99. Tatym's Bearpaw Emma Short Boots in Hickory (Chestnut) are currently only $44.99 (I paid $49.99 before Christmas). This allowed Tatym to add more items to her Christmas wish list from Mom!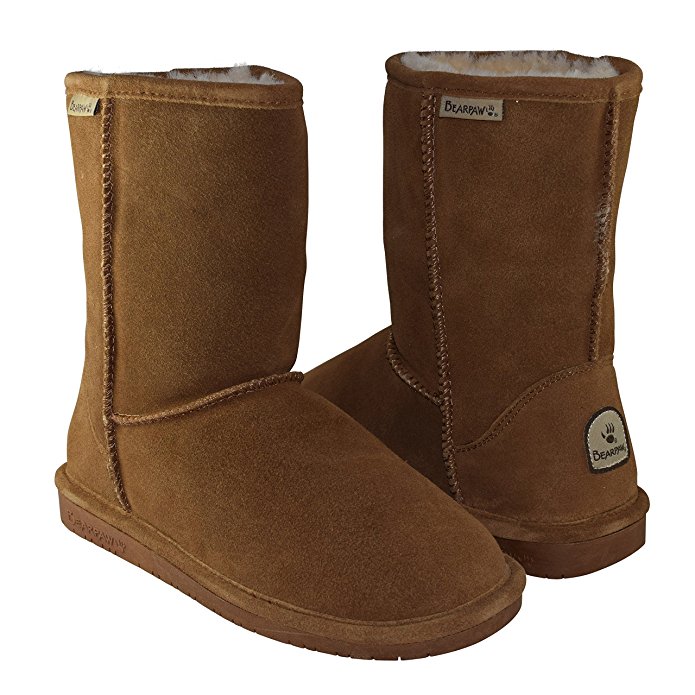 This short-height women's boot by offers a style that's well paired with denim, a casual skirt, or country dress, with a ruggedly comfortable design ideal for kicking around town. the upper is made of soft suede for a natural look, and the boot's luxuriously cozy lining provides increased cushioning and all-over comfort.
Bearpaw footwear combines comfort and contemporary style. Their footwear is made from quality materials that provide a natural beauty that's wearable year round.
Both Uggs and Bearpaw are made with real suede and sheepskin, so why pay the difference if you can't tell the difference? Plus Bearpaw is starting to become more of a household name.
You can find Bearpaw for the best price on Amazon.