Disclosure: This post may contain affiliate links, meaning we get a commission if you decide to make a purchase through our links, at no cost to you. Please read our Disclosure for more info.
All You Magazine (March 2015 issue) is one of my favorite magazines, and they tracked down "comfy" versatile shoes for any occasion – ones that won't rub, pinch or hurt! Time to trade in those ballet flats? The majority of the comfy shoes have 2 1/2″ heels, which is my favorite heel height to wear to maintain comfort.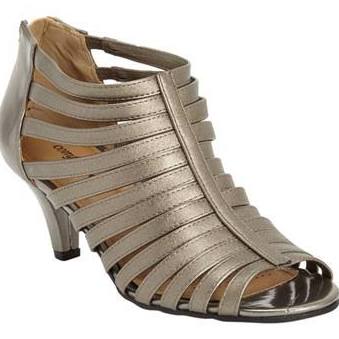 Party Time – Comfortview Saffi Strappy Sandals, $50
Shimmery gunmetal acts as amped-up neutral. And extra padding at the toe and heel bed means you don't need to swap these 2 1/2″ heels for flip-flops as the night goes on.
The contoured footbed keeps your heels stable for easy walking in these 2 1/2″ wedge sandals.
Stylish 3″ wedges offer nice height of a night out. Soft uppers hug the top of your foot for stability. And the wide fabric straps don't run the way leather straps do.
See more Aerosoles Shoes.
Pointy-toe shoes can wreak havoc on your feet. The key is finding a pair, like these suede, 2 1/2″ heels that boast plenty of room for your toes.
Make Any Heels More Comfortable
That magazine suggests you lightly tape your third and fourth toes together. A nerve runs between them that can hurt under pressure (like when you wear high heels). This trick can relieve strain and pain. I personally think the tape around my toes would drive me nuts, but I'm finicky about my toes!
What comfy heels are your favorite?
You can find Comfortable Heels for the best price on Amazon.