Disclosure: This post may contain affiliate links, meaning we get a commission if you decide to make a purchase through our links, at no cost to you. Please read our Disclosure for more info.
UGG Knit Boot Styles for This Season
When it comes to boot styles that are big on look, function, and comfort, UGG's knit boots are king!
UGG Australia has been a big name in boot making for years. When you picture an UGG boot, the odds are that you are imagining the traditional sheepskin lined, soft exterior, treaded boots. While the classic UGG boot has never gone out of fashion, there are a few UGG styles that are sometimes forgotten: the knit boot styles.
UGG knit boots have all the warmth, comfort, and tactile function of classic UGG boot styles, but they have a fashionable addition to their look. Each of the UGG sweater boot offerings feature a knitted upper that is reminiscent of your favorite knitted fall cardigan.
Here are the popular knit boot styles you need to know.
UGG Argyle Knit Boots
UGG's oh-so-trendy Argyle Knit Boots are the essential when it comes to boots that look like your favorite sweater. The diamond stitch knit pattern is a charming call back to traditional sweater weaves.
Your favorite sweater boot just got cuter. The UGG ® Classic Argyle Knit boot is a warm and cozy merino wool blend pull on boot with a sheepskin sock-lining that wicks moisture leaving feet dry and comfortable while the molded EVA outsole provides traction and durability.   Available in 5 colors: Cream (shown), Fig (burgundyish), Stout (brown), Charcoal (gray) and/or Black. 
These style of UGG boots is no longer in production, but the internet is supremely helpful if you still want to get your hands on them. Find the sold out UGG Argyle boots on Tradesy or some similar sweater boots you can find pairs on eBay, Poshmark, Depop, Mercari and other reselling websites.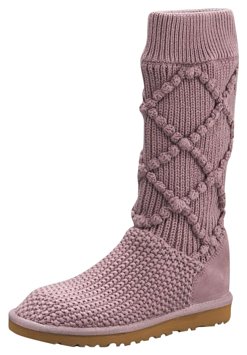 The UGG Classic Cardy Boots are mainstays when it comes to sweater boots. These adorable shin-height knit boots have a yarn-like appearance with big buttons down the side of the upper shaft. In construction, they are much like the traditional UGG boot, making them perfect for UGG purists who want a little bit of extra flair.
If you're looking for a twist on the sweater boot styles that have circulated the trends for the last decade, consider the UGG Classic Solene. These knit boots are dual-colored or monochrome, and feature a handy buckle at the top of the boot. Plus, like other UGGs you know and love, they are cuffable for versatility.