Here at Shoeaholics Anonymous, we get a lot of  emails asking questions about shoes.   So, we've decided to create a new Q & A category  as we figured other shoe addicts may benefit from other's inquiries.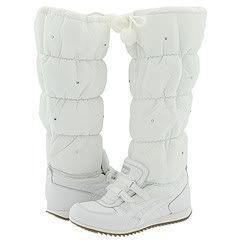 Q: I saw this shoe/boot   made by Asics and a Japanese company (they came together to make this shoe-boot combo) on a girl in Miami this past weekend and  loved it. The color I want is  all white. Do you know where I can get this shoe/boot? It is so hot!!! ~ Maddie
A: Hi Maddie, I think we found what you're looking for!   Zappos  offers the Onitsuka Tiger by Asics – Snow Heaven 72 (White/White)  – inspired by the Sunotore RSSP boot which was developed for the 1983 Olympic ski racing team. Suede/Mesh/Textile upper with the ability to cuff the top at any thickness to show your style. Lower portion of the boot has a water resistant lining. Rubber outsole. $99.95   at Zappos.com with Overnight Shipping!  ~ Kim
Have a shoe  question for us?   Submit it here.
[phpbay]white boots, 2[/phpbay]