Disclosure: This post may contain affiliate links, meaning we get a commission if you decide to make a purchase through our links, at no cost to you. Please read our Disclosure for more info.
There's never been a good time that's involved cold feet. This winter, you've challenged yourself to get out and about more often. If you're going to succeed, you're going to need the proper footwear to trek through everything Old Man Winter throws your way.
We've compiled a list of the seven best types of boots everyone should have for her winter wardrobe. With these boots, you'll be prepared for work, girl's night out and that high-end social you've been invited to!
1. Riding Boots
Riding boots are an all-time classic, but don't be fooled – there are many unique spins on this style. From lace-up ones to bow-tie backs, riding boots are a great casual boot for winter wear. Waterproofing treatments are available for leather boots so your feet stay nice and dry during those slushy days.
For a higher-end look, purchase a suede riding boot in a dark color. While you won't be able to wear them out in wet weather, the texture of the fabric will add a special touch to your classy outfits.
This adorable outfit is an example of the perfect way to pair riding boots with something other than jeans (via Allwomenstalk).
2. Above-the-Knee Boots
If you're like most women, you might be hesitant to try wearing above-the-knee boots. How do celebrities pull their looks together while wearing these?
Over-the-knee boots pair well with shorter dresses and skirts, elongating your legs, especially if they have a small heel. Consider an over-the-knee boot with a slightly raised heel, but be careful if you are drawn toward stilettos. With uneven pavement lurking under snow and ice, you may find yourself face down on the sidewalk if you aren't careful. 
Over-the-knee boots can be elegant when paired with the right outfit, as this image demonstrates. (via Brooklyn Blonde).

3. Wedge Bootie
With the unpredictable winter weather, a wedge heel will provide stability and functionality. Don't fret – this doesn't mean you have to look frumpy in some oversized snow boots! If you like a sassy boho style, invest in a boot with embroidery or tassels.
For extra warmth, pick a Sherpa-lined boot or a boot that falls higher up on your calf. If you're looking to pair your boots with slacks for work, find a boot that is comfortable and not too flashy. Say no excessive bling or sequins.
Wedge boots, like these by Sorel, provide great support and style. (via Sorel).
4. Fur-Lined Boots
Looking for a perfect boot for your commute? No one said you have to wear your work shoes on your daily trek. If you still like to wear heels at the office, invest in a great winter boot that will keep you warm.
Fur-lined boots are perfect for that quick walk to the metro or to dash off to the gym. When making your boot purchase, check the traction you have. Fur-lined boots have a bad rap for poor grab on slick floors.
These slush-slingers will keep your socks dry and your tootsies happy. (via Vogue)
5. Quilted Boot
When you're chilly, you reach for the quilted down comforter. What if you could wrap your feet in that comfort? With a quilted boot, you get both superb style as well as comfort on those frigid winter days.
Whether you like high boots or a lower ankle style, the variety of quilted boots is endless. You may want to splurge a little on these boots to ensure the stitching doesn't pull out if you wear your shoes hard.
High quilted boots paired with tights or leggings create a cute but sophisticated look.
6. The Boy Boot
All tomboys have been there. You're in the shoe section, and immediately you're drawn to the men's boots, only to see they don't have any sizes small enough for your dainty feet. Well, girlfriend, there's now a solution.
Boy boots are in vogue, so you can fill your closet with them. Depending on the boot you select, you might even be able to customize them. From steel toes to lace-up work boots, these shoes will add a bit of masculinity to any outfit, and you won't have to be timid in wearing them. Go for a hike, chop that firewood and then go out on the town. Don't be afraid to pair with even your most feminine outfit to see how it looks.
Timberland boots help to ground this ensemble, giving it a sweet yet edgy vibe (via OutfitTrends)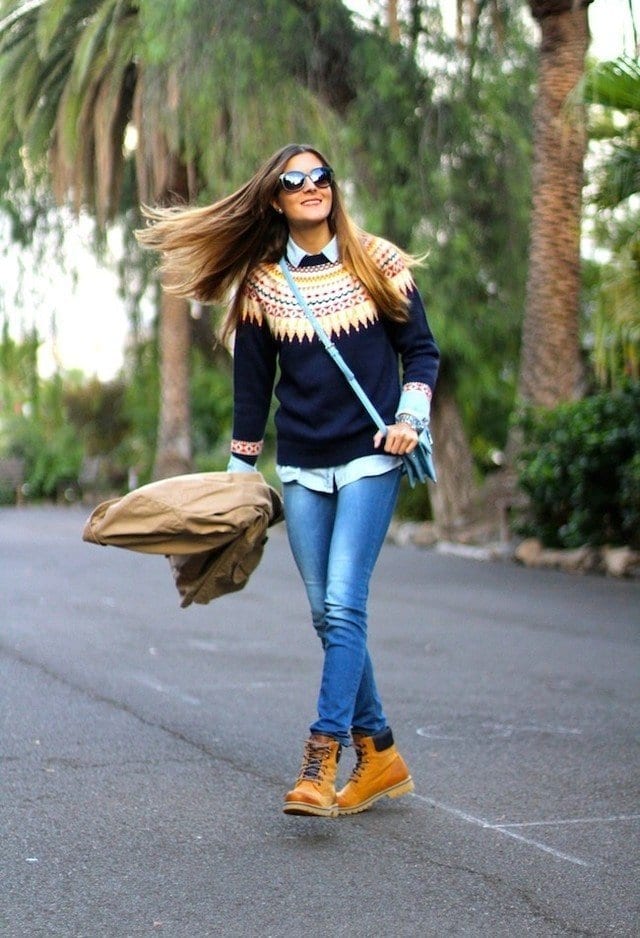 7. Rain Boots
One day, it will snow, the next, it will rain. Thus is life in winter. On those warmer days that are still dreary, reach for your rain boots.
Rubber boots have come a long way from what you used to wear as a tot. From fun, poppy colors to a rain boot so classy, you can wear it in the office, your options are endless.
Bright rain boots will keep you cheery throughout the day! (via StyleCaster)
Ultimately, the decision for what boots to add into your wardrobe is up to you. If you can't narrow it down, try to think about what you wear most often.
If you love comfy boots, don't go with a stiletto over-the-knee boot, even if you think it's cute. Chances are you won't wear it, and no boot looks good sitting in your closet.