Disclosure: This post may contain affiliate links, meaning we get a commission if you decide to make a purchase through our links, at no cost to you. Please read our Disclosure for more info.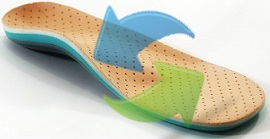 How good is it to be and young and strong! Such are the expressions of people who are old. But in today's world, some younger people too express the same, due to the excesses of their daily routine which involves a lot of walking. An employee works hard standing all day long at the reception table, a journalist being on his toes at the reporting site, a stage performer doing rounds of rehearsals and then giving the final act to the public or an athlete practicing hard for an upcoming match. All would want their feet to be massaged because of the pain that develops after long working hours. But with the growth in the field of technology and physiological research , many physiologist have revealed that this uncomfortable and painful situation can be neglected before it arises with the use of custom insoles, which are medically also termed as custom orthotics.
To be very simple with the language , custom insoles are soft and spongy matter that are in the shape of the bottom surface of a human ankle that are fitted in shoes in order to give the feeling of comfort to the user. Medical science has also revealed that if these custom insoles can be given a little more, they can indeed help the user to get away with the cause that does not allow their body organ to function properly; however, such custom insoles are termed as prescriptive custom insoles. Prescriptive custom insoles are made as per the prescription of the medical personnel who examines the body organ at the laboratory. They add the required medical input during the manufacture process of these insoles. People suffering from problems like joint pain, chronic back ache, arthritis can use such prescriptive insoles to give the much needed comfort to their soles and feet.
On the similar lines, common people or rather people with no medical problem in their feet can also use the custom insoles. These insoles used by non patients are termed as enhance custom insoles. The main purpose behind these types of insoles is to make the feet feel stress free and painless. Custom insoles are made as per the size of the user so that they serve up to mark. The reason why these custom insoles are helpful for people with no medical problem is that using these insoles can help them developing any sort of medical problem.
As it is said prevention is better than cure. It is not necessary that people engaged in jobs which require them to walk excessively only use insoles; any person, even doing the minimum amount of walking can make use of these insoles, to keep their feet and body in good health, and keep all sorts of pain at bay. In short, custom insoles do not even give a single chance to let those pains creep into your feet. Click here and check out 3dsoles, which provide an amazing range of insoles, and allows you to place an order for custom insoles!