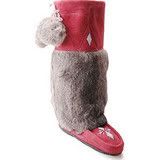 I just came in from outside, and my feet are freezing. All I can think about is warm slippers or boots.
You would never see me in these  Suede Mukluk Boots from Fleece Line nor would I ever spend over $250 on them.  
A boot that features rabbit fur, bead work and sheepskin is just not for me.
But if they are for you, they are available from ShoeBuy.com.
[phpbay]slippers, 2[/phpbay]