Disclosure: This post may contain affiliate links, meaning we get a commission if you decide to make a purchase through our links, at no cost to you. Please read our Disclosure for more info.
Shoe comfort has gradually become the number one priority for customers. Thus, Hey Dude has come into the limelight and is suitable for people of all ages. The brand makes shoes for men and women with various options, from elegant to funky pieces.
Hey Dude started back in 2008 with the vision to make shoes that are stylish, comfortable, and affordable. Finding a shoe that combines all these qualities is rare. Typically, you end up compromising on one feature or the other. However, Hey Dude shoes are famous for how they look and feel.
Many customers praise the shoes' versatility, as you can use them daily and still pair them with an outing look.
Trending Styles of Hey Dude Shoes
The company offers a shoe collection like none other. The current shoe market is flooded with sneakers and formal wear, making it hard to find perfect semi-casual wear.
However, that problem is old news with the Hey Dude collection. They offer everything from sandals to boots which are suitable for every occasion. Some of the best-selling articles from Hey Dude are:
Wally Sox are multifunctional shoes that offer strong support but do not compromise the wearer's range of motion. These shoes will keep your feet tightly yet comfortably tucked in while jogging, hiking, running, or climbing.
These low-profile shoes utilize stretchable and breathable fabric for maximum support and flexibility. These elite shoes feature an ultralight outsole that is a signature of Hey Dude. The users love the easy-on system with no lace.
The shoes are perfect for the winter to dress you up without compromising style. The faux fur lining covers the inside and extends over the foldable cuff over the foot entrance, providing just the right warmth. Moreover, the foldable cuffs are customer favorite because they are soft and visually attractive.
These low-profile shoes have a custom look with an extra cushion that adds height without making the shoes feel stiff. The extra cushion doesn't compromise the lightweight nature of the shoes.
The inner cushion is soft with hard stitching at the heel to support the feet for long wear.
How to Tighten Hey Dude Shoes?
For people with slender feet, tightening the shoes for a snug fit may be cumbersome. There are many hacks, but none are as effective as our simple save against a loose shoe.
Hence, all you need to do is tie the show at both ends. Untie the lace on any side of the show and pull both lace ends until you get the right tension. Then place your thumb on one lace end to hold the tension and tie a knot without loosening.
Many customers prefer the Men's and Women's Wally, Paul, Jack, and Walsh collection to avoid this hassle, an easy-on system without any lace to tie.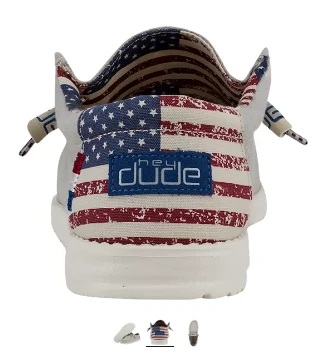 Do Hey Dude Shoes Run Big or Small?
Most Hey Dude come in standard sizes; however, some styles may include rum big or small than other collections. Thus, it is best to check the sizing tips and suggestions on the website before buying a shoe. 
Moreover, the shoes come in whole sizes, so try sizing up if you wear half sizes. However, if the shoe is made of woven cotton, it will stretch out, so sizing down would be a good option.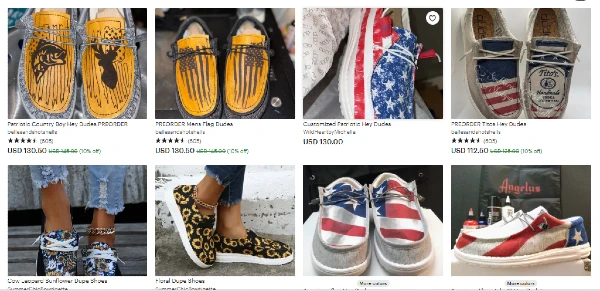 Can You Wash Hey Dude Shoes?
Yes. Unlike other canvas shoes, all Hey Dude shoes are machine washable.
There are some pre-requisites, though. Clean all the excess dirt and dust from the shoe surface using a soft bristle brush before putting them in the washing machine.
If the shoes are muddy, let them dry and remove the mud before washing. Try washing the shoes separately and make sure you don't wash them with any cloth with sharp color that the shoe fabric may pick up. Don't spin the shoes; instead, let them air dry.
More washing instructions can be found on the Hey Dude site here. 
How to Clean Hey Dude Shoes?
Hey Dude shoes are one of the few canvas shoes that are machine washable. Besides that, you can always use a wet cloth, a soft bristle brush, or a fabric shiner to get rid of some dirt and dust. The rubber platforms are also cleanable with a wet cloth, and you can also use white shoe polish, making them as good as new.
Can You Wear Socks With Hey Dude Shoes?
You can wear Hey Dude with or without socks. The shoes have soft soles that are airy, so they prevent any residual smell or excessive sweating so that you can wear them barefoot.
However, they are equally comfortable with socks and do not make your feet stiff. Hence, it depends on your choice. Wear them with socks on a chilly night and without socks for a morning walk.
What to Wear With Hey Dude Shoes?
The answer is anything and everything! One of the prime reasons for Hey Dude's popularity is that they go with all outfits. Many people prefer a casual look with these shoes, including jeans and t-shirts or Chinos Pants and T-shirts, cigarette pants, and baggy full sleeves shirts.
Are Hey Dude Shoes Waterproof?
Hey Dude shoes are made of canvas material; hence, they are not waterproof. However, the lightweight fabric dries easily, so don't worry about running out in the rain wearing your Hey Dudes.
Do Hey Dude Shoes Have Arch Support?
Yes. Hey Dude caters to various feet needs, and its design supports feet arch, keeping the shoes comfortable during long walks. Hence, people with plantar fasciitis will definitely love these shoes. Moreover, the memory foam technology in some articles makes the feet extra comfortable.
Where to Buy Hey Dude Shoes?
Hey Dude Buy is the company's official website that does not collect any personal information or spy on the users. The company has a strict policy for client privacy explained on the website. The online purchase is safe, and there is a customer-friendly return and exchange policy as well.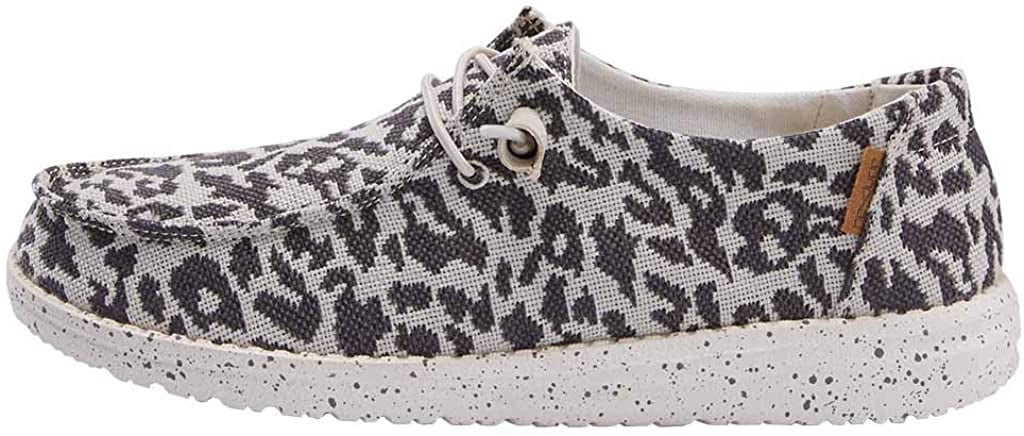 More Retailers that Carry Hey Dudes
Try on a pair of Hey Dudes and they will quickly become a natural part of your life, whether at play, work, or after sport!
The Takeaway
Hey Dude shoes are the perfect fusion of comfort and affordability without compromising style. The shoes come in various textures and colors and are suitable for men and women of all ages.
They have a separate winter and summer collection to offer comfort throughout the year. Hopefully, with this article, you can purchase the right pair of semi-casual wear that fits your taste.
Image Source: Hey Dude Shoes USA