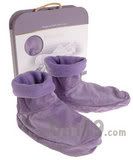 I think I found what I'm getting my mother for Christmas!
Foot Cozy Heated Slippers provide relief from tired, cold, or sore feet. Simply toss these one-size-fits-all slippers into the microwave and enjoy the comfort of an enveloping warmth combined with an aromatherapy blend of cinnamon, clove, and eucalyptus.
Foot Cozy Heated Slippers contain a removable, scented grain insert which absorbs and then releases the heat from the microwave. Foot Cozys can also be put into the freezer for cold therapy. They are also machine washable. So, sit back, kick your feet up and relax while these heated slippers transform your tired, achy soles into soft, supple feet.
Foot Cozy Heated Slippers available from Vat19.com
Sounds perfect for Mom! But not for me. I have other stuff on my Christmas list (ie a Smart Clock and a Luggage Scale, I'm serious).
[phpbay]slippers, 2[/phpbay]