Disclosure: This post may contain affiliate links, meaning we get a commission if you decide to make a purchase through our links, at no cost to you. Please read our Disclosure for more info.
2020 has been an unusual year, and a new attitude is apparent on the runway for both clothes and footwear. Fall shoe trends are rough, tough, and ready to run.
Forget dainty flip flops or delicate stilettos. For the coming season, you can expect to see a lot of women wearing combat boots, towering platforms, and practical styles appropriate for combatting COVID 19 and protesting for social justice.
Fall shoes are hardy and assertive. They will be sure to keep your tootsies warm and protected, no matter what the next few months have in store for us!
Here are ten of the hottest trends in fall shoes for women in 2020.
1. Chunky Heels
We are seeing tons of Chelsea boots on the runways. Those ankle boots go well with jeans, long skirts, or tights.
This season we are leaving behind the pointy toes and kitten heels and skewing towards a broader platform.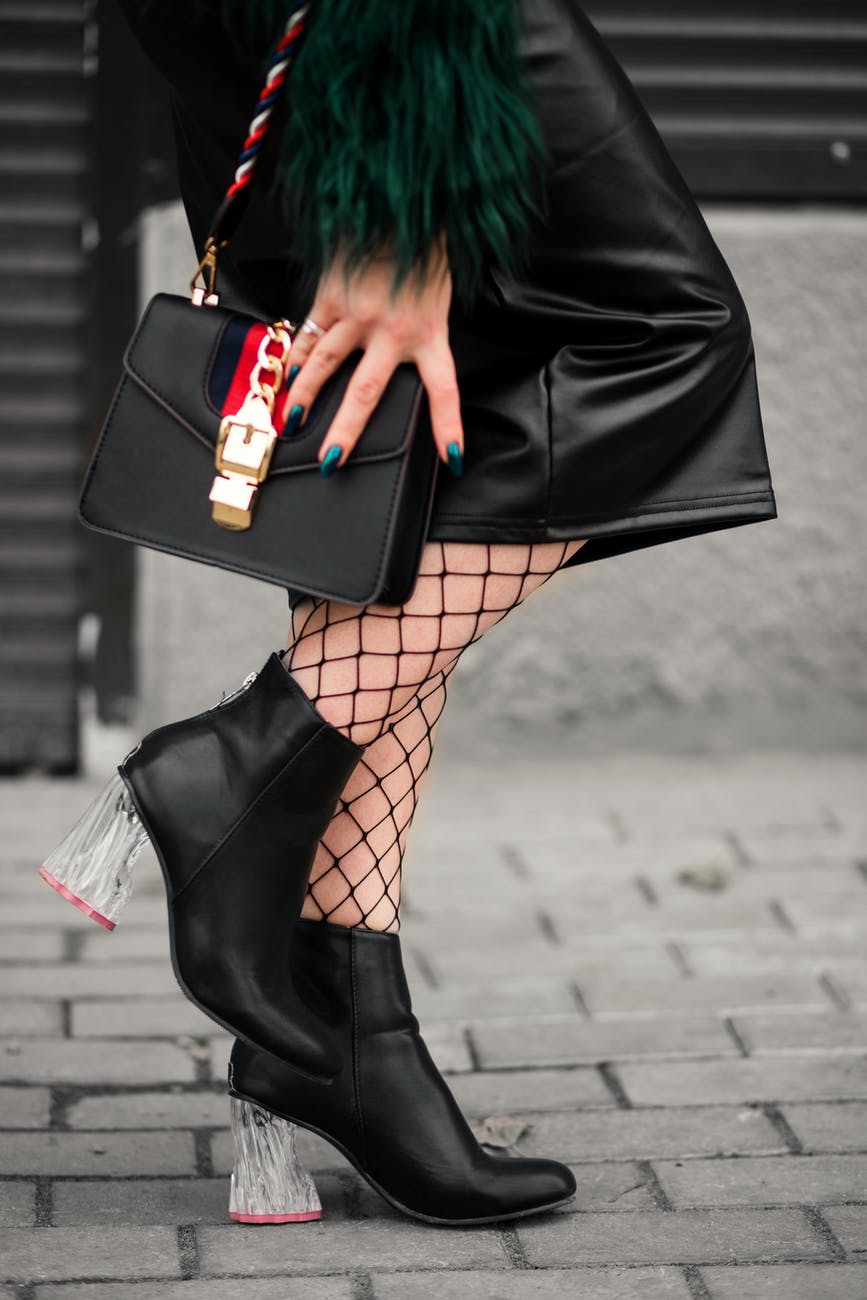 Popular with men and women, this style showcases another trend that will be in this winter: androgyny. Men are no longer afraid to wear women's styles, and vice versa!
2. Lug Soles
Lug soles are those thick, ridged bottoms of boots favored by construction workers on their steel-toed footwear! But this style is popping up on Chelsea boots and other shoes, even high heels.
This look connotes strength and power. You can walk through snow and ice in these babies while staying as tough as any superhero.
3. Platforms
Our love for the seventies has not faded, and our favorite old platform shoes are still popular. Sandals, pumps, and even sneaker trends are showing thicker, chunkier heels which give you height and stability.
Platforms look funky under flowing skirts or loose pants. Pair them with striped stockings under minis or even shorts for a really groovy look.
Make sure you practice dancing and running in these shoes before you take them out for a night on the town.
4. Thigh High
Over-the-knee boots seem to go in and out of style, but this year they are definitely in. Now being shown with those aforementioned thick soles, these stompers look only a little bit scary.
You will be tough yet alluring with a tall pair of thigh-high black boots, adorned with studs and chains for a cool biker vibe.
You can go all out with a pair of fishnets or give your corporate suit a surprising twist by wearing these under a conservative pencil skirt. They'll also keep your tootsies warm as toast in case the fall winds blow and we see an early frost.
5. Chains
Biker chic is all the rage with thick chains being worn around necks, bracelets, and even ankles.
It's fun to mix things up, like by wearing tall biker boots with ankle chains under a tutu-like a skirt. Think Harley Quinn!
If your boots don't come with chains attached, add your own. Some designers are even pairing chunky chains with delicate heels to show you aren't so delicate after all.
6. Pointy Toed Flats
For those events where you can't look like you have just rolled in on your Harley, you can still be fierce in pointy-toed flats.
Megan Markell and other trendsetters are always seen strolling around in these easy-to-wear items. They look great with a pair of ankle-skimming pants or a short skirt.
Choose a great brand like Rothy's so you can be not only environmentally friendly but comfortable. You will be well equipped to stomp on anything, even in the tightest corners.
7. Furry Slippers
So, 2020 was also the year we went for months at a time without going outside or wearing anything but pajamas and slippers.
The fall shoe styles pay homage to our recent quarantines by putting top labels on fuzzy bunny slippers!
We're seeing pink fluff and maribou tufts on cute little slip-ons, which can be a cozy respite from spending the day stomping about in our clod hoppers.
No matter how tough we are in the board room or in the street, ladies can always have fun with a little fluff and femininity.
8. Men's Loafers
In keeping with the androgyny craze, many top designers are showing men's shoes on ladies for fall. A sturdy pair of Gucci or Prada loafers with branded straps and buckles is cool and confident.
These can go to the office under a pants suit or compliment a pair of jeans and a tweed jacket for a walk in the park.
Mix and match with some of the other hot looks of the season, like lug soles, chains, or gold leather.
9. Metallics
All that glitters is not gold, but it may be leather! We are seeing some extra cool metallics for sneakers, flats, and tall boots. Think coppers and bronzes and silver with purple or rose overtones.
You can add a flash to a monochrome outfit with some metallic footwear, or you can go sparkly from head to toe with sequins and shiny leather.
Even just some sparkly studs or laces can jazz up any outfit.
10. Bows
Like we saw with fuzzy slippers, sometimes a gal just likes to be pretty, even if she is decked out in leather and chains. Some of the hottest fall shoes in 2020 are sporting cute little bows!
We've seen them atop towering platform heels or next to ankle chains. We've seen them on pretty little slippers worn by a woman clad head to toe in shiny patent leather.
That juxtaposition of girly and tough is what makes a true woman in 2020. We can do it all and no one is gonna stop us.
Fall Shoe Trends: Pretty and Tough
We have almost made it through a pretty challenging year, so fashion reflects our resilience and ingenuity. We don't need to be held back by old fashioned ideas of femininity, and we have learned the importance of comfort in an era where everyone was anything but.
Thick soles, imposing platforms, and sexy boots can make you feel like you can conquer anything! And a few pretty buttons and bows don't do a thing to diminish our power either.
For more information on the latest fall shoe trends, keep checking back.