Disclosure: This post may contain affiliate links, meaning we get a commission if you decide to make a purchase through our links, at no cost to you. Please read our Disclosure for more info.
OMG, I love this Dolly Forever Barbie by Christian Louboutin (available from Net-A-Porter) even more than I love the Cat Burglar Barbie by Christian Louboutin! And my brother did get me the 2009 Holiday Barbie for Christmas!
Unfortunately this limited edition Barbie is no longer available 🙁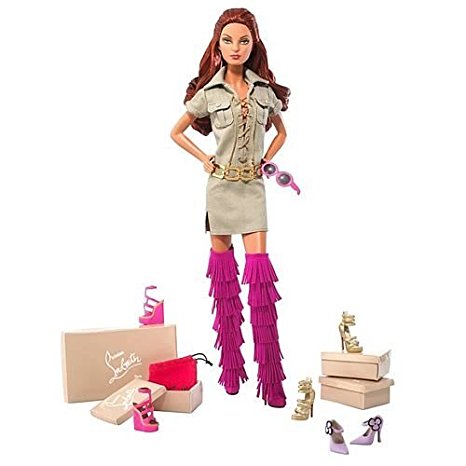 Christian Louboutin has collaborated with Barbie to create this limited edition 'Dolly Forever' doll. In a khaki mini dress, sunglasses, gold extras and Forever Tina fringed boots, she is the perfect gift for fashion lovers. She comes with a collection of 4 red-soled Louboutins, each with their own shoe box and bag.
Limited edition Christian Louboutin for Barbie 'Dolly Forever' doll with red hair and green eyes. Barbie wears a khaki lace-front mini dress, gold accessories and fuchsia Forever Tina fringed boots, comes with 3 extra pairs of mini Louboutin shoes; gold Differa sandals, pink Barcelona wedges and lilac Mary Janes, each with a box and shoe bag. Barbie comes with a stand and is presented in a brown designer-style box.