Disclosure: This post may contain affiliate links, meaning we get a commission if you decide to make a purchase through our links, at no cost to you. Please read our Disclosure for more info.
Nothing beats the feeling of slipping into a brand-new pair of shoes. But if you have large feet, finding stylish and well-fitting footwear can be a challenge. And while some great brick-and-mortar stores cater to people with big feet, sometimes, the selection is limited. That's why many people with large feet choose to shop online.
Shopping for shoes online can be a great experience, but keeping a few things in mind is important. Here are eight tips to help you find the perfect pair of shoes, no matter your size:
1. Know Your Measurements
When buying women's large footwear online, it's important to know your measurements. While you may be tempted to order the shoe in your usual size, this may not give you the best fit. Instead, take the time to measure your foot and then compare this to the size chart of the shoe you're interested in. This will ensure you get a shoe that's both comfortable and stylish.
In addition, remember that sizes vary from brand to brand. So, even if you normally wear a size eight, that doesn't mean all size eight shoes will fit the same way.
2. Consider Width And Length
When shopping for large shoes, it's important to consider both the length and width of your feet. Many brands offer shoes in different widths, so you can find a pair that fits your length and width measurements. This is particularly important if you have wide feet as wearing shoes that are too narrow can be uncomfortable and cause blisters. Additionally, several brands now offer extended sizes, ideal for people with broad or wide feet.
3. Don't Be Afraid To Size Up
If you're unsure about what size to order, it's always better to err on the side of caution and go up a size. Shoes that are too small can be uncomfortable while shoes that are too big can look sloppy. Remember, you can always add an insole or extra socks to make a pair of slightly too-large shoes fit better.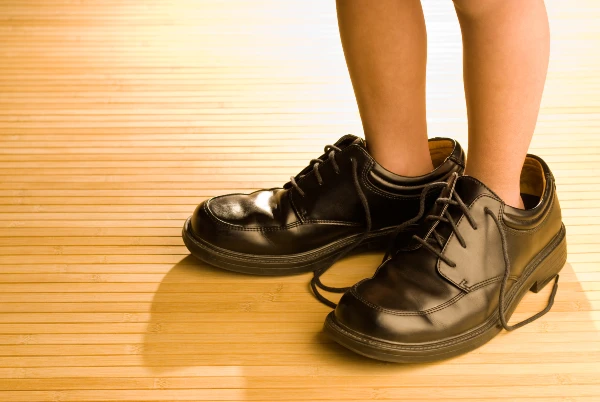 4. Pay Attention To The Reviews
With online shopping becoming increasingly popular, it's important to be aware of potential pitfalls. One common problem is buying shoes that don't fit properly. This can be a particular issue when ordering large sizes as many brands run small. That's why paying attention to customer reviews when ordering big shoes online is important.
Checking the reviews can give you a good sense of whether the size runs small, large, or true to size. Also, you can find other useful information in the comments section such as whether the shoes are comfortable, well-made, and stylish. By reading the reviews, you can increase your chances of finding the perfect pair of large shoes for your needs.
5. Keep An Eye Out For Sales And Coupons
If you're looking to save money, it's important to keep an eye out for sales and coupons. Many online retailers offer discounts on large shoes from time to time, so it's worth checking back often. In addition, many brands offer loyalty programs or rewards points that you can use towards future purchases. By taking advantage of these deals, you can save money and get the perfect pair of shoes for your large feet.
6. Know Your Return Policy
When buying anything online, it's important to know the return policy. This is especially true when ordering big shoes as you may need to exchange them for a different size or style. Check the return policy before making your purchase so you know what to expect if you need to make a return. Most online retailers will generally allow you to return shoes for a full refund, although some may charge a restocking fee.
7. Order From A Reputable Retailer
Many great online stores sell large shoes. However, not all stores are created equal. When making a purchase, order from a reputable retailer that offers quality products and great customer service. In addition, it's important to read the terms and conditions before making your purchase, so you know what to expect regarding shipping, returns, and exchanges.
8. Don't Be Afraid To Spend A Little Extra
While it's important to find a good deal on large shoes, don't be afraid to spend a little extra if it means getting a pair of well-made and stylish shoes. After all, you'll wear these shoes often, so it's important to find a pair you love. Moreover, remember that shoes are an investment. A good pair of large shoes can last you for years, so it's worth spending a little extra to get a pair you love.
Conclusion
Footwear is an important part of any wardrobe, and finding the perfect pair of shoes can be a challenge, especially if you have large or wide feet. However, with a little knowledge and effort, it's easy to find the perfect pair of shoes for your needs. By following these tips, you can find the right pair of large shoes without hassle.