Disclosure: This post may contain affiliate links, meaning we get a commission if you decide to make a purchase through our links, at no cost to you. Please read our Disclosure for more info.
Welcoming a new family member is an experience filled with joy and wonder. As you eagerly prepare for your little one's arrival, it's natural to want them to look utterly adorable, from head to tiny toes.
And speaking of toes, finding a cute pair of newborn baby shoes can add to your baby's stylish wardrobe. Whether you're getting ready for a special event or simply looking to add a charming touch to your baby's everyday ensembles, this article guides you through the process and provides valuable insights.
By considering baby shoes' comfort, style, and functionality, you can ensure that your little one will step into style with confidence and charm, no matter the event.
1. Cozy Comfort: Newborn Booties
Keeping your baby's feet warm and protected during those early months is crucial. Newborn booties are ideal, providing a snug fit to keep your baby's feet warm.
Look for shoes made from soft, breathable materials like cotton or organic fabrics. These materials ensure your baby's feet stay cozy without causing any discomfort or irritation.
Choose booties with adjustable closures, such as Velcro or elastic, for a secure fit that's easy to put on and take off. Babies spend most of their time sleeping or being carried during those early months, so comfort is vital.
2. Everyday Charm: Crib Shoes
As your baby grows and starts to explore the world around them, crib shoes become an excellent choice for everyday wear. Crib shoes offer a lightweight and flexible design that allows your little one's feet to move freely while providing a soft layer of protection.
Choose styles with soft soles, allowing for easy movement and healthy foot development. Slip-on designs make these shoes a breeze to put on, simplifying your daily routines. Choose crib shoes in fun prints or vibrant colors to add a touch of charm to your baby's everyday outfits.
3. Special Occasion Elegance: Dress Shoes
There will be moments when you'll want your baby to look exceptionally delightful, and that's precisely where dress shoes come into play. Whether it's a cherished family gathering, a wedding, or a festive holiday celebration, dress shoes can take your baby's outfit to an entirely new level of cuteness.
Opt for classic styles like Mary Janes or loafers in patent leather or soft suede materials. Not only do these materials exude an elegant appearance, but they also ensure durability and comfort for your baby's precious feet. Search for dress shoes with non-slip soles, ensuring your little one can move around safely, even on smooth surfaces.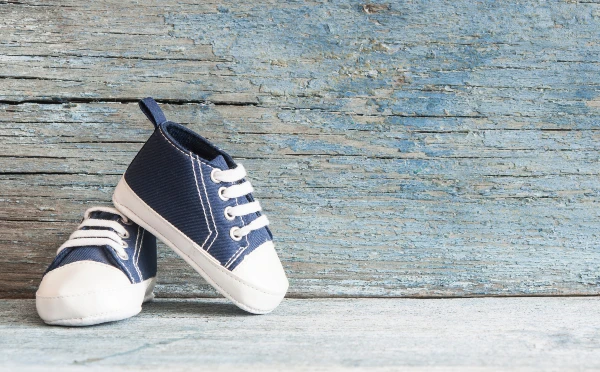 4. Fun In The Sun: Sandals
When warmer days arrive, it's time to let your baby's little toes feel the breeze. Sandals are perfect for keeping your baby's feet cool and comfortable during outdoor adventures. Look for sandals with adjustable straps, allowing you to customize the fit as your baby's feet grow.
Breathable materials like leather or canvas are excellent choices, as they prevent excessive sweating and allow air to circulate. Remember to choose sandals with sturdy soles to protect your baby's feet while they explore the great outdoors.
Some Additional Tips To Consider
Here are some practical tips to enhance your shopping experience. These suggestions will help you make informed choices while selecting the perfect baby shoes.
Shop in person: It's always best to try on shoes before you buy them. Trying them on ensures a proper fit and, most importantly, ensures that your baby feels cozy.
Take your time: Don't feel rushed when shopping for baby shoes. Take your time and explore a variety of styles before deciding.
Feel free to seek assistance: If you need clarification on which size or style to choose, ask a friendly salesperson for guidance. They will gladly assist you in finding the perfect pair of shoes that will suit your little one perfectly.
Only buy a few shoes: It's essential to remember that a baby's feet grow remarkably fast, so it's advisable to buy only a few shoes at a time.
With thoughtful planning, you can discover the ideal pair of baby shoes that combine style, comfort, and durability for your little bundle of joy.
Final Thoughts
When selecting baby shoes, always prioritize the utmost comfort, flexibility, and durability to ensure your baby's happy feet every step of the way. Each baby is unique, so finding shoes that fit correctly is crucial. Take accurate measurements and refer to size charts to ensure the right fit. Remember to check the fit as your baby grows periodically.
Find the perfect pair of baby shoes that combine style and comfort for your little one. Enjoy the process of selecting adorable shoes and cherish the precious moments as your baby takes their first stylish steps into the world.