Disclosure: This post may contain affiliate links, meaning we get a commission if you decide to make a purchase through our links, at no cost to you. Please read our Disclosure for more info.
This year, we're seeing a lot of children's clothing influenced by Western fashion. Although the word "cowboy" might make you think of Woody from Toy Story, know that there are many ways to dress your kids in this fashionable trend. I'm talking about lots of denim, flannel shirts, prairie dresses, and, of course, boots!
With the right pieces, you can create a Western look for your kids that is comfortable and on-trend. From denim to graphic tees and everything in between, there are plenty of options to choose from to create a unique look. And the best thing about Western clothing pieces is that they can function as outfit basics that can be styled in a variety of ways over and over again.
Let's Start with the Boots: An Essential Piece of Any Western Wear Ensemble
If you want your children to get the full Western look, then a pair of Western boots is a must-have. But finding a style that your child likes is not the only priority. Your kid's boots should also be comfortable, offer proper support, and withstand the wear and tear that comes with regular use and rough play.
For a pair of Western boots that check all of these boxes, turn to Ariat. Whether it's for everyday wear or equestrian competition use, you'll find a variety of Ariat baby boots and children's boots that are stylish and versatile enough to be worn daily as well as for equestrian lessons, horse riding, etc.
Ariat boots are highly known for their quality, durability, and ability to withstand different harsh weather conditions. The brand offers waterproof boots for muddy regions as well as breathable footwear to ensure your kid's feet will stay cosy and comfortable all day long on warm days. To ensure convenience and comfort, the brand designs its boots with zippers to make them simple to put on.
Within the brand collection, you'll also find kids' boots with removable Ariat Wiggle Room insoles or Booster Beds. This means you'll be able to save some time and money by not having to purchase brand-new shoes every year because they can accommodate growing feet for longer wear.
Although Ariat is known for making comfortable cowboy boots, it's still important to carefully read the size chart and choose the right design and size for your kids' feet to ensure optimal comfort. You shouldn't have any trouble locating a pair of Ariat baby boots or kids' boots to fit the size your child wears because they come in a number of sizes, heights, and widths. You might want to size up by a half or full size if your child has a wider foot.
The Shirt
When it comes to western shirts, you have two different options. One of them is a denim Western shirt; it's a natural fit for the style. Traditional Western-style denim shirts include double front pockets, snap buttons, and are frequently embellished with embroidered designs, contrasting piping, or fabric patches over the shoulders. Your kid can wear one buttoned up for a smart look or over a white tee for a more casual vibe.
Another option is a plaid flannel shirt. This piece of clothing offers a great way to lean into the cowboy vibes while being a bit more casual about it. It is a great layering piece that your child can wear all fall and winter.
The Pants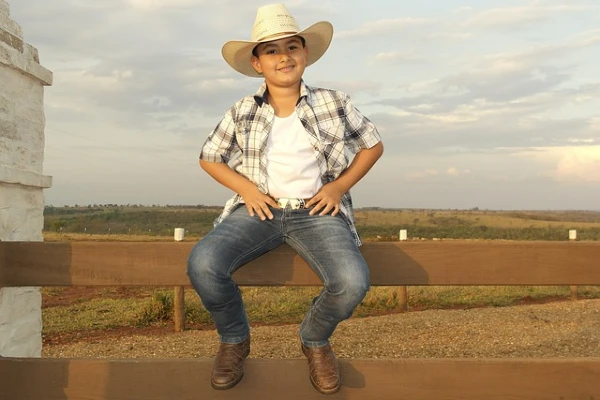 No cowboy look is complete without a pair of Western jeans. Furthermore, jeans are a super versatile clothing piece that can be added to a basic kids' capsule wardrobe.
Consider getting a pair with a slight flare at the bottom so your kid can wear them with their cowboy boots. And don't forget that to be comfortable, the jeans should have some stretch so your little one doesn't feel restricted in their movements when playing.
When looking for a pair of western jeans for riding, some additional features should also be considered. For example, they should be the proper fit and length for the saddle. The Ariat Western cut kid's jeans are a good pick for kids that ride, as they're designed with optimal saddle comfort in mind.
Skirts, Dresses, Shorts and Overalls
These clothing pieces are great for girls to pair with their Western boots and shirts. Cowboy boots go with dresses and skirts of most lengths, but for children's safety, a long dress or skirt is not advised.
These days, it's easy to find dresses for little cowgirls in a range of styles, from casual choices for carefree country days to lacey designs for more formal occasions and cool, breezy cotton dresses that keep your child at ease on even the hottest days.
Cowboy Hats
Some children love hats, while others simply won't wear them. The same is true for a cowboy hat. Therefore, you might want to start with a less expensive hat to see if your child likes it before spending a lot of money on the ideal cowboy hat for them.
In addition to shielding your child from the sun (you'll still need sunscreen, though), a cowboy hat will also give any outfit a distinctive flair. Traditional options include sturdy, premium wool felt and straw, but trendy Western caps are another option for boys who still want to flaunt their cowboy persona.
No matter the style, ensure the clothes you get are comfortable. Only when children are completely at ease and comfortable can they wear the outfit with grace and confidence. Your child should never wear ill-fitting, itchy clothing, such as pants or a top made of polyester or vinyl, as this will only cause them to become irritated and want to take their clothes out.
No matter the occasion, a formal event or a casual outing—always make sure the fabric is soft and breathable and the design allows your child to move around freely.