Disclosure: This post may contain affiliate links, meaning we get a commission if you decide to make a purchase through our links, at no cost to you. Please read our Disclosure for more info.
Mary Jane shoes have held their popularity in America since the turn of the 20th century. Believe it or not, the shoe came to the states through a comic strip called Buster Brown that was first printed in the New York Herald in 1904.
What are Mary Jane shoes? Mary Janes come in all different colors, materials, and to some extent, shapes. What makes them true Mary Janes is the presence of at least one strap running across the top of the foot, buckling to the outer edge.
These adorable shoes have had quite a history in American popular culture and have made waves in different subcultures throughout the years.
Let's take a look at when and how Mary Janes became popular and what gave them their staying power.
Mary Jane Shoes in Buster Brown
Buster Brown was created by comic strip pioneer, Richard F. Outcault. Buster was a young boy that came from an affluent family and got into minor scuffles and laughable trouble.
Before Buster, comics were often considered vulgar or racy and shunned by the middle class. Buster Brown, on the other hand, was praised every week that it appeared in the Sunday papers. Believe it or not, it was Buster who wore those little black shoes that would become so popular in the three-dimensional world.
In 1904, Outcault sold the rights to his comic strip to the Brown Shoe Company who solidified the association between Buster Brown and his notable shoes. In the first few decades of their popularity, these shoes were worn by boys and even men more than they were worn by girls.
So why are the shoes called Mary Janes? In the comic, Buster Brown's "sweetheart" is a girl named Mary Jane. She wore similar looking shoes throughout the series and at some point, the shoe became known not as the "Buster Brown" but, instead, the "Mary Jane."
The Boys Shoe and Flappers
While we may consider the 1920s flapper style feminine by today's standards, these young women were actually dabbling in masculine styles and affairs.
Flappers were considered immoral or dangerous merely because they spent time in clubs, drank freely, and danced with whomever they wanted. They also adopted close-kept haircuts and wore undergarments that would reduce their curves, giving them a boxier, more boyish look.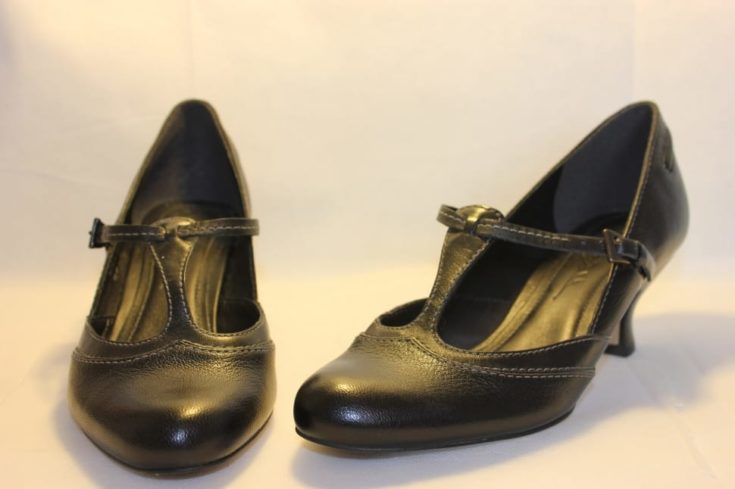 Flappers favored two types of shoes for their nights on the town. The first was the feminine T-strap, a popular, heeled style. The second as the Mary Jane, comfortable and flat enough to stand in and dance in for hours on end!
Shirley Temple Claims the Mary Jane Shoe for the Girls
Eventually, girls Mary Jane shoes stole the show and the Mary Janes for boys were left in the past. When did this happen?
This swap likely occurred in 1934 when budding child star Shirley Temple appeared on screen in one of her first feature-length films. The film is called Baby Take a Bow, the name derived from a song in her earlier film, Stand Up and Cheer! 
In Baby Take a Bow, Shirley performs a musical number and tap dances across a stage wearing an all-white pair of Mary Janes!
From that moment forward, little girls across the country were begging for shoes of the same variety. Throughout the 30s and 40s, Mary Jane was one of the most popular shoe styles for girls, rivaled only by the black and white laced saddle oxford.
Mid-Century High Fashion
Mary Janes saw a rise in popularity in the 1960s when fashion designers like Mary Quant brought the "school girl look" to the runway.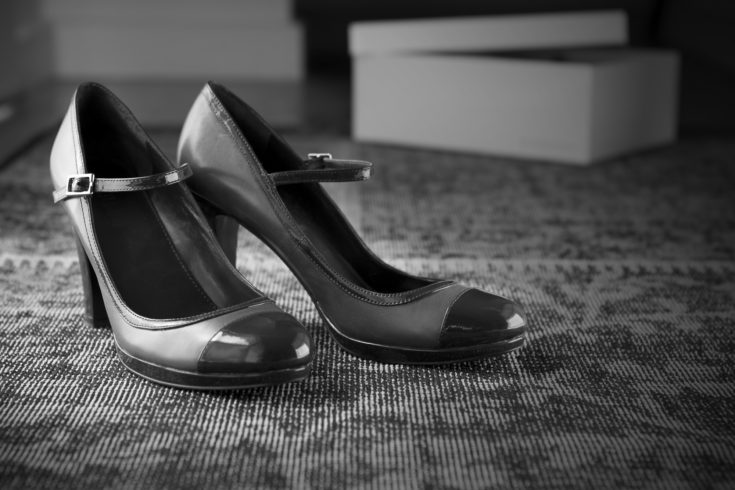 Twiggy was Quant's primary Mary Janes model. With her pixie hair cut and mystifying eyes, Twiggy possessed the youthful look to bring the traditional Mary Jane flat to life. Like the originals, Quant's Mary Jane shoes had a rounded toe box and a single strap across the instep.
Soon after, major designers like Dior and Yves Saint Laurent added elegant, high-heeled Mary Jane shoes to their line, making them all the rage with the elite. Mary Janes of all styles can be seen on glamorous women like singer Dusty Springfield and actress Jean Shrimpton.
90s Subcultures and Mary Jane Shoes
Mary Janes came back in a big way in the 1990s thanks to members of the punk world like Courtney Love. This iteration of the shoe had a chunky heel, thicker strap, and large, exaggerated buckle.
As the decade wore on, the style continued to evolve. Punk, goth teens and young women wore Mary Janes that had a platform sole in addition to the chunky heel. These were often paired with knee-high socks or fishnet stockings, adding a "grunge" touch to the otherwise feminine shoe.
This particular style can still be found in the punk scene created by designers like Doc Marten. They now feature exaggerated stitching along the bottom edge in addition to the large heel and oversized buckle.
The Shoe That Never Goes Out of Style
As you can see, Mary Jane shoes have stood the test of time in American culture. What was once a drawing in a comic strip came to life in the early 1900s and continues to be worn today!