Disclosure: This post may contain affiliate links, meaning we get a commission if you decide to make a purchase through our links, at no cost to you. Please read our Disclosure for more info.
Adult coloring books are all the rage right now, and illustrators are hopping on the bandwagon creating coloring books about all topics, including SHOES! The following shoes coloring books were all published in the last year and contain beautiful hand-drawn shoes that you can color to relax or frame (or both)!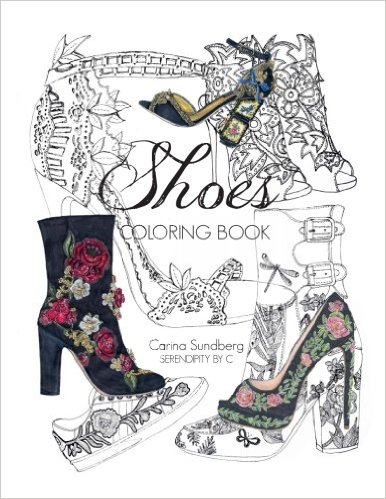 Swedish illustrator Carina Sundberg shares 50 single sided pages of fashion.
You will be immersed in a stress-relieving land of high heels, flats and ballerina shoes coloring book designs.
Express your love for shoes by designing your own using this chic coloring book!
Indulge yourself in a rainbow of 35 gorgeous new shoes…without the guilt!
Looking for a way to relax? Love shoes? This is the activity for you! Research shows that coloring structured geometric shapes can actually bring about benefits similar to meditation.
Only the color gives every beautiful Shoe, every flower and every pattern its own personality – your personality.
There is a shoe for every person and a Shoe-dle for each and every mood.
Vintage Handbags and shoes gives you the opportunity to color in 30 vintage handbag and shoe designs using your favorite coloring tools.
From sneakers to sandals to watches and other accessories, fun fashion items await your creativity.
Color a dazzling array of modern and vintage styles!
Relaxation while coloring. 30 impressive motifs.
Do you or someone you know love fashion? Then why not check out this stress relief coloring book of shoes? It would be the perfect gift for yourself or a shoe lover that you know.
Who doesn't love coloring shoes?
The perfect coloring book for every shoe lover. A collection of 40 beautiful boots and high heels shoes and many more.
Each Coloring Book Contains Designs To Suit Skill Levels From Beginner To Expert.
Feel relaxed and happy with our pick of designs.
Head Over Heels contains stylistic images of various high heeled shoes and fashion accessories.for a unique coloring sensation.
Only the color gives every beautiful High Heel, every flower and every pattern its own personality – your personality.
Coloring for body, mind and soul.
This book contains a mixture of sophisticated elegant shoe artwork and rich coordinating patterns. There are 70 images to color.
Which shoe coloring book is your favorite?