Disclosure: This post may contain affiliate links, meaning we get a commission if you decide to make a purchase through our links, at no cost to you. Please read our Disclosure for more info.
Shoes are a pretty big deal, after all, we all wear them to get around. Whether it's sneakers, boots, stilettos, we all have our favorites. Did you know that there are some shoes that are worth more than people's homes or worth more than people will ever see in their lifetimes?
Keep reading to find out what the most expensive shoes in the world are at the moment.
1. Passion Diamond Shoes
The first shoes on our list are heels that are made from real gold and is covered in hundreds of diamonds. These pumps are worth $17 million and have the whole internet talking.
There are over 100 carats of diamonds all over the white gold piece that trims the entire gold leather base of the shoe. These shoes are a sight to see and if you're curious about the value of lab created diamonds vs real diamonds, there's a reason these are valued at $17 million dollars.
2. Debbie Wingham
These unique stilettos worth $15.1 million were a special order from a family to the British designer Debbie Wingham. The shoes show off 24-carat gold leather are have rate white, blue and pink diamonds sewn in with real gold thread.
#PassionDiamond shoes are currently the most expensive shoes in the world, with a price of $17 million for a pair of shoes. Watch https://t.co/j1fw0zomvG video on the world's most expensive shoes. #DebbieWingham @IndiaToday @aajtak https://t.co/6C9Wm66uYl pic.twitter.com/IMyC9kqbuZ

— Business Today (@BT_India) October 5, 2018
This was the most expensive list until the Passion Diamond Shoes were made.
3. Harry Winston Ruby Slippers
Who doesn't feel like Dorothy from the Wizard of Oz every once in a while? These $3 million dollar shoes are made out of 1,350 carats of rubies and 50 carats of diamonds.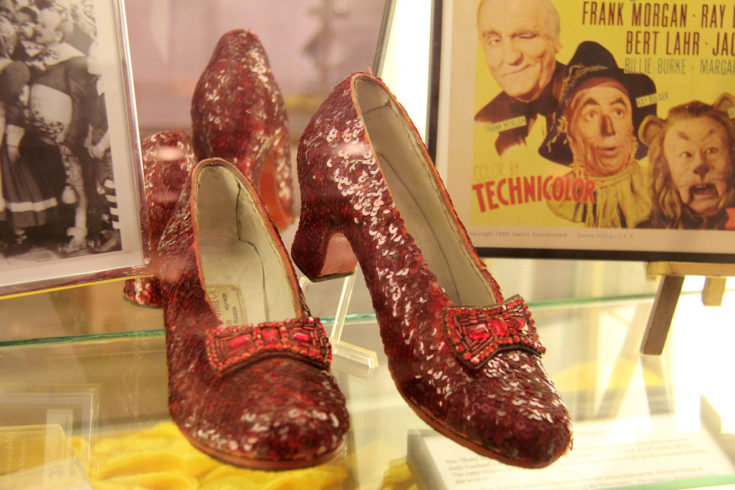 These beautiful ruby slippers were created by Ronald Winston the son of the famous designer Harry Winston.
3. Cinderella Slippers
If you want to feel like Cinderella then these Stuart Weitzman Cinderella slippers might be calling your name. They are worth $2 million and made from the highest quality Italian leather. The ankle and toe straps have a distinct lace design along with 565 Kwiat diamonds that are in platinum settings.
The heel that goes on the right foot also has a 5-carat amaretto rare diamond in the middle.
4. Tanzanite Heels
If you are a fan of tanzanites and diamonds then this $2 million dollar heel might be calling your name. They were also made by Stuart Weitzman (the designer of the Cinderella slippers mentioned above).
This heel sports 185 carats of blue-purple tanzanites along with 28 carats of diamonds. On the ankle strap, there is a 16-carat pear-shaped tanzanite that dangles right in front. The first time this shoe was showed to the public was in 2007 at the New York Public Library.
5. Tom Ford Loafers
These loafers were made by Jason Arasheben as a custom order to Nick Cannon. The loafers shoe off 340 carats of round cut diamonds. The diamonds are set on white gold – making them very blingy loafers.
These loafers are valued at $2 million compared to their average price of $1,000 to $2,000 price range. Of course, Jason Arasheben uses the best materials to ensure you won't be disappointed.
What Do You Think of This List of the Most Expensive Shoes?
Now you know the 5 most expensive shoes out there. Which ones impressed you the most? Would you spend on any of these or would you rather spend that money on something else?
Let us know in the comments below what your thoughts are!