Disclosure: This post may contain affiliate links, meaning we get a commission if you decide to make a purchase through our links, at no cost to you. Please read our Disclosure for more info.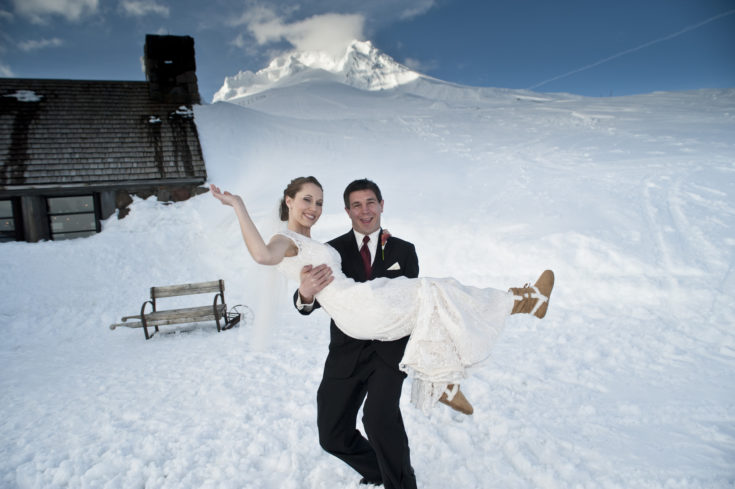 So you decided to save the money and make a winter wedding? In fact, you made a good choice – if it snows, you will have the beautiful pictures. The dress is not a problem because all you need to be warm is some sort of cape. But what about the wedding shoes? They need to be elegant and warm simultaneously! If you wish to find out about top 15 bridal shoes for a winter wedding, then keep on reading!
15 Bridal Shoes For a Winter Wedding
Closed Toe
It will be cold – fact. That is why do not even consider buying sandals with an open toe. Unless you are going to wear them for 10 minutes for a couple of pictures, do not consider sandals for the wedding.
Leather Sole
Whether it is going to snow or not, the ground might be icy, and only the leather sole will help you not to slip on the surface.
Boots
Yes, delicate ivory boots would look gorgeous with a long dress. However, you need to ask the photographer to take the pictures of them at the very beginning while they are not covered with snow and mud.
[amazon_link asins='B0042QPNBO,B06XS36GH7′ template='CopyOf-ProductGrid' store='shoeaholicswp-20′ marketplace='US' link_id='ee233e2a-b20f-11e7-b29e-3157513f0513′]
Flat Bridal Shoes
Well, okay, maybe not completely flat, but at least with the low heel. It is winter, right? You do not want to slip and fall on the high bridal heels.
Two Pairs of Shoes
Seriously, why not buy two pairs of shoes? You will wear the boots during the day and the glamorous high-heeled shoes during the night.
Non-White Shoes
If you do not want to die away completely with the snow on the pictures, wear some colorful shoes. They would look amazing and would not spoil the image.
Cowboy Boots
If you are not really into glamour and want your pictures to have a bit of rock'n'roll vibe, consider buying the cowboy boots – they look special with the tender white dress. The most important thing is that they will keep your feet dry and warm.
Snow Bunny Style
The boots with pom-poms would look adorable on your feet with the long dress. You can make funny pictures where you lift up the dress demonstrating you are wearing such cute shoes.

Image Source: Bridal Musings
This type of footwear is perfect for those who really care about keeping their feet in warmth. The brand even has the "I Do" line that looks very dressy. However, be careful: Uggs are not credible in the wet weather, that is why make sure you only walk on the snow and not in the puddles. Can't afford Ugg boots? Buy Uggs now, pay later. 
 Tall Fashion Boots
These would look amazingly fashionable. If it fits the theme of your photoset, consider buying Victorian boots – you would look gorgeous in them! However, if they have high heels, be careful not to slip on the ice. Also, there is a high chance that they will become wet soon, that is why avoid puddles.
[amazon_link asins='B004K2JDQ6,B005OAE0UW' template='CopyOf-ProductGrid' store='shoeaholicswp-20′ marketplace='US' link_id='151c340d-b210-11e7-b038-6f5256a87b75′]
 Rain Boots/Wellies
The rain boots would keep your feet dry – have no doubts. These appear in different colors, that is why if you are up for the fun photoset, then this choice would be the best for you.
 Pumps
Yes, this option is for the brave ones because these would keep your feet neither warm nor dry. However, how much time are you going to spend outside anyway? The amazing pictures where the beautiful pumps with jewels, bows, and laces are visible would be worth the sacrifice.
 Sandals
Yes, we mean it – sandals! As a second pair of the wedding shoes, sandals can be a good alternative to the boots to allow your feet to breathe a little. You would not catch a cold if you pose for a couple of pictures in the beautiful sandals on the snow!
 Mary Jane Shoes
This model will never be out of fashion. Mary Jane shoes will considerably keep your feet warm, but their beauty on your feet would be worth of freezing a little.
[amazon_link asins='B072MSJ4PV,B011NW2QAU' template='CopyOf-ProductGrid' store='shoeaholicswp-20′ marketplace='US' link_id='2a7d1202-b210-11e7-96de-fb2aa62dc40c']
Booties
This kind of footwear would look really elegant on your feet and would match any dress – long or short. This is the best option for those who want to keep their feet warm and look fabulous simultaneously.