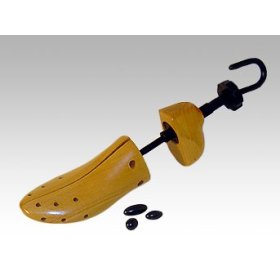 I knew you could buy  shoe stretchers, but I thought they were only for the width.   I thought wrong!   These FootFitter Pro Two-Way Shoe Stretchers can widen the shoe in  oppressive places  plus lengthen the shoe.   What a perfect solution for those "I just had to buy these shoes even though they were too tight" shoes!
Plus they allow you to widen your shoes exactly in areas where pressure points are located, offering relief for bunions and  hammertoes. I may suggest this for my mother as her feet seem to be different widths since breaking her ankle.
FootFitter Pro Two-Way Shoe Stretcher  is available from Amazon.com for only $15.95.   Available in seven different sizes, in different widths for men or women. Includes three corn pieces and excellent instructions.
[phpbay]shoe stretcher, 2[/phpbay]