Replica Manolo Blahnik Blue Satin Pumps
I had a nice time  during my girls' night out to attend the "Sex and the City" movie. I didn't  know what to expect with all the rumors  blasting about (Mr. Big does not die), but I laughed and cried just like they said true SATC fans would. And the happy ending made it a perfect chick flick. I can't see a sequel in the making, though.    Of course, what I loved most about the movie, were Carrie Bradshaw's  shoes!    What  I  disliked was that  we could see the microphones  at the top of the screen most of the  time  – I'm thinking our small town theatre didn't black out the top like they should have?   Anyway, here is a lowdown of some of the shoes Sarah Jessica Parker wore on the set…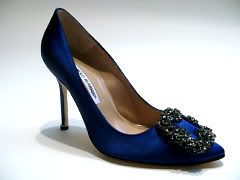 Miss Meghan reported that these Manolo Blahnik blue sation heels were custom made for the Sex and the City movie!   Update: These Manolo Blahnik Something Blue Satin Pumps are now available  for $945.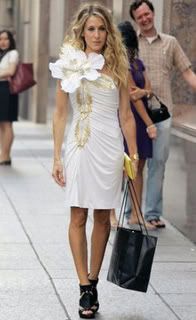 Extreme Dior Gladiator Platforms,  $500+ (buy pre-owned Dior gladiators for $150)
Carrie wears these in several colors during the movie (ie black, brown, gold metallic). Makes you wonder if Dior paid for product placement (Patricia Field says no).  
But you can definitely tell Bag, Borrow or Steal (rented handbags) and Vitamin Water scored some air time.
Can't afford Diors?   Check out
Steve Madden's Madalynn embossed leather gladiator inspired sandals (under $100)
Promise Sasha Open Toe gladiators (shown right, $41.98)
Baker's Candice gladiators (under $70)
Anne Michelle Carrie-10 High Heel Gladiator Sandal ($41.98)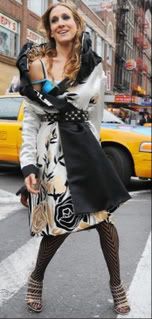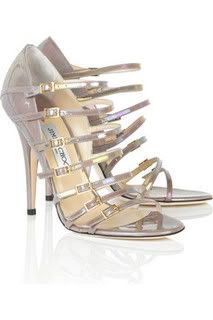 Jimmy Choo Atlas Patent Sandals, $750 (buy pre-owned for less)
Manolo Blahnik Sedarby Zebra-Print d'Orsay, $675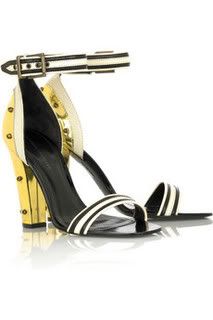 Proenza Schouler Studded Strappy Sandals
From Andrea: "The silver heeled pumps are by Balenciaga Fall/Winter 2008"
I know I'm missing more!   So if anyone can  contribute some more pics/details, I'd appreciate the help!