Disclosure: This post may contain affiliate links, meaning we get a commission if you decide to make a purchase through our links, at no cost to you. Please read our Disclosure for more info.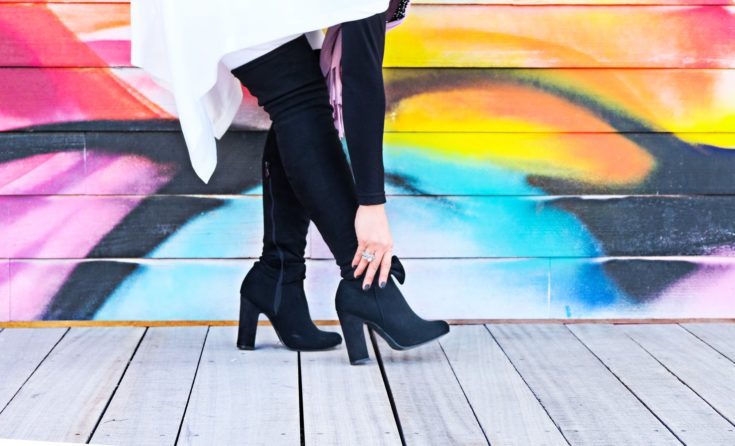 With the arrival of fall, there's no better time to think about what boots you're going to wear. Besides keeping your feet and lower legs warm and comfy, the pair you choose for fall might just become a showstopper. The boots you rock with a dress or your favorite skirt this fall could create a stunning new silhouette with slacks, jeans, or coats come winter.
Are you at a crossroads in choosing which style to go for? Here are four ideas you might want to consider from October through March. Think practicality, versatility, and price point. Of course, keep current trends in mind.
Combat Boots
Among the top trending boots for this season are '90s-style combat boots. Recently, high-profile American models such as Hailey Baldwin and Kaia Gerber have endorsed and sported these boots. The sturdy flat platform on some styles, for example, not only adds height to shorter women but also lends something extra to an already stylish feminine look. It's an open secret — they are made for running around comfortably when on a hectic schedule in cool weather. 
Throw on an oversized denim jacket and combat boots with laces of contrasting colors, and your grunge look is good to go.
Knee-High Boots
A great pair of knee-high boots is a must-have because they are sexy and trendy, from their shape to their finish. You have a nearly limitless selection of colors and styles to choose from. Whether it's multicolored fabric, pointed patent leather, an open-weave design, or luxurious soft calf leather knee-highs that complement midi-length dresses, these boots make elegant legs look ready to sashay forever.
Animal Prints
Animal prints make an autumn statement if you are ready to take a walk on the wild side. A pair of over-the-knee snakeskin boots can be très chic with a shearling-lined coat, a simple top, and sweats.
The leopard print is a fall classic that's sure to announce your adventurous side, especially when worn with jeans that hug, tucked in a pair of boots that stops just below the calf. Combine leopard print boots with denim-on-denim for a stunning look. Meanwhile, a pair of ankle-high zebra print boots with cropped denim will deliver the same effect.
Ankle Boots
High on the priority list should be the dressy ankle boot with a slim heel and a sleek pointed toe. It's ideal for cooler weather and serves as a fitting replacement for summer pumps. This boot goes well with everything, from skirts to white dresses to jeans and denim cutoffs. 
The suede Western ankle boot is both casual and stylish. So too is the acid-washed slouchy ankle cone-heeled boot — a throwback to the '80s.
The boots you choose are a matter of style and taste, so strategize your collection without compromising your comfort and image. If your shoe rack holds combat, animal prints, knee-high, or ankle boots, you will have plenty of footwear options to wear over and over, day or night, this fall and winter.