Disclosure: This post may contain affiliate links, meaning we get a commission if you decide to make a purchase through our links, at no cost to you. Please read our Disclosure for more info.
Everything You Should Know About Havaianas Flip Flops!
As summer approaches, you might be looking into buying yourself some new flip flops. If this is the case, then we have an iconic sandal brand that will make your feet look and feel great. With that being said, here is everything you should know about Havaianas Flip Flops!
Why are Havaianas Flip Flops so popular?
Pronounced haa·vee·aa·nuhz, Havaianas is a Brazilian brand that is known for its beach-y and trendy shoes and accessories, however, its fun flip flops are its most popular product.  
The name is derived from the the Brazilian Portuguese word for "Hawaiians", and was named for the  pattern on the soles of the sandals.  Since being founded in 1962, Havaianas has become one of the most popular sandal brands on the market. In fact, decades later, Havaianas is still just selling millions of sandals yearly and are still sold in surf wear retail stores.
Celebs love their fashionable flip flops by Havaianas and are often spotted wearing them! Some famous fans include: Christina Aguilera, Gwen Stefani, Lucy Hale and Kirsten Dunst. 
Havaianas has been spreading Brazilian spirit around the world since 1962, with its iconic rubber sole and bright, colorful and summer-infused designs. Every pair of Havaianas flip flops is still designed and made in its birthplace, Brazil.
What Makes Them Special
A global leader in the sandals category, with over 252 million pairs sold every year in over 100 countries, Havaianas has become synonymous with summer spirit worldwide and is a must-have for beach-goers and trend setters alike. The company is headquartered in Sao Paulo, Brazil with regional offices in Los Angeles, Madrid and Hong Kong.
The brand can be found in more than one hundred fifty thousand points of sale throughout Brazil and in more than 100 countries, offering products that go far beyond the classic sandals.

Trending Styles
One of the reasons Havaianas have become so popular is their versatile styles. No matter what your personal sense of style is, you can find an affordable and fashionable summer flip flop from Havaianas that matches your style. They have classic solid colored sandals, iridescent sandals, vibrant sandals, pride sandals, Disney sandals, and even gradient sandals.
Life doesn't sparkle unless you do, so walk with shimmer in the Havaianas Glitter collection. Glitter makes everything better so shop the Havaianas Glitter Collection and shine with every step.
Bon voyage! Heading on a spring or summer beach or pool getaway? Don't forget to pack this season's best travel companion:  new sandals! Our pick the Malta slide sandal for those who aren't into the flip flop style. 
The classic slim meets new neutral shades that will elevate any look you step into this Spring, great for a beach wedding or night out when you want your dress to shine and your feet to be comfortable! Shop the new Havaianas Neutrals now.
However, one of their most popular styles is their Brazil flip flops. Many customers love that they can show support for the Brazilian soccer team by wearing a small Brazilian flag on their shoes!
About the Flip Flops
Havaianas have also gained recognition for their Havaianas slim. Unlike their regular flip flops, These sandals have slightly thinner straps and narrower soles. This style is very popular among female customers.
It all started with a sandal.
Havaianas' first design was inspired by the traditional Japanese Zori: a sandal composed of a thin sole made of rice straw and fabric straps. In 1962, the designers of Alpargatas used rubber as the main raw material and adapted the Japanese sandal to the Brazilian market using the rice grain shape as the sole's texture guaranteed comfort, durability, and versatility to the new sandal.
Are Havaianas Flip Flops Comfortable?
Another reason why Havaianas have gained such a cult following is their comfy design. While some flip flops can cause pain or discomfort, Havaianas has created a design that makes sure you and your feet are supported. This is because Havaianas are made from squishy and cozy rubber.
Speaking of being made from rubber, another benefit of wearing Havaianas is that they use natural rubber. So, while other flip flops use uncomfortable thongs made out of foam, you can feel good knowing your Havaianas are sustainable and comfortable.
Are Havaianas Flip Flops Sustainable?
The best part about Havaianas is that they put sustainability first. They have shoes that are made out of recycled materials, some that have been used to help preserve biodiversity on land and sea, and others that have helped plant more than 3.2 million trees in the Atlantic Rainforest.
Regardless of what type of flip flops you may purchase from Havaianas, each pair of flip flops is made in the company's birthplace, Brazil. Furthermore, Havaianas is still currently owned by a Brazilian manufacturing company.
Havaianas Top Sandals
Meet the New Havaianas Sandals
Description: Free feet never looked so good! Shake off your high heels for the new Havaianas sandals. Shop the new collection  today.
In the early 90's, a major shift happened in the brand's trajectory! Until then, the brand had offered only one style, the Traditional. The straps of the original flip flop came in 4 solid colors and were attached to a rubber sole that was always white on the top while the color on the bottom matched the color of the strap.
Brand-loving surfers started customizing their flip flops in an attempt to turn them into a more colorful piece. They detached the straps from the sole and flipped the sole upside down, exposing the non-white color on top led to the creation of a solid-colored sandal.
The Havaianas Design Team used the inspiration and it wasn't long before the launch of the new monochrome sandal, the Top. Initially available in 4 colors: black, royal blue, purple and pink, today the Top line has more than 15 different colors available with beautiful, on-trend colors launching every season.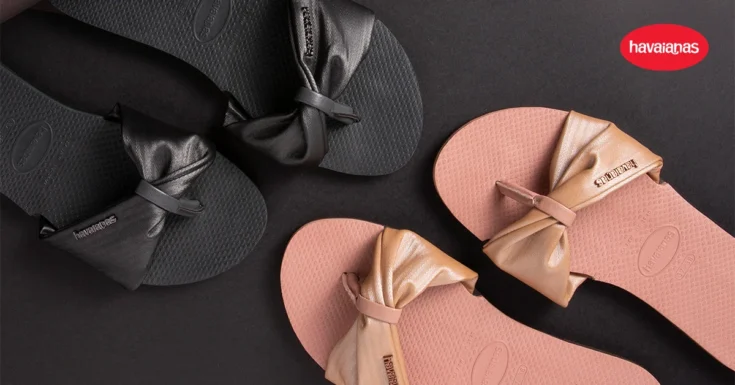 How to Size Havaianas
If you are thinking of buying some Havaianas for yourself, you might be wondering what their size chart may be. Well, rest assured, we have you covered. That being said, you can find their full size chart here!
A size 35 to 36 in Havaianas is a size 5 to 6 in the US.
A size 36 to 38 in Havaianas is a 9 to 10 in the US.
A 43 to 44 in Havaianas is a size 11 US
Want to know how sandals should fit, we've got a great guide for you here.
How to clean Havaianas flip flops
If you have a pair of Havaianas and accidentally got a stain on them, don't worry! Luckily, these shoes are very easy to clean. So, to keep your shoes free of dirt and grim, follow these easy steps.
Grab your supplies. You will need a bucket, warm water, laundry detergent, and a sponge.
Mix the laundry detergent and water in your bucket, then allow your sneakers to soak for 30 minutes.
After, use your sponge to scrub and rinse your shoes.
If you are not satisfied, you can repeat steps two and three. However, if you are happy with the results, grab your flip flops and leave them out in the sun to dry.
When cleaning your flip flops, avoid putting them in the washing machine, as this can damage your shoes.
Where to Buy Havaianas
Want to get yourself a pair of Havaianas? Perfect, we found a few places where you find these trendy flip flops!
The best choice for the latest styles, limited editions and the classic Brazil flag style. 
use code: PARTNER15
Step into the season with a new pair of Havaianas. Shop now to enjoy 15% off your first purchase of 2 or more  regular and sale priced styles!  *Exclusions apply
Need your sandals with fast shipping or if you are a Prime Member and want free shipping get authentic Havaianas on the official Amazon store here. Find all your favorite styles for Men, Women, & Kids. From Slim to Brazil and Slim Platforms. 
5. Zappos 
Zulily is a flash sale site so the Havaianas sales only come up a few times a year, but this is a great time to stock up on your favorites and older styles at a great price!