Disclosure: This post may contain affiliate links, meaning we get a commission if you decide to make a purchase through our links, at no cost to you. Please read our Disclosure for more info.
From sandals, flip flops, slides, heels, or barefoot, you can easily elevate your summertime style. While summer footwear might be fun, most of them don't provide the needed support like other seasonal shoes. With that in mind, it might help to choose your summer footwear wisely and put them on for a short period if they don't provide adequate support.
Though there are many shoes on the market, it's essential to understand that different individuals have different requirements and what suits you might not suit another person. Therefore, you're likely to try different shoes before finding the perfect one for you.
Footwear Options For Summer
Every season has its outfit in terms of dress code and shoes. For the summer season, the following types of shoes are more likely to offer comfort while appearing stylish:
1. Flip-flops And Slides
Flip-flops and slides are comfortable choices for summer, especially if you're spending most of your time around water. Besides being easy to put on, they keep the feet cool during the summer heat. Flip-flops and slides are water-resistant, hence the best choice when visiting the beach.
Nevertheless, such footwear can aggregate footer problems, especially if they're extremely flat. Therefore, you shouldn't wear such footwear for a prolonged period to avoid developing health problems. And if you can access flip-flops or slides with a thick bottom to cushion your feet, the better. In such a case, Adidas slides are perfect since they come with thick bottoms that are perfect for cushioning your feet.
2. Walking Sandals
Walking sandals are among the best footwear for summertime fun. They are comfortable and can be worn for beach or grocery stores. When selecting walking sandals, ensure to choose a versatile pair to match every outfit. Also, the pair should come with a cushioned sole, straps, and maybe some arch support.
3. Comfy Flats
Comfortable flats such as loafers, slipper-style flats, or oxfords are excellent for work and perfect for evenings. They're also suitable for weekends when you want to walk around in comfortable but simple shoes. Comfortable flats are even better because they sit well with most outfits.
4. Fashion Sandals
For events that aren't so casual, like a lunch out with friends or a neighbor's backyard barbecue, fashionable sandals are excellent for adding style while staying comfortable. Settle for fashion sandals with straps or embellishments that will appear fun with a summer dress or a pair of capris.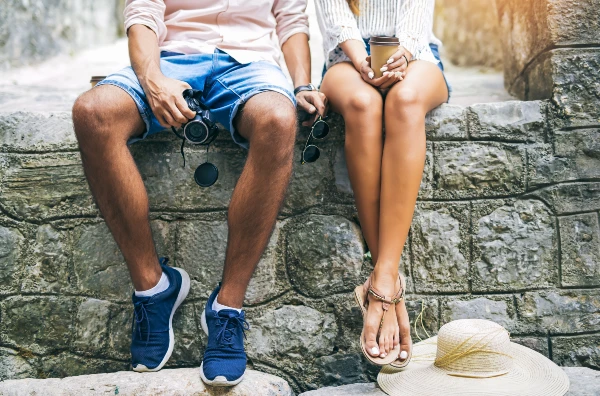 5. Athletic Shoes
It's good to have a pair or two of athletic shoes for casual weekends. Such shoes are perfect for busy days, like when you have lots of errands and want something to make you feel comfortable while on the go. Whether simple or colorful, go for a sporty canvas that fits and suits your personality while appearing stylish.
However, be mindful of the fabric of your sneakers. Some sports shoes are made with fabric that doesn't allow the feet to breathe, holding a lot of sweat. If you'll be wearing sneakers more often during summer, it's advisable to have several pairs to allow enough drying time after every wear.
6. Ballet Flats
Ballet flats are ordinary office wear perfect for summer and spring due to their versatility. Before the weather warms up, ballet flats can be worn with straight-leg trousers, tights, or pencil skirts. These shoes go well with sophisticated dresses or formal skirt suits during hot weather.
7. Heeled Sandals
Heeled sandals are an excellent formal choice for summer, whether slimmer heels, wedges, or stacked heels. If you're attending a summer event or want to add a perfect summer shoe to your wardrobe, heeled sandals are the way to go. However, when shopping for heeled sandals, choose those with thicker heels for comfort and easier walking.
Also, avoid wearing heels for an extended period since they can increase your chances of developing ankle injuries, hammertoes, and bunions. It would be best to avoid higher heels to prevent uneven distribution of weight due to increased pressure on the ball of your foot and toes.
Conclusion
There are lots of activities during summertime like parties and playing by the beach, which you don't want to miss any of them. You also want to stand out on every occasion. You need to be in the right dressing cord in this period, especially since it's hot and you want to enjoy the fresh air. Among the things you want to get right is your footwear. A poor footwear choice can hurt your feet primarily due to high temperatures.
Given that you'll be participating in different activities, it's essential to wear the correct type of shoes for comfort and to reduce the chances of injuries. Also, ensure to change them regularly to decrease the impact they might have caused on your feet and the entire body.