Last weekend we celebrated my grandmother's 85th birthday at the bar*, just like last year. Only this time, all of her children and grandchildren and great-grandchildren were present instead of just me and Squeak.   It was nice to visit with my aunt and uncle and cousins  that I haven't seen in awhile.  
My cousin, London had on some awesome shoes that I just had to try on, and she is  a size 7.5 – same as Squeak and myself –  must be hereditary…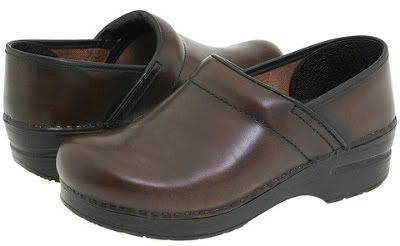 They are Dansko Professional Cabrio Clogs  in Hickory, $115 from Zappos.com.   She had this to say about them, "Dansko's are really popular in Minnesota. They are waterproof, comfortable and you can wear them all year round. I wear them in the snow without any problem… A good alternative when you are sick of wearing boots every day. They were pretty expensive but worth every penny."
I can see myself wearing them as well – now I just have to see if I can  find them on sale!
*Squeak remembered to bring  Vitamin B-12  so no hangovers were to be had.