Disclosure: This post may contain affiliate links, meaning we get a commission if you decide to make a purchase through our links, at no cost to you. Please read our Disclosure for more info.
Say what you want to say, but matching couple outfits are cute — if done right. What could be cuter than being in a relationship and looking good while doing so? Matching outfits for couples is one of the newest trends in fashion. While some people might find this twinning thing cringing, nothing screams love in the air more than a cute pair of matching shoes for lovebirds.
By the way, if you want your pair of shoes to be more special and not bump into anyone's style, you can customize some embroidery to stick on the upper. Customize the embroidery of some cartoon characters with you and your boyfriend/girlfriend, and some patches with special meaning statements. Design custom patches for free on www.patches.co.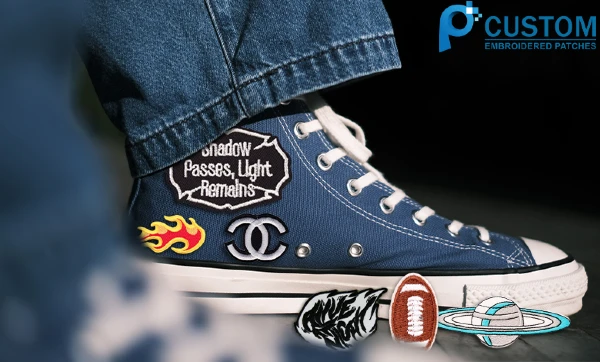 So, all you need is a lover and a cute pair of best matching shoes to express your love to your partner. Here are a few of our favorite best shoes to match with your girlfriend to make you and your partner look chic and good. We have covered from shoe trends to the classics to help you look best.
How to Choose the Best Matching Shoes for Couples
When choosing the best shoes for your partner and yourself, consider comfort and style. Since so many different shoes are available on the market, it gets difficult to decide which one to add to your outfit. Sneakers are the best option if you're looking forward to buying pairs for males and females. They are versatile footwear, and most of them are available in unisex sizing. So, it wouldn't be much of a hassle to find a pair for both sexes. The one-stop destination for buying footwear of all styles from the most trending brands – for both of you and even your kids – is the Tower London store. They have been a trusted footwear retailer for more than 40 years now. In addition to quality products, some perks will likely wait for trendies, willing to buy a new pair of shoes without harming their wallet.
1. Adidas Yeezy Boost 350 V2
The Adidas Yeezy Boost 350 V2 Zebra is a terrific option if you are looking for show-stopping footwear to add to your collection. Featuring black and white stripes, these sneakers are sure to make a statement. The boost foam in the midsole also makes it exceptionally comfortable. They are breathable, easy to clean, and snug fit.
Consider getting your beau and you the Yeezy Boost 350 V2 Zebra to add a cozy and celebrity-endorsed shoe collection to your rotation.
2. Converse  x JW Anderson Run Star Hike
Converse x JW Anderson Run Star Hike is streetwear, an Instagram favorite, and artsy pair of sneakers. It has a thick sole to give you a bit of height. This sneaker wear is considerably a new style for males to wear. It will be exciting for you and your lover to wear it and pull off an urban look.
3. Nike Air Max 97
Nike is known for reissuing best-sellers' older designs, and Nike Air Max 97 is one of those. They are attractive and forward-thinking masterpieces inspired by Japanese bullet trains.
You can pair these shoes with co-ord sets, cozy hoodies, or athletic shorts. These sneakers are a fashionable, enjoyable, and iconic addition to your shoe collection.
4. Nike Air Foamposite One Galaxy
As one of Nike's most popular releases, this model has been in high demand. If you and your partner love funky and vibrant styles, this pair of sneakers is the best option. They are attractive, unusual, and unique sneakers.
Even though these sneakers are a little expensive, they are worth the investment. Nike Air Foamposite will make people turn heads whenever you go with its glossy, glittering upper with black accents.
5. Air Jordan 1 Retro
Air Jordan 1 Retro is inspired and named after one of the greatest basketball players. If you or your beau is a fan of Hall of Fame former basketball player Michael Jordan, these shoes are for you!
These shoes are created with a soft tongue and padded ankle support. They are excellent for wide-footed people. Air Jordan 1 Retro promises excellent support and comfort and is comfortable enough to be worn for an entire day.
6. The Vans Old Skool
The Vans Old Skool is super minimalist sneakers that combine comfort with style. It stands true to the words: "When design meets durability." It's a timeless classic that has been around for decades. It may also be a terrific skateboarding sneaker.
These sneakers are ideal for daily use. It is pretty comfortable, and you can wear it all day without worrying about straining your feet.
Conclusion
A perfect pair of shoes is what you need to complement a couple like yours. If you are ready to achieve peak couple goals this 2022, it's time for you to enter the matching shoes twinning style. It's one way of celebrating love and another way of channeling your passion for footwear. These shoes will help you look great, with classic styles and the latest trends. So, what is the wait for? Make a purchase and add to your collection of couple shoes.