Disclosure: This post may contain affiliate links, meaning we get a commission if you decide to make a purchase through our links, at no cost to you. Please read our Disclosure for more info.
If you're reading this, you've probably been invited on a boat, or you're thinking of leasing one for a sailing trip. Maybe you own one, and you'd like to upgrade your accessories and gear. Either way, you understand the importance of the right shoes for sailing, and you've come to the right place. Let us show you the best shoes for sailing.
What Makes a Good Shoe for Sailing?
While there are many shoe choices for sailing, most of them focus more on aesthetics and miss out on the technical aspects. It's nice to look good on a boat, but those shoes should enhance the experience, not introduce problems. Ideally, a good shoe for sailing should:
Provide ample grip on the deck surface
Not leave marks on the deck surface
Protect your feet from injuries and extreme cold
Keep your feet dry
Boats usually have clean and well-polished surfaces made of wood, carbon fiber, or other materials. Therefore, you'd ideally need to be barefoot to protect that immaculate surface. However, you'd easily slip, step on water, or get extremely cold in the evening or early morning. Therefore, sailing shoes present an appropriate solution if they meet the above criteria.
Best Shoes for Sailing
Sperry Sea Kite Sport Moc Boat Shoe – Best Overall
Chatham Bermuda II G2 Boat Shoe – Classic Boat Shoe
Zhik Fuze Boat Shoes – Best for Comfort
Sperry Men's Striper Boat Shoe – Best Sea Life Style Shoe
These come highly rated and with good reason. Their modern looks and performance are evident through the leather and mesh upper, with a grippy yet gentle sole. The soles feature the Adaptive Wave-Siping technology from Sperry, which pushes water away from the soles to give you a firm grip on the deck. The upper leather is water-resistant and quick-drying, perfect for sailing.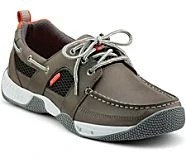 There is no better-looking, longer-lasting, comfortable, and easy-to-wear sailing shoe than these classic boat shoes. The combination of premium leather and high-quality rubber with excellent craftsmanship gives you a shoe that will never disappoint. The laces are rot-proof and simple in design. Furthermore, their low profile suits just about any style preference. When in doubt, pick these since you can't go wrong with this classic choice.
3. Zhik Fuze Boat Shoes
These are tough yet flexible, lightweight, and sporty shoes for sailing. The grippy sole and reinforced design give you a sturdy footing on deck. Zhik Fuze boat shoes have a breathable mesh upper that is fast draining and quick-drying, ensuring your feet are never water-logged. You don't have to worry about your feet since the inner lining has an antibacterial coating.
The Sperry striper boat shoe is made from water-resistant canvas and a rubber sole. It also has a padded tongue and collar, with a removable polyurethane footbed to keep your feet comfortable. The soles also feature Wave-Siping technology to push water away, thus giving you sure footing while gentle on the deck surface. Therefore, you get to move well on the boat and look good while on it.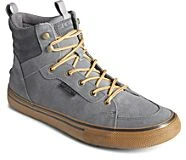 Boat Shoes vs. Loafers
On or off the boat, boat shoes and loafers are among the most popular footwear. These two shoe types may seem similar and feel more or less the same, but there are some fundamental differences.
First, loafers don't have laces. They are slip-on shoes, while boat shoes have laces. In addition, loafers have a smooth or textured outsole, while boat shoes have a razor-cut sturdy rubber shoe. The rubber sole looks smooth but has a lot of grip to keep you steady on the deck while avoiding damage on the smooth surface.
Boast shoes have some degree of slip-on convenience since their laces are not necessarily there for a firm fit. The shoe's overall design ensures a snug fit, with the laces mostly completing the look.
Lastly, boat shoes tend to have a white or cream-colored sole, while loafers can have any color for the sole. The white or near-white color on boat shoes is to prevent staining of the deck surface.
How to Tie Boat Shoes Laces Hidden
Laces that quickly come undone are not only an eyesore; they are also a hazard, especially when sailing. Therefore, you need to know how to tie your laces and hide the excess.
The cleanest look comes from tying the laces behind the tongue. However, your feet may not be comfortable with the knot pushing against them. As such, you can tie the barrel knot, chain knot, fishtail knot, or tassel knot. These use up the excess lace, preventing it from ever dangling and improving the shoe's looks.