Disclosure: This post may contain affiliate links, meaning we get a commission if you decide to make a purchase through our links, at no cost to you. Please read our Disclosure for more info.
Shoe Perfume
What do you get for the girl who has it all? Well, we all know there is always something to add to her collection, but sometimes it may not be appropriate to buy her a pair of shoes just like that.
If you want to give her a gift that she would love but did not expect, you simply need to choose some of the best shoe perfumes available.
Finding The Perfect Shoe Perfumes
Since the idea is somewhat unique, there aren't many brands that sell shoe perfumes. Nevertheless, we've found the perfect scents to give as gifts or to pamper yourself with and have a statement heel that looks amazing on your vanity among other collectible perfume bottles. 
Carolina Herrera was the genius who pioneered the unique idea of selling perfume shaped like a bottle. She launched the first shoe perfume in 2016 under the name Good Girl.
The product was a hit with its fantastic smell and unique look. Later, Herrera followed up the "Good Girl" with three more products in the series, each with a distinctive variation on the stunning high heel bottle. 
Can be identified by the glass slipper style base, purple fragrance color and gold spiked heel.
The Very Good Girl bottle is bit edgier with a bold red glass bottle, black top and signature gold heel. 
The Good Girl Supreme retains the oriental scent that's the signature of the Good Girl series, although it is enhanced with a fruity aroma. The Good Girl Supreme has kept its original high heel look, but it rocks a black sparkled hue with gold embellishments.
Although the Good Girl Series is the original shoe bottle perfume, it can be pricey for some people, especially if you are only interested in the aesthetic. And well, the last thing we want is for anyone to feel left out. That is why we dug deep into Amazon's online shopping space and found the ideal dupe for you: the Perfume by AEC.
The citrus-scented perfume comes in packaging similar to that of the Good Girl line. According to the company, this product is inspired by Carolina Herrera's creation. So, if you're simply interested in the perfume's appearance and aesthetic, this is the right choice for you.
The Shoe Perfume Bottle – A Vintage Collector's Affair
Let's say you like the shoe perfume and want to add it to your perfume bottle collection or use it as décor. You won't need to purchase an entire perfume bottle in such cases since finishing the actual bottle isn't the goal.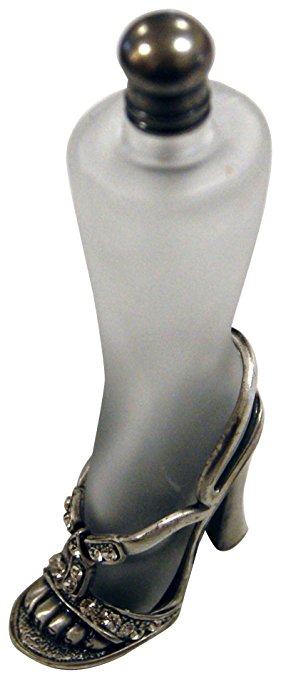 Well, we have great news for collectors like yourself! People sell empty Good Girl Series bottles and other vintage perfume bottles on Etsy and eBay. Therefore, you can hop onto these websites and get what you need.
A Final Word
You can't go wrong with a shoe perfume, whether you're a perfume enthusiast or simply enjoy collecting pretty things. For their respective pricing ranges, Carolina Herrera's Good Girl perfume and AEC's Perfume are both excellent choices.
You don't need us to remind you that this is the perfect chance to expand your bottle collection while also smelling great. So, go out and buy the perfect shoe perfume right now to leave an aroma that people can't get enough of!
Wouldn't these shoe perfume bottles make a great gift for a shoe lover? We thought so! Various styles, shapes and sizes are available from Amazon.com.
Combine with some Designer Perfume & Cologne from Fragrance Stand for the ultimate gift! Plus right now save $5 off any order with this Fragrance Stand Coupon Code: SCENT5. If they don't have your favorite fragrance in stock, simply contact them with your request!
You can find Shoe Perfume Bottles for the best price on Amazon.