Disclosure: This post may contain affiliate links, meaning we get a commission if you decide to make a purchase through our links, at no cost to you. Please read our Disclosure for more info.
Work boots are wonderful for yard work, heavy lifting, and slogging through slush, rain and snow. Historically, though, they've been reserved for hard work only and frowned upon at the office.
A recent New York Times article suggests, happily so, that some of these rules might be changing. Not only is the culture around work-appropriate footwear softening slightly, the makeup of traditional work boots is changing to accommodate sleeker cuts and finer finishing.
The Slip-on Work Boot
Slip on boots solve several of the so-called problems with wearing work boots to a an office. Traditional boots are often heavy, with thick eyeholes or hooks for laces. The boots tend to have thick rubber soles and a clunky look and feel. By nature of their very construction, these slip-ons have a slimmer footprint that can help them pass muster with work's fashion police. The shape is so similar to the common Chelsea boot that some of your colleagues may not even notice you're wearing a heavy-duty boot.
The rubber soles are oil- and slip-resistant, and these shoes are made from fine pigskin leather. They'll protect you while you labor indoors or out, yet they look cultured enough for the office.
Shop slip-on work boots at Amazon now!
The Chukka Work Boot
Ankle-length  chukkas are short enough that they'll fit nicely under your trousers. Most are leather or suede in classic hues or brown and black, although you'll find chukkas in sportier colors too. Sometimes called desert boots, these work shoes were worn by members of the armed forces during World War II. Ease chukkas into your work wardrobe on a casual Friday with tailored jeans and a white button-up. Or try them with chinos and a patterned dress shirt.
While these boots are still a little less formal, they pass muster in most workplaces and may already be a common sight in the tech and creative industries.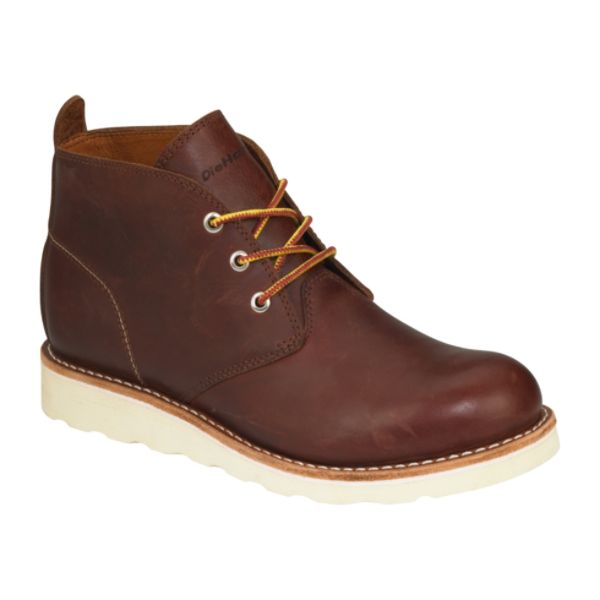 Shop Chukka work boots on Amazon now!
The Oxford Work Boot
More of a shoe than a boot, the work oxford is sleek enough for regular work wear yet built with safety in mind. It's a favorite of hospital workers, kitchen workers and others who rely on non-slip shoes to keep them safe during work hours. These shoes probably resemble some of the dress shoe styles you've already got in your closet.
Lace-up holes, leather uppers and skid-resistant soles make these slim-fitting, functional and lightweight to wear. Try these boots with black trousers and a button down.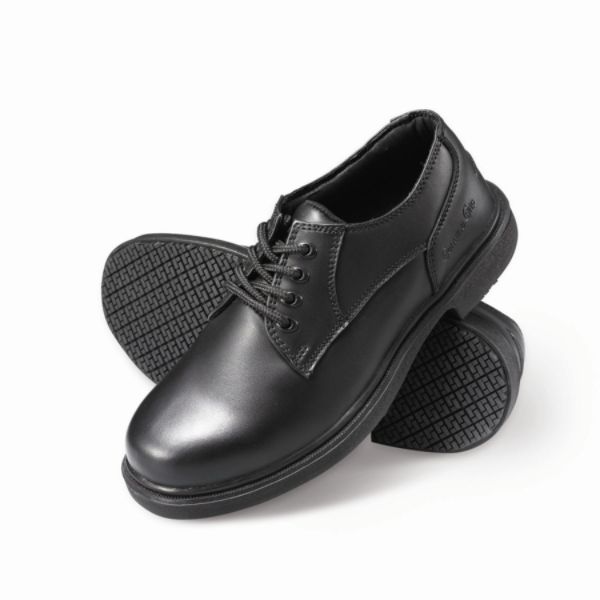 Shop Oxford work boots on Amazon now!
The Logger Work Boot
Taller than the other picks, the lace-up logger boot is sleek enough for work-wear with one easy style modification. These boots have a slimmer body than many other work styles, which helps make them less conspicuous for office wear. The low heel and slim sole help here, too.
Because of the way they are cut, these boots can blend in as more of a fashion boot and less of a work boot. Swap out the yellow and brown laces for a pair of laces that match the boot's color, such as dark brown or black. This changes the look and feel of the boot from safety to functional.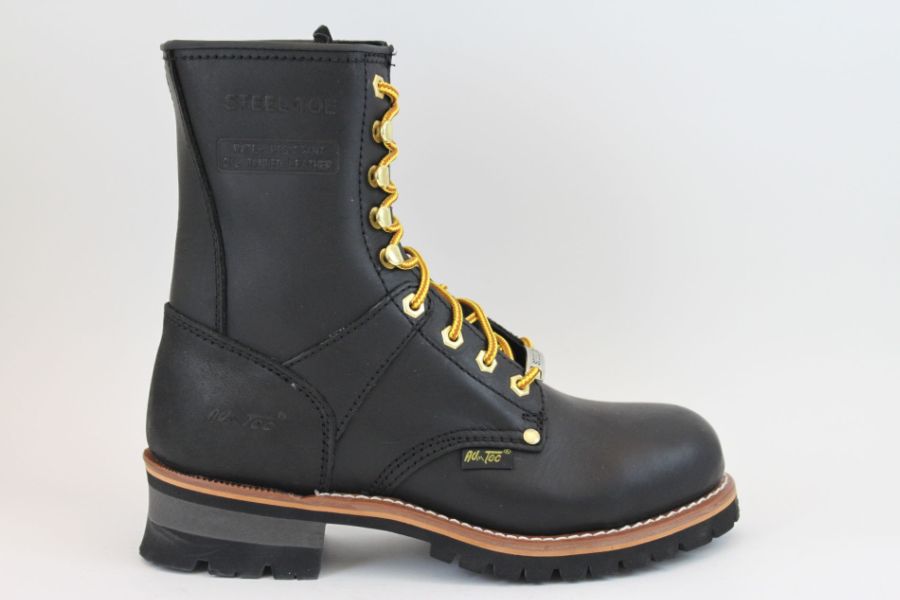 Shop logger work boots on Amazon now!
Try some of these styles for work wear in cold weather or to take a break from your dress shoes. Always pair these boots with a business casual or business clothing outfit, casual Friday aside. You'll be more likely to fly under the radar with your untraditional boots if you look nice than if you show up in ill-fitting or ill-considered clothes. Pay attention to others' footwear choices also to see how thy may be working more casual shoes into the rotation.