Disclosure: This post may contain affiliate links, meaning we get a commission if you decide to make a purchase through our links, at no cost to you. Please read our Disclosure for more info.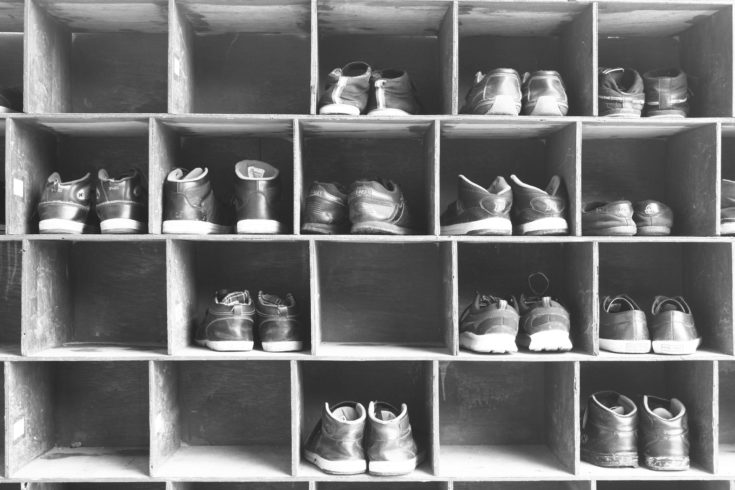 Shoes. You can never have enough pairs. Heels, sneakers, flats, those intense shearling-lined snow boots you bought last January even though you only experience snow twice a year — all are necessary, right? Right.
But the sad reality is that you'll probably run out of closet space long before you run out of new pairs to buy. And if you're like millions of Americans, trying to stuff their lives into small one-bedroom or studio apartments, you know the struggle for space is real. That's why we've come up with these four tips for fitting your burgeoning shoe collection into a small apartment.
Don't limit your shoes to a closet.
They're not going to fit there, anyway. Install a shoe rack by your door for often-used, "just-going-to-the-store" pairs like sandals and casual sneakers. Hide some heels under your bed, especially if you only wear them on formal occasions. If you don't travel that often, suitcases are a great storage option. And depending on the size of your collection and the depth of your addiction, it might be wise to invest in a shoe shelf. This is an especially attractive option for shoes you want to display more than you want to wear. But even if you're not hoarding Yeezys or Louboutins, a shoe shelf doesn't look all that out of place in a bedroom.
[amazon_link asins='B00336TY0K,B002IT6E6A' template='CopyOf-ProductGrid' store='shoeaholicswp-20′ marketplace='US' link_id='1f02dfaf-6988-11e7-b873-c5e34381c48f']
But if you do, utilize vertical space.
If you have a small closet, even a few pairs of shoes can take up all of your floor space. And it's hard to keep pairs separated when they're all in a mess on the floor. The trick is to maximize vertical space between the floor and hanging clothes. Shoe racks elevate your shoes, and they also make it easy to keep them organized by type. Over-the-door shoe organizers allow you to take advantage of the space between your closet door and your clothes. Just make sure the soles are clean before you put them in close proximity to your dress shirts.
[amazon_link asins='B018H030EM,B002F92P4S' template='CopyOf-ProductGrid' store='shoeaholicswp-20′ marketplace='US' link_id='313b549f-6988-11e7-bedf-514825bf8b76′]
Box, Store, Repeat.
There are utilitarian basics, good for every season — hardy workboots and gym sneakers, for example. But unless you live an extremely unpredictable climate or find yourself often traveling to disparate parts of the globe, you probably don't need every season's shoe available at a moment's notice. So take a complete inventory of your shoes and assign them to the season for which they're best suited, and then store them according to that season. Box those snowboots up in June. Stow the strappy sandals in November. You'll free up closet space, but you'll probably also uncover some underused pairs.
[amazon_link asins='B00AM7V06Y,B015GGV8LM' template='CopyOf-ProductGrid' store='shoeaholicswp-20′ marketplace='US' link_id='41348898-6988-11e7-978d-93175bf6ffb0′]
Donate a few pairs.
It's important to recognize when fitting all your shoes into your apartment is a losing battle. And if you have so many that a closet, a shoe shelf, and out-of-season storage still leaves you with a pile, maybe it's time to admit defeat. Throw in the towel — but don't just throw your shoes away. Local charities and shelters are often in need of sturdy shoes. And national non-profits like Soles4Souls distribute millions of pairs of shoes to aid agencies both at home and abroad.