Disclosure: This post may contain affiliate links, meaning we get a commission if you decide to make a purchase through our links, at no cost to you. Please read our Disclosure for more info.
There's no show out there that understands the relationship between women and shoes quite like Sex and the City.
Carrie Bradshaw, the show's resident fashionista, has some of the most memorable shoe quotes in television history. From her iconic "I lost my Choo" line to her sage advice about never wearing shoes you can't walk in, Carrie always knows just what to say about our favorite subject.
So in honor of Sex and the City's impact on shoes and fashion, here are our :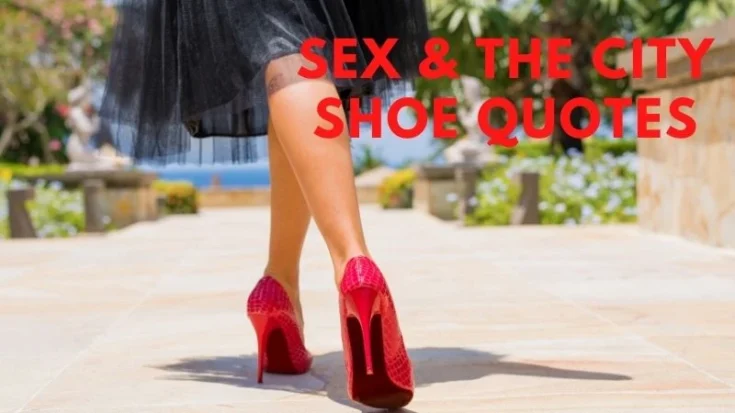 Top 10 favorite Carrie Bradshaw Shoe Quotes
I don't know about you, but whenever I watch Sex and the City, I can't help but envy Carrie Bradshaw's incredible shoe collection, but even better than the shoes are her insightful, funny and outright genius shoe quotes! 
 I've put together a list of my favorite top 10 quotes about shoes from Carrie Bradshaw, enjoy!
1. On Heights
"I'm not afraid of heights, have you seen my shoes?" 
2. Single Women
"The fact is, sometimes it's hard to walk in a single woman's shoes. That's why we need really special ones now and then to make the walk a little more fun."
3. Not home right now 
"Hi! I'm not here right now, but my shoes are, so leave a message…" 
4. Men & Love 
"Men I may not know, but shoes, shoes I know." 
5. Money & Home
"I've spend $40,000 on shoes and I have no place to live? I will literally be the old woman who lived in her shoes!" 
6. Manolo Blahnik
"Oh my God. Do you know what these are? Manolo Blahnik Mary Janes! I thought these were an urban shoe myth!"
7. More Manolo Blahnik 
"Please sir, you can take my Fendi baguette, you can take my ring and watch but you can't take my Manolo Blahniks". 
9. Marriage 
"I wanted to let you know that I'm getting married.
To myself.
And I'm registered at Manolo Blahnik."
10. Shopping Addiction
"I Have this little substance abuse problem…expensive footwear". 
Find more of our Shoeaholic Shoe Quote round-ups here!