Disclosure: This post may contain affiliate links, meaning we get a commission if you decide to make a purchase through our links, at no cost to you. Please read our Disclosure for more info.
The traditional cowboy boot has been a style that has remained relevant since it's inception in the late 1800s. Originally a garment designed for function, it did not take long for the footwear to become a fashion staple. Throughout the 20th century, cowboy boots became an increasingly popular style, with a growing number of designs and colors available. A high-quality cowboy boot can remain stylish for decades and makes a perfect timeless addition to any wardrobe.
Cowboy boots can easily be worn under classic boot cut jeans or tucked into skinny jeans. However, there are a number of untraditional ways to style this timeless boot. There's no need to get stuck in a styling rut! Here are five fresh alternative looks to pair with your favorite cowboy boots.
White Out
Make your cowboy boots the statement piece of your outfit by pairing them with an all-white look. Any style or color of cowboy boots will pop when paired with a plain white t-shirt or tank top and white denim. This is a great everyday style, perfect for a festival or concert. Complete the look with western accessories, like a turquoise bracelet or a bandana, for a modern western vibe.
Florals
Traditionally leather, the cowboy boot can have a more masculine feel. Pairing a heavy-duty style, such as Ariat cowboy boots, with more feminine patterns and fabrics creates a unique aesthetic. Floral patterns offer a great contrast to the rugged leather style of a cowboy boot and give the style a more ladylike feel. Couple your cowboy boots with a fun floral dress for a perfect summer date night ensemble.
Fancy
More and more you will see the cowboy boot being used to give a more rustic touch to formal attire. This is especially common for weddings and bridal parties. Formal dresses in a mini or midi style, as well as maxi dresses with a slit, can all be easily paired with a cowboy boot to complete the look for a country or western themed formal event.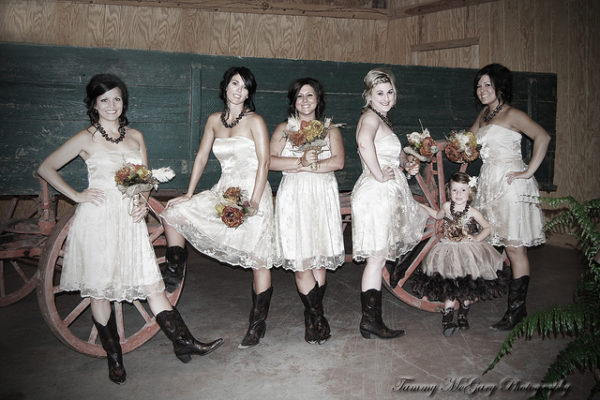 Image via Flickr by Tammy McGary
Layers
Cowboy boots continue to be a wardrobe staple because they transition so seamlessly between seasons. Your cowboy boots can be the final touch for an adorably cozy look. On top, throw a scarf or poncho over your favorite sweater; on the bottom, add some long wool socks over your leggings. Finish the outfit with your cowboy boots for a cute, warm look for running errands or grabbing coffee.
Cropped Pants
Another alternative way to style your cowboy boots is to pair them with a cropped trouser or patterned pant. This pairing can take your boots from weekend to work week. A simple button-down shirt or plain sweater will complete this look for a fun office ensemble that is guaranteed to turn heads!
Cowboy boots are no longer just for cowboys! There are lots of ways to make this style work every day. Get creative, and try mixing your favorite boots with new styles for your own unique twist on this classic look.