Disclosure: This post may contain affiliate links, meaning we get a commission if you decide to make a purchase through our links, at no cost to you. Please read our Disclosure for more info.
More than 70 million people attend Major League Baseball games every year.
Whether you're rooting on a pro team or bringing snacks to the Little League kickoff, you want to come prepared. You're going to spend hours in the stands, and you want to look comfortable. Unsure what to wear to a baseball game? 
You also want to be as fashion-forward as possible. Let's make finding the perfect cute outfit a breeze! 
It's baseball season, which means it's time to brainstorm your best game day outfits!
Whether you're a seasoned baseball fan or you're heading out to your first ever game in person, it's important to have an arsenal of cute outfit ideas to sport at the game. Game day fashion may seem daunting at first, but there are a few simple outfit formulas that will never let you down. So, what are the cute outfits for a baseball game? Here are some clothes to consider.
Go Classic with Team Gear
You absolutely cannot go wrong with sporting fan gear for your favorite team when you go to a baseball game. Not only will this fill you with team spirit and pride, but you can also find cute and unique team garb that suits your style. No baseball fan outfit is complete without a baseball cap. You can find a variety of stylish baseball caps at 47 Brand, which designs eye catching caps for tons of teams. 
Wondering what shoes to wear wear to a baseball game in the summer? Even if it's sweltering outside, resist the urge to break out the sandals.
Why?
In short, they're safer when you have fly balls soaring. They also keep sunflower seeds and peanut shells from slipping in between your toes! Though you aren't showcasing your pedicure, you can still have fun with this look. Comfy colored flats add instant sophistication or a bejeweled set for a fun touch of glam. The latter would look especially chic alongside a few strands of softball necklaces around your neck!
Go Comfy with Trendy Athleisure
What better thing to wear to a sporting event than some sporty clothing? You're in luck, because comfy and cool athleisure is all the rage currently. A matching sports bra or crop top and leggings set makes for the perfect outfit to wear to the stadium. Accessorize with a pair of your favorite sunglasses to complete the look.
For shoes, simply find your favorite sneakers and you're good to go! Maybe some cool sneakers from New Balance or modern all-white versions to a pair of retro Converse All-Stars, anything goes. 
You can also customize this look by swapping your plain laces for a pair in your team's colors! This is an inexpensive way to add a little spirit to your ensemble without going full-on foam finger mode.
Go Chic with Streetwear Style 
If fan wear or athleisure isn't your style, you can always be on trend at a baseball game with some casual streetwear. Opt for a pair of modern straight leg jeans, some comfy-cute sandals, and a cropped tank for a laidback look that still shows you have taste. If you're headed to a spring game and it may be chilly, bring along a chic fleece pullover in your favorite color, like this one from 12th Tribe.
Standout with non-traditional shoes like low heeled boots! Though you'll be sitting for a majority of the game, you still have to make the trek from the parking lot to the bleachers and back again. Plus, don't forget that concession stand raid in the seventh-inning stretch! In some cases, this can mean walking through rocky parking lots, fields or along the road. This is where a great pair of sturdy boots can come in handy.
Keep the thigh-high stiletto versions at home, along with your favorite peep-toe ones. For maximum functionality, a closed, low-heeled style works best here so you don't tumble into home plate.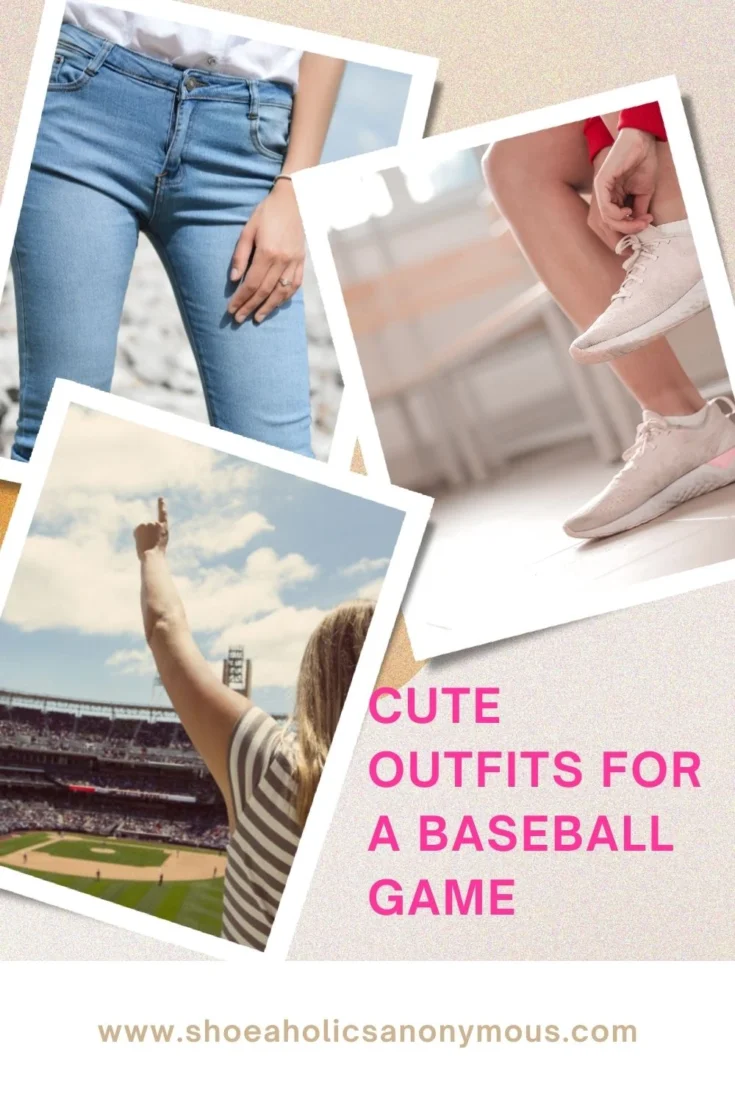 What to Wear to a Baseball Game, Solved!
Now that you know what to wear to a baseball game, are you ready to buy season tickets? When you feel great in your outfit, you've already won.
Until then, there's still plenty of time to get your footwear game on point as spring training ramps up.
Want to learn more about the latest styles and trends? If so, you've come to the right place. We're a community where admitted shoe addicts can discuss their favorite looks, share inspiration and drool over the latest releases.