Disclosure: This post may contain affiliate links, meaning we get a commission if you decide to make a purchase through our links, at no cost to you. Please read our Disclosure for more info.
Are all mountaineering boots created equal? Shopping for mountaineering boots can be a pain especially if you don't have a clue where to start or what to look for. In addition, there aren't many stores that offer selections of leather mountaineering boots and not even a lot of options in styles and brands.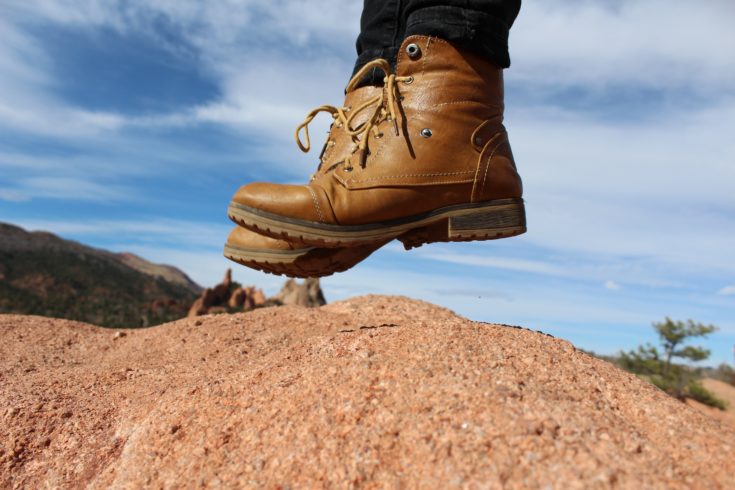 With very limited options available, mountaineering boots can be very pricey too. So where do you start?
Where to Buy Mountaineering Boots?
The easiest place to shop for mountaineering boots is at specialty mountaineering shops. The name says it all. It's a place for anything and everything mountaineering, so you should find your first mountaineering boots in these shops.
You can also buy mountaineering boots at retail shops for shoes or footwear. Also, you can shop for more styles and brands from online retailers that specialize in hiking and mountaineering boots.
But, when you do shop online, make sure to check on the legitimacy of the seller or retailer by reading reviews or feedback and make sure to verify their return or replacement policy. Remember, you want to buy durable footwear that will last you years, not a one-and-done off-brand.
Where to Buy Leather Mountaineering Boots Online
Our pick: ZamberlanTofane NW GTX RR Boot  comfort and support for all the backwoods adventures. Vibram soles, made in Italy, stylish design.
Our pick: K-9 Hiking Boot. Since 1969 a popular style at Eddie Bauer. Crafted of waterproof full-grain leather using Goodyear welt construction, made to  last a lifetime. WeatherEdge waterproof/breathable membrane provides maximum protection from the wet.
Our pick: Alico New Guide Mountaineering  Leather Boots 
 Handmade in Italy of Perwanger® leather, Alico's New Guide hiking boots are built for years of use in rigorous alpine terrain. The durable speed-lacing system ensures a supportive fit, and the leather-lined interior is breathable and nearly friction free.
Easy Hacks on Buying Your First Mountaineering Boots
Every first seems to bring up mixed emotions of excitement and anxiety. This goes pretty much the same way with shopping for your first mountaineering boots. So here's a guide on how to choose your first-ever leather mountaineering boots for a wild adventure:
Single or Double?
You have to decide whether to buy single or double mountaineering boots. You should be safe in buying double especially if you are targeting to climb for many days. Double boots are great for high altitude. Some would use hiking boots for climbing but technically, you would be safer and more equipped in terms of pace, performance, and durability with doubles.
Doubles would also fit if you tend to have cold feet as that extra boot gives you added protection and insulations. The double boot actually means there is an extra soft and insulated boot inside the hard shell that keeps your feet warm especially when on a hike.
Buy or Rent?
Renting is a viable option or a practical move if you only hike or climb once a year but if you are an avid mountaineer and fond of climbing then you should own one. It would be a good investment and also cost-efficient to buy your own mountaineering boots especially if you are going to use it more than twice a year.
With your very own mountaineering boots, you are sure that they fit you well and are comfortable. You will also have adequate time to get used to the feel of the boots in your feet and adjust to it before you climb. You also get to check whether you would need inserts or insoles to wear with your boots.
Buying your own mountaineering boots gives you some time to break in and get comfortable before you actually take on your first adventure.
Unisex
Don't worry about choosing styles for women or men because most mountaineering boots are unisex or not gender-specific. So it's pretty generic and anyone can use it. There are however certain brands that offer or feature women's models of mountaineering boots. Generally speaking though, all mountaineering boots can be used by both men and women.
European or American Sizes
Depending on the model, mountaineering boots are available in either European Sizes or American sizes. It is recommended to try on sizes for each model to see which one fits you best. When trying on mountaineering boots, you should not feel any foot pressure or the feet must have enough space to allow air circulation.
TIP: Always go for a size larger than your regular shoe size because you would feel more comfortable with the extra space especially with socks on.
Wear with Socks
When you are trying out mountaineering boots, it is important to wear socks that you would wear with the boots. Mountaineering socks are really thick and made of wool. With socks on, your mountaineering boot size would be bigger than your normal shoe size in order to accommodate the big and thick socks. Try on different boot sizes and models. Walk with your boots and even try it on the stairs.
Try It Indoors
Before you actually use your mountaineer boots outside, you must try it indoors and walk or run with it so your feet can get used to the boots. It may be a bit uncomfortable or awkward at first but you will get the hang of it after a few days. Your feet may also get some blisters or cuts but it is better to have them right now so you get more comfortable in the gear when you go take that first mountaineering adventure.
Check for Good Fitting
You would normally shop for a pair of shoes or stilettos taking consideration of colors and styles but with mountaineering boots, you need to focus more on the fitting first. Make sure that it fits you perfectly and comfortably so you will experience the best adventure on the mountains. Look for mountaineering boots that fit you well because it's not a cheap buy and you need to be cost-efficient in your purchases.
 The Extras
Whether you are shopping for a fully rigid or semi-rigid boot, you need to look for the boot that gives you the extras all in one place. Check on its technical features and what gives you the flexibility to use it in different climates and multiple activities. Look for agility, performance, and thermal protection. You can get these on both single and double mountaineering boots.
If you are looking to take some serious mountain adventure climbing, you will really have to buy a good set of mountaineering boots. You have to check on a balance or synergy of protection, durability, performance, comfort level, and safety. While the budget should also be one of the considerations, safety and performance must always be a top priority.