Disclosure: This post may contain affiliate links, meaning we get a commission if you decide to make a purchase through our links, at no cost to you. Please read our Disclosure for more info.
When I was a student, I was pondering over my future career quite often because it was difficult to find an inspiring and, at the same time, a profitable occupation. As I was finishing my second year at the university hoping to eventually get an MBA and MS degree, I still didn't have my degree in design, but I had some experience and great ideas. So, I decided to become a shoe designer. In this article, I want to share my ideas on how to make the first steps in a shoe design business when being a student.
Create a Plan
Many students have creative ideas, but it's difficult for them to be organized. Therefore, I decided to create a plan to maintain my focus. I re-evaluated my plan many times and made adjustments to improve it because my goals changed. So, your plan doesn't need to be stable, you can make adjustments to it. It is also important to choose a path in shoe design – creating boots for men, women, children or sport. There are many types of shoes you can design, but you need to choose the most appealing one for you. You may wish to develop your own brand or work for a well-known company, own your boutique or design products without manufacturing them. It depends on your aspiration, but you need to stay focused to achieve any of your goals..
Develop Your Own Style
Undoubtedly, education is important in design, but having your own recognizable style is even more important. Original look is very important in shoe design as it can be a hallmark of your future brand. You may choose two or three colors or several types of materials which will form your corporate identity. Also, you may try to design different styles of shoes to identify your particular style. Most probably, you can create something new if you challenge yourself every day.
Learn More about Shoe Industry
The shoe industry is divided into several sections: design, manufacture, and retail. Design involves making sketches on paper and patterns of shoes. Manufacturing is a process which turns the design into actual shoes. It involves several steps from selecting materials to creating shoes with them. Retail directly concerns the relationship between product and consumers. It also satisfies the requirements of stores and buyers.
Track Current Trends
Shoe industry is very competitive and you need to track its changes. Reading fashion magazines can help to keep up with the current trends in shoe industry. According to https://australianwritings.com.au, watching fashion shows on TV can help to develop good taste as well.
Make Sketches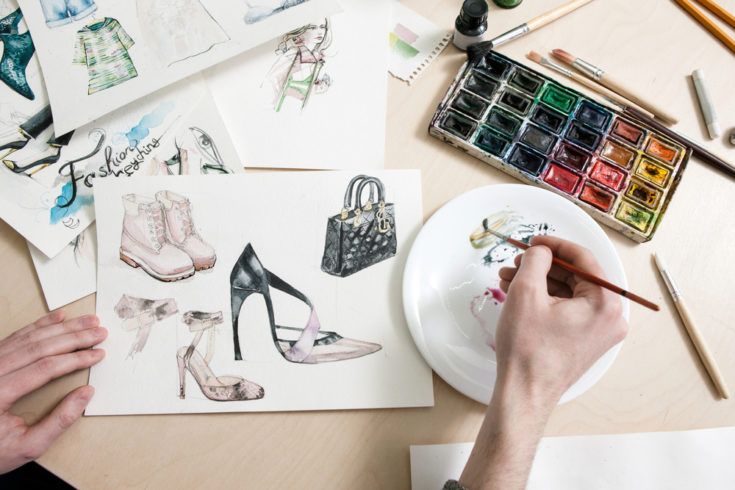 Making a lot of sketches is important in developing the ability to envision future models. Your main goal is to design a new style of shoes, but not to replicate existing brands. Using design software, such as Adobe Creative Suite or CAD programs, is a good idea. You can learn how to use design software when studying in the university.
Design Shoe Patterns
Nothing makes you more knowledgeable than practicing your theoretical skills. If you try to create a pair of shoes from a sketch, you will better understand the manufacturing process. You can try to make patterns for different types and styles of shoes.
Make a Portfolio
Your own portfolio will help to better represent you as a designer. Your shoe designs will demonstrate your creative skills. An optimal number of sketches in the portfolio is 20-30. You can create both a paper and an online portfolio. It is important to keep fresh content to retain the interest of your potential customers.
Work for a Big Shoe Company
Working for a big manufacturing or retail company will give you a chance to cooperate with experienced professionals whose job is to create shoe designs every day. This will give you the opportunity to learn from professionals and try different roles in a big company. You may wish to start from design assistant, and then try the role of pattern maker, sketching, and manufacturing assistant. Working in shoe manufacturing sector will help you to understand the manufacturing process. The major advantage of working in a shoe store is that you're directly exposed to customers. This will help to better understand customers' needs and get some retail experience.
Develop Professional Networks
Developing your professional networks is essential for your future career. You can do it by attending professional gatherings, openings, trade and trunk shows. You will have an opportunity to exchange business cards with different people to stay in touch with more experienced designers and maybe to find a mentor.
Create a Showroom
Creating a showroom at home is a cheap alternative to sell your products. You may also wish to advertise and sell online. This will help you to save a lot of money on overheads and promote your new brand at a low cost.
There are a lot of ways to start as a shoe designer when being a student as long as you have a desire to achieve something in this niche. If you are still interested in continuing your journey as a designer, check out Jooble with their jobs for fashion design students,