Disclosure: This post may contain affiliate links, meaning we get a commission if you decide to make a purchase through our links, at no cost to you. Please read our Disclosure for more info.
My blogger friend Jessica Gottlieb posted these too cute Lanvin ballerina flats today saying "Give me Lanvin or give me death."
These seem now be out stock but find more stunning ballerina style slipper shoes in our comprehensive guide here.
Love Lanvin? Shop more beautiful Lanvin ballet flats in every classic color from white, to black and ballerina pink. 
Into matching your bag and shoes? These Lanvin handbags with chain pair perfectly with the t-chain shoes or Lanvin ballet flats. 
I loved the comments that prevailed:
Want
Chic. I like 'em!
Your shoes arrested your ankles.
want! love
I feel faint
Those are ducking hot!
perfect.
waaaaaaant!
So good.
Her reply was, "They're the most comfortable shoes I've worn in ages. So now I wear them every day, and my friends are nice enough to pretend like they don't notice."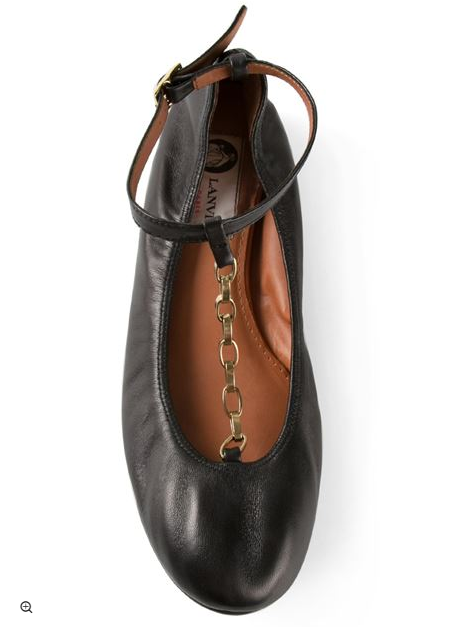 If I spent that much on one pair of shoes, I'd wear them everyday, too! They are available at FarFetch.com. Who wants to loan me $695?
Black leather ballerina flats from Lanvin featuring a round toe, an ankle strap with a side buckle fastening, a flat sole and a t-bar chain strap.