Disclosure: This post may contain affiliate links, meaning we get a commission if you decide to make a purchase through our links, at no cost to you. Please read our Disclosure for more info.
My love of moccasins first began on a trip I took to Dallas. On the way, I stopped  to visit the  Chickasaw Cultural Center. The trip was  like going back in time. Along with many interactive displays, the Center has a replica of an old-fashioned village where it's possible to see how members of the tribe lived way back when. Fashion is a part of this old-time life, and I got to see all sorts of deerskin and elk skin apparel and footwear.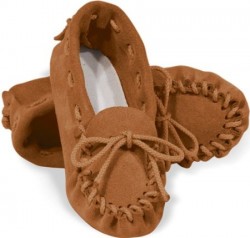 To remind me of my trip, I decided to buy some moccasins to add to my current wardrobe. It's interesting to note that although moccasins are usually considered casual now, they were once the regular footwear of the Native Americans who wore them. The best ones, made of deerskin, were used for dressing up.


Now, leather or suede moccasins are the easiest to find. The beef industry produces plenty of hides, so these materials are abundant and inexpensive. Even so, deerskin is still available "" and, after over a hundred years, it's still considered a cut above the norm.
Needless to say, taking good care of moccasins is important for keeping them looking nice for years. This is even more important for the suede variety because suede is easy to damage with simple rubbing or a bit of extra moisture. Here are some tips I've picked up for keeping these soft-soled shoes at their best no matter what they're made of:
Treat smooth-finished moccasins with  leather conditioner. This will keep them from drying out or cracking. Use the conditioner according to the manufacturer's instructions. Usually all that you'll need to do is use a clean cloth to apply the product using circular motions. Allow the shoes to dry, and then wipe them with a dry, clean cloth to remove any excess conditioner.
Consider treating suede moccasins with water repellent. Water repellent sprays can be tricky, and will darken the suede if over-applied. However, it also means you don't have to avoid going outside in inclement weather. It's best to practice on a piece of scrap suede from a fabric store before treating your good moccasins. Once you've gotten the technique down, apply the protectant to your shoes.
Use special leather cleaner to clean moccasins made of smooth-finished skins or hides. Apply according to the manufacturer's instructions, let dry and then buff. After the cleaning phase, put on a new coat of leather conditioner.
Be careful cleaning suede. Although there are suede cleaners on the market, they can easily take the nap off of the surface. It's best to spot-clean suede, and do so only if absolutely necessary.
Try to keep your moccasins dry. Even though they were originally meant as outdoor footwear, they aren't too great for that purpose compared to today's shoes. If you don't want to think of your moccasins as short-lived consumables, protect them by wearing rubber booties or another covering over them during rain or snow.
If moccasins get wet,  stuff them with newspapers  and then let them dry naturally. Avoid putting them in front of heat registers, blow dryers, hot sun or other sources of drying heat. This will help them stay supple and free of cracks.
By knowing how to take care of your new moccasins, you will help ensure that your ownership experience is a happy one. Of course, prevention is the best method for keeping them looking nice: If you keep them dry and avoid walking in highly soiled areas, they'll look great for years to come.