Disclosure: This post may contain affiliate links, meaning we get a commission if you decide to make a purchase through our links, at no cost to you. Please read our Disclosure for more info.
A good pair of shoes will get you anywhere you need to go. But, sometimes, the perfect footwear that provides both style and comfort comes at prices that go way above your budget. So, you turn to the next best thing: a preowned version of them.
There's nothing wrong with buying used shoes. It's economical and prevents a decent pair from rotting in a landfill. If you're lucky, you may spot preowned shoes from luxury brands that are still in excellent condition. However, you must remember a few things before entering any store selling used shoes. Read this article to easily find a preowned pair of footwear you won't regret.
Browse In Trusted Stores
If you need to know of any preowned clothing stores in your area, a quick search online should give you some results. You can even specify shops that specialize in selling used shoes, like this great website, to narrow your search. These stores know how to process secondhand footwear correctly, so you'll only see good-quality, authentic shoes on their shelves and catalogs.
As with any store, check customer reviews for firsthand experience from previous buyers. An online store may look professional on the surface. But if it lacks an FAQ page, an 'About Us' page, and contact details, it may be a fraud.
Look Underneath
Some shoes, such as boots, appear flawless at first glance, even if they're years old. But once you look at their soles, you'll see their actual wear and tear. Thus, before adding your chosen pair to your shopping basket, inspect the bottom first. Soles tell a lot about footwear. In fact, the condition and appearance of the soles can be separated into categories. As a brief guide, check the following:
Brand new – The soles look clean and almost perfect as if the shoes were never used. They most likely have no marks, scuffs, or indentations.
Like new – The soles feature slight blemishes from a couple of uses. The heels still tend to be sturdy and straight.
Moderate wear – The soles appear more worn down than the previous, with heels possibly leaning inwards or outwards. The upper exterior is still in decent shape but may exhibit minor flaws.
Well-used – The pair looks nearly tattered after years of multiple uses. The shoes may need resoling or additional repairs.
Resoled – The shoes have new soles attached to replace the old, worn-out original ones. Resoled shoes may also have a protective sole added to lengthen their lifespan.
It's a buyer's responsibility to check their products before purchasing. You want to avoid bringing home a pair of preowned shoes that you'll end up not wearing.
Forget The Damaged Ones
Sometimes, even the most reputable used shoe stores will have some stragglers. It's normal to spot a couple of well-used and nearly damaged pairs while browsing for secondhand footwear. But it's wise to leave them where they are unless you dabble in DIY shoe repairs. Even if you have the budget to repair well-used shoes, you're better off looking for brand-new or like-new ones.
As a general guide, avoid choosing sneakers or sandals with thinned-out soles. These will hurt you if you wear them for walking. Additionally, skip the dress shoes or pumps with uneven heels. When you have these on, you'll add pressure to the balls of your feet as you balance. Hence, always go for the pairs with minor damage.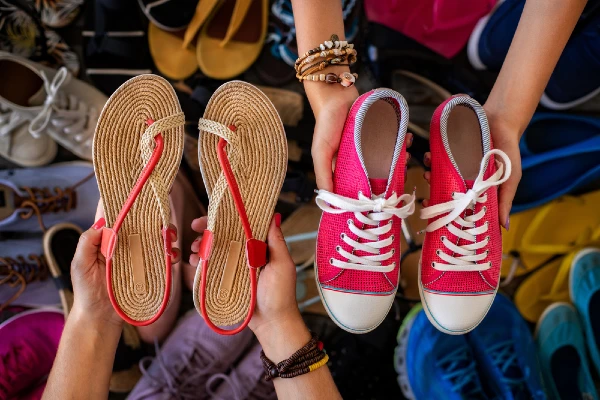 Fit Is Still Your Priority
One of the trickiest parts of shopping for preowned shoes is looking for your correct shoe size. As most pairs were used for some time, their actual sizes may have changed slightly to conform to the shape of the previous owner's feet. So, if you're a size 9, a secondhand pair of shoes of the same size may feel too big for you. When in doubt, request the exact measurements of the shoes and compare them to your foot size.
However, this issue could be a blessing for some people. Unlike brand-new shoes from the mall, breaking into preowned shoes takes less time. Shoe bites will also be less frequent as the footwear already softened after several uses.
Price Is Not Always Right
When browsing for any preowned item, your first instinct may be to find the cheapest one. While most secondhand shoes are more affordable than their newer counterparts, you must consider the ones at a reasonable price. More often than not, extra cheap pairs might be low quality or counterfeits. You deserve better than that.
That's why shopping in reputable secondhand shoe stores is vital. They know how to price their products correctly based on quality.
Clean And Disinfect
Once you purchase your 'new' pair of preowned shoes, you should clean them thoroughly before wearing them. The store may have already washed the shoes before selling them, but it can only disinfect them sometimes. If you're not too keen on looking for professional shoe cleaners, now is the perfect time to learn how to clean any shoe. Typically, you'll need the following tools:
Microfiber cloth
Paper towels
Old toothbrush
Distilled white vinegar
Baking soda
Dishwashing detergent
Ammonia and alcohol-free glass cleaner
Most of these items are readily available at home or the supermarket. So, you have no excuse to leave your shoes dirty.
Old But Gold
Many preowned shoes still have a spark to them, and they're just waiting for a new set of feet to feel their magic. If you follow these tips and buy the shoes from a trusted store, you could receive a decent pair that'll take you to new places as it lasts longer in your care.