Disclosure: This post may contain affiliate links, meaning we get a commission if you decide to make a purchase through our links, at no cost to you. Please read our Disclosure for more info.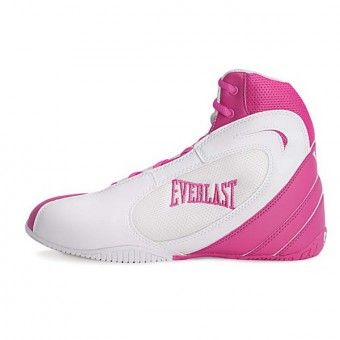 Rumor has it
(which is ironically the name of one my favorite Adele songs right now) that a high percentage of shoe addicts work out to keep those calves in tip top shape when showing off their sexy stilettos. But did you know that boxing is actually a growing sport for women? Turns out the boxing ring just isn't for Mohammed Ali types nowadays.
So, if I were ever to take up boxing, I'd so want these cute pink Hydrolast Defigo Lo-Tops with Michelin's HydroLast tire design technology from Everlast to complete my boxing attire outfit. But we all know boxing isn't in my near future, so luckily these Defigo Lo-Top boxing boots, which are currently available and on sale from BoxingBagStore.com for $114.99 (regularly $143.99) with hi-tech rubber sole and ingenious tread design can also be used for cardio workouts, aerobics and/or cross training. I'm presuming they are only to be wore indoors, so my best use of them would be power walking at the mall. And they're pink which is my favorite color to boot (pun intended)!
If you are a proclaimed shoe addict that exercises, what do you do to keep your calves toned?
You can find Pink Boxing Shoes for the best price on Amazon.